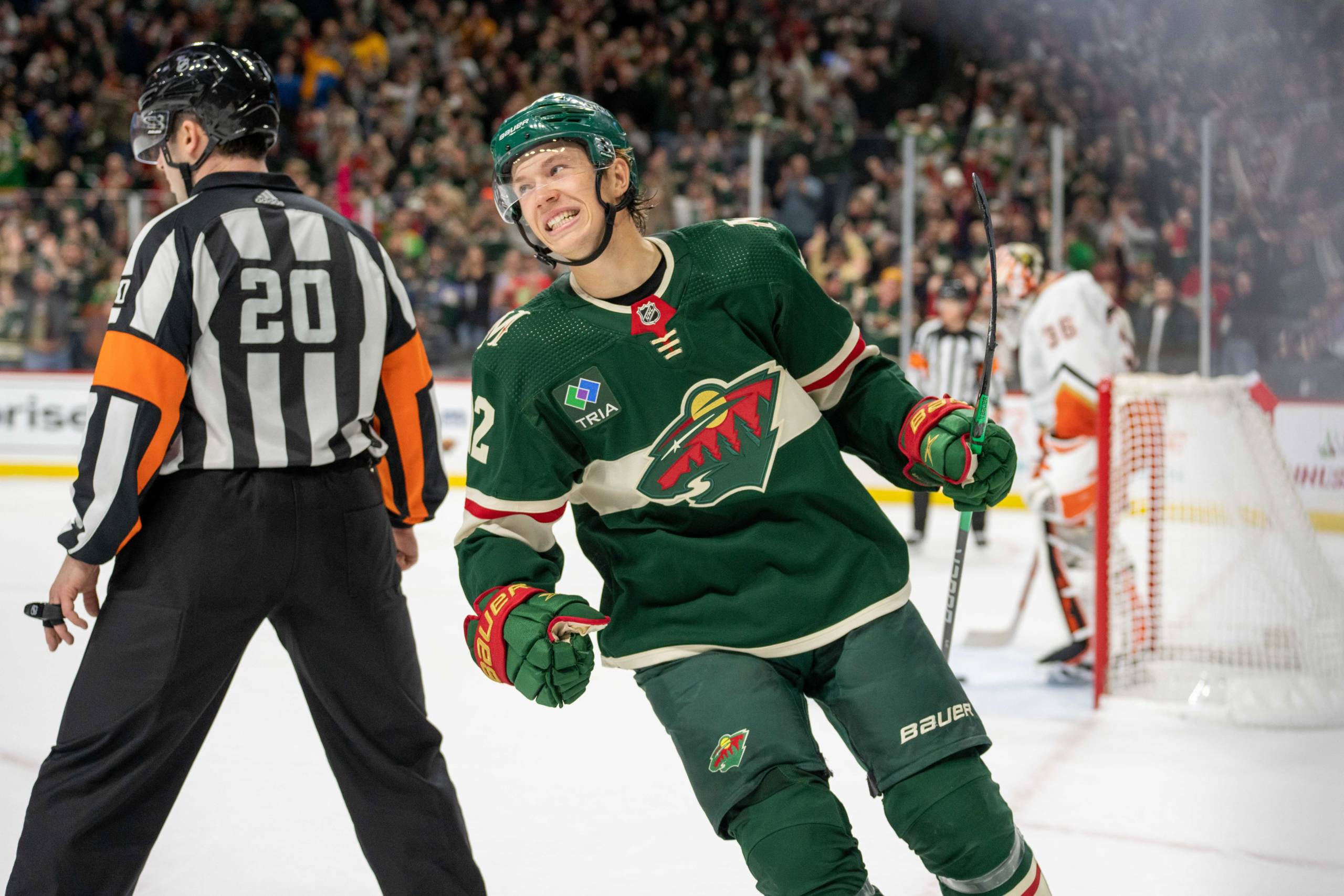 Matt Boldy is a key part of the Minnesota Wild's future. His contract is up at the end of this year, and the kid's going to get paid.

 

How much do his services command?

 

To figure this out, let's compare Boldy with a few youngins who just signed deals.

 

I want to look at players coming off entry-level deals, like Boldy. He will likely sign an extension after he turns 22, so I'd like to look at players around that age. I'd also like to consider players carrying the high-round pick title that gets players extra life in the NHL. (Just look at Tyson Jost if you don't believe me.) I will also not use defensemen in this comparison because Boldy is a wing.

 

I will exclude players like Roope Hintz (26), Jesper Bratt (6th rounder), and Anthony Cirelli (extension). Boldy does not carry the weight of a name like Nathan MacKinnon, Jonathan Huberdeau, or Johnny Gaudreau, so they won't be included on this list either.

 

I will look at this list of players pre-pandemic because the NHL had a better salary cap state back then. Therefore, this list will not include players like Kyle Connor, Mikko Rantanen, Mitchell Marner, or Matthew Tkachuk. All of the contracts I want to look at will be after March 2020.

 

In the NHL, centers command a higher salary because fewer players can play that position. So, while players like Nick Suzuki, Tim Stützle, and Elias Pettersson fit the bill, they will get paid more because they play down the middle, so it's not relevant to projecting Boldy.

 

With all of that in mind, if we look at players similar to Boldy, a few names have put pen to paper in the last few years.

The Carolina Hurricanes' star winger signed an 8-year, $62 million year deal after his entry-level contract expired. His contract includes $7.75 million AAV and a no-move clause in the last half of the deal.

 

Svechnikov is an outstanding player. He had 42-point in a 55-game season the year before the Hurricanes made him a $62 million man. They picked Svechnikov second overall, and his career trajectory made him worth the contract. He came as advertised for the 'Canes and rewarded them with a 30-goal 69-point season after signing the deal. He is currently a point-per-game player with 15 goals in 25 games this year.

The Ottawa Senators took Tkachuk 4th overall in the 2018 draft and signed him to a 7-year $57 million contract before the 2021 season ($8,205,714 AAV). The Senators captain had a very good season with 36 in 56 the year before he inked the deal.

 

Like Svechnikov, he potted 30 the next year and is rewarding the Senators by playing over a point per game this year. He's been exactly what Ottawa could have hoped for when they gave him the big extension.

Robertson is probably most comparable to Boldy. He signed a 4 year, $31 million extension ($7,750,000 AAV), a bridge deal that will bring Robertson to age 27, where he will cash in even more.

 

The Dallas Stars would sign him to this contract again in a heartbeat. He currently leads the NHL in goals and is on pace for 75 goals and 133 points. He had 45 points in 51 games per season to start his career and 79 in 71 last year before he signed the contract.

 

Those are the three deals and players that most likely match what could happen with Boldy.

 

The new contract will also depend on Minnesota's cap structure. How much money do they even have to pay Boldy? How much is Boldy's camp going to want? And how much do the Wild want Boldy around?

 

I only bring up that one point because of a past report saying the Wild were shopping Boldy. Guerin was reportedly willing to trade Boldy during the 2020 draft to try and get Yaroslav Askarov with the Winnipeg Jets' pick, but Askarov was taken one pick earlier.

 

Boldly has expressed his desire to stay in the State of Hockey in interviews with the NHL Network. His willingness to play in Minnesota will greatly help Wild management potentially negotiate a more team-friendly contract with him.

 

Don't be surprised if Guerin tries to play hardball with Boldy. The Wild have control of him as he is a restricted free agent. Bill Guerin played hardball with Kevin Fiala when he was a restricted free agent. Fiala got signed to a one-year prove-it deal for $5.1 million, but Fiala had a lot more to prove at the signing of that deal than Boldy currently does. I can't see the Wild going with a one-year deal for Boldy.

 

Boldy has 57 points in 71 career games with a 6.2 positive point share. This season, He's on pace for a 30-plus goal, 60-plus point campaign. Boldy is third in points per game among forwards drafted from 2019-21. The only two players ahead of him are centers Jack Hughes and Matty Beniers.

 

His value on the Wild cannot be understated either. He is top 5 in every major offensive category except assists and drives plays incredibly well, considering who he's had to play with. It's easy to be a good play driver between Kaprizov and Zuccarello. It's much more difficult when your linemates are Freddy Gaudreau and Nic Petan. No discredit to Gaudreau or Petan; they are just not the caliber of player you'd want to tie your young dynamo scorer with.

 

He produced with Fiala; he produced without him. Boldy has proven he is not a product of others. He makes plays. He leaves a bit to be desired 5v5 but so has the entire Wild team.

 

Boldly is the biggest but not the only piece that the Wild have to re-sign. Matt Dumba is as good as gone, but Calen Addison needs a new deal. Sam Steel, Gaudreau, Brandon Duhaime, and Mason Shaw need new contracts. If the Wild want to bring them back, it will cost them.

 

All of these players will probably make less than what Boldy will get combined, and there is no assurance all of them will come back. Filip Gustavsson will also need a new deal, but he should not cost too much. Will all of these players come back? No, probably not. Reaves will probably walk; the Wild did not re-sign Nic Delaruies last year.

 

The Wild are projected to only have $10,418,782 worth of cap space at the deadline. With a plethora of players to bring back, that is not a lot to work with. The team is aided by the fact that the NHL salary cap is reported to be rising by about $4 to 4.5 million for the next season.

 

This is what the math may look like:

$4-4.5 million salary cap increase

$2 million for an increase in the buyout penalty

$6 million for Matt Dumba

$1.75 for Ryan Reaves

$2 million for returning players (except for Addison)

$1-2 million for Addison's new deal

Assuming no veteran gets an insane raise, that gives the Wild $7-8 million to sign both Matt Boldy and Calen Addison.

 

The real question is, will Boldy get the bridge deal, or will the Wild offer him a long-term contract? We saw Guerin give Joel Eriksson Ek a long-term deal and Kaprizov a shorter-term deal. The bridge deal seems like the most likely option because of Minnesota's current cap situation. If the Wild want to set up a bridge deal that pays Boldy less in the first two years and a little more in the next two, I could see that as a likely possibility.

 

With only $7 to 8 million available to work with and others needing new deals, the 7x7.5 deal can't happen. The Wild want Boldy back, and he wants to be back. It may seem the only option is a bridge deal. As much as the Wild may want to give him a long-term extension without shipping out other pieces of the team, that cannot happen.

 

The most realistic possibility is probably a 2-3 year deal, just to get through the buyout penalty years. The number would most likely be a 2-year, $5 million contract. I realize that leaves very little room for Addison's deal, but if the Wild want to keep him, they'll find a way to open up $1-2 million more to get a deal done.

 

If Boldy accepts a two-year contract, he will be 25 when that deal expires and will be entering his prime. Hopefully, the Wild will have found a running mate for Boldy by the time he signs an extension. There is no doubt in my mind that Boldy will be a point-per-game player and be worth the 8-year, $64 million extension, and the Wild will have the cap space to get it done.

 

Boldly has to be a priority for the Wild. He's been integral in the offense, and the Wild will have to find a way to keep him with limited options on the financial side. A short-term deal to get through the buyout years is the best option for both parties. Boldy gets to cash in more like a Robertson or Tkachuk later, and the Wild get their budding star for now and the future.

 

All stats via Evolving Hockey & Capfriendly.com.