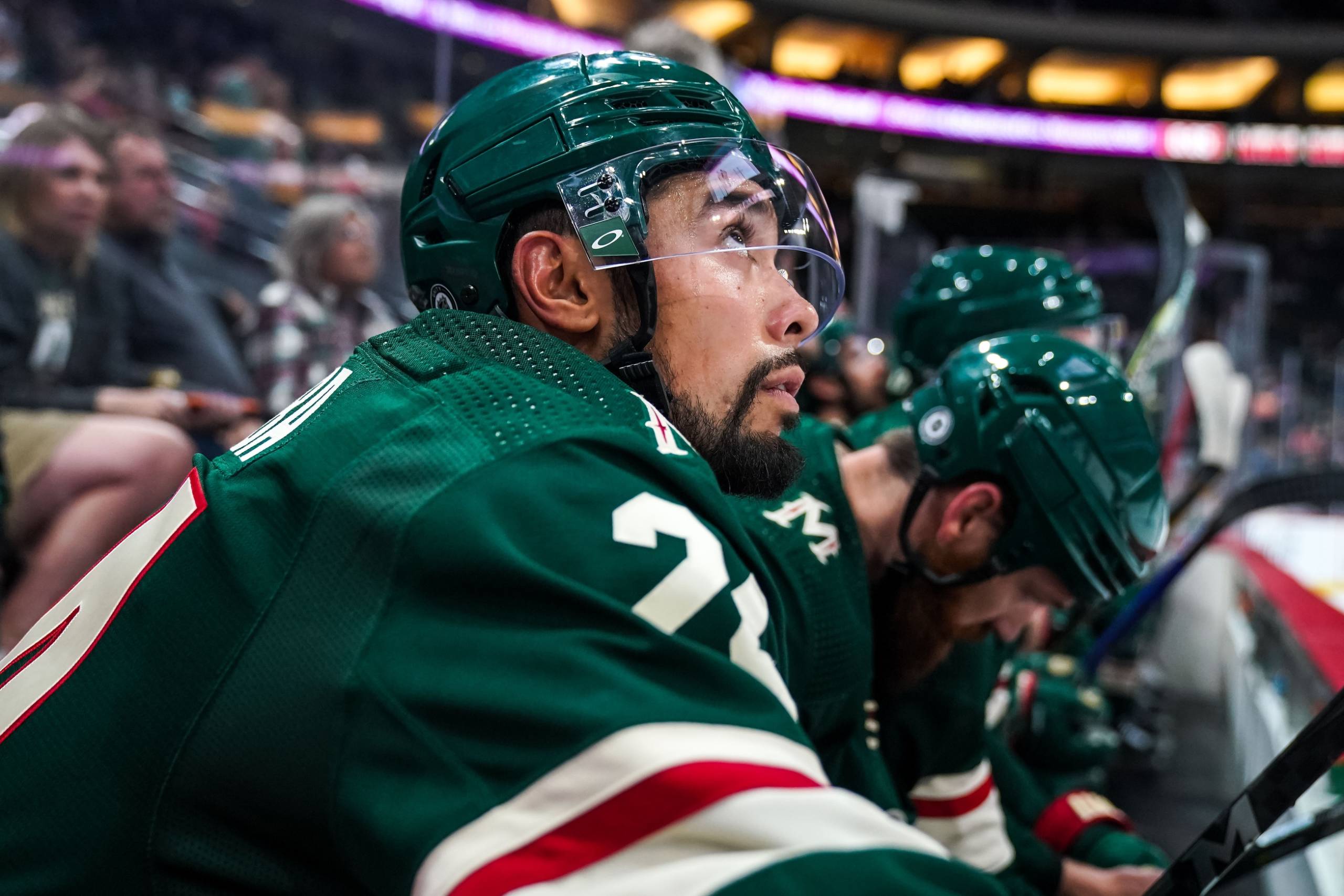 The Minnesota Wild's defensive core has been a gold standard in the NHL over the past decade. There's a reason they've finished top-5 defensively in allowing expected goals at 5-on-5 every year but one (2020-21) since 2013. They've had big-name defensemen patrolling the blueline, such as Ryan Suter, Jared Spurgeon, and Jonas Brodin.
The Wild expected Matt Dumba to land in that same group, too. Coming off a 50-point campaign in 2017-18, it appeared like the then 23-year-old defenseman was just scratching the surface. The Wild wanted to get ahead of a possible rise to stardom by rewarding him with a five-year contract worth $6 million annually.
Dumba proved he had massive potential when he led all NHL defensemen in goals at one point during the 2018-19 season. Then his breakout campaign was cut short because of a pectoral injury that stemmed from a fight. Dumba finished the season with 12 goals and 22 points in 32 games and has never left the trade rumor mill since, mostly because of his lucrative contract and the expectations that come with that.
Entering the last year of his deal, Dumba's future with the Wild is in jeopardy now. It's even more challenging to keep him because of the Wild's salary cap squeeze, which likely sealed Kevin Fiala's fate. The 27-year-old defenseman doesn't deserve all of the criticism fans have thrown at him since the injury that derailed his career trajectory. There's no doubt that his production — or lack thereof — hasn't helped him, but he's still a serviceable Top-4 defenseman.
But the reality is that it's challenging to envision Dumba in Minnesota long-term. Not only is top defensive prospect Calen Addison ready for an NHL role, but the Wild have a plethora of strong defensive prospects in the pipeline.
This has all culminated in the dilemma the organization faces this summer.
What do the Wild do with him?
In a recent survey at The Athletic, 62 percent of the nearly 5,000 respondents voted in favor of trading Dumba this summer. However, 26 percent wanted to keep him for one more season. That likely means they want the Wild to keep him, hoping he increases his trade value before next year's trade deadline. The partial reasoning behind trading Dumba for many fans is to allocate that to Fiala's next contract.
However, it appears that Guerin's mind is set on trading Fiala, regardless of whether the Wild trade Dumba or not. And assuming Minnesota trades Fiala, over 76 percent voted in favor of trading Dumba to open up space for potential shopping this summer in free agency.
It would be much easier for the Wild to move Dumba this summer. It would alleviate some of the financial burden left in the aftermath of the buyouts. That would also allow the Wild to make a few depth tweaks, perhaps in free agency. But Minnesota would be selling low on Dumba and have to view the cap space they get as a legitimate asset. It's something that has occurred more often due to the current financial landscape. The ceiling in the trade would likely be in the second-round pick range for the Wild.
Dumba is probably at one of the lowest points of his career, but he's still formed a solid second pair with Brodin. And he's a right-shot defenseman; something teams covet nowadays. But his lack of production would undoubtedly take center stage along with Minnesota's lack of leverage because of the cap situation. Plus, he has a partial no-trade clause, and not every team has the financial flexibility to absorb his cap hit.
There's also an argument in favor of the Wild waiting until the 2023 trade deadline. If Dumba suddenly raises his value early next season, they will be able to maximize the value of their former first-round pick.
It's also impossible not to think about Brent Burns, who had similar production as Dumba has in Minnesota. Burns found himself on the trade block because the Wild didn't want to give him a sizeable raise after a 17-goal campaign in 2010-11. Everyone knows the ending. The Wild traded Burns to the San Jose Sharks during the 2011 NHL draft, and he became an elite defenseman in his late 20s to early 30s.
Not saying Dumba will peak later on as Burns did. But it definitely feels like Dumba has a lot more to give, especially offensively. He's already improved defensively over the past few years.
The Wild find themselves in an interesting situation this summer. They could trade Dumba for immediate cap space or roll the dice by keeping him another year for a potential trade chip at the trade deadline next season.