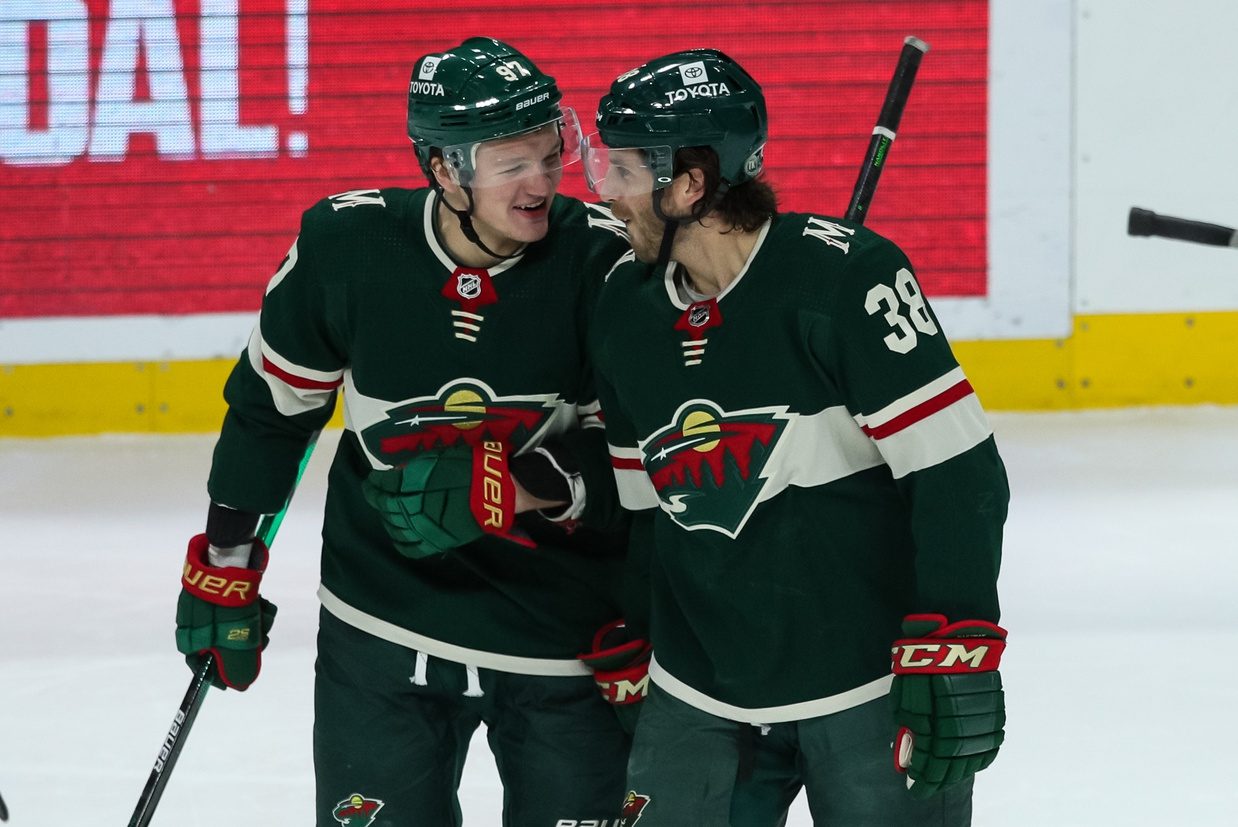 When the Minnesota Wild signed Ryan Hartman to a three-year contract that carries a $1.7 million cap hit, not even Bill Guerin could have anticipated the impact it would have on the organization in the near future.
Hartman has gone from a depth forward to a legitimate scoring threat after signing the multi-year deal and taking a pay cut in exchange for long-term security. Before this season, he hadn't been able to replicate the type of scoring he exhibited in the 2016-17 season when he scored 19 goals and 31 points. Since then, it's always been debated whether or not he could reach that production again.
In his first two seasons with the Wild, the 27-year-old forward produced 20 and 22 points in 69 and 51 games, respectively. He appeared to be a depth forward who could use his physical presence and chippy play to make an impact while pitching in offensively at a normal fourth-line rate.
However, that question has been answered. Hartman has defied all expectations this season.
Hartman is on pace to crush his career highs with 13 goals and 24 points through the first 29 games of the season. His production has been among the league's best at 5-on-5 -- Hartman's 1.46 goals per 60 and 2.92 points per hour rank 15th and 19th, respectively. While plus/minus doesn't paint the entire picture, his plus-22 is the best in the league.
Not only is Hartman's 1.3 wins above replacement the best on the Wild, but it is the 22nd best in the league, too.
Since he arrived in Minnesota, much of Hartman's value has derived from his defense. However, his defensive game has deteriorated with his full transformation in the first third of the season. But that's fine, given his offensive value has outweighed his defensive inefficiencies.
There are undoubtedly other positive elements of his game that Hartman has had to power down, namely being overly aggressive and chippy. But it's all worth it when he's playing the best he's ever played and being a legitimate supporting cast member. Plus, the adjustment to center and a more significant role has led to him being more responsible overall. Hartman is making fewer turnovers and taking fewer ill-advised penalties than ever.

Hartman's offensive play has been among the league's best. It's not just his incredible shooting rate — scoring 5.2 goals above expected — but he's also producing strong play-driving and possession numbers. Sure, linemates have some impact on the on-ice numbers, but it's clear that he doesn't look out of place, and that's he's a crucial piece to the Wild's forwards corps.
After starting the season with Marcus Foligno and Jordan Greenway, Dean Evason awarded Hartman with an audition between Kirill Kaprizov and Mats Zuccarello because he determined Joel Eriksson Ek would be a better fit on the second line. Hartman was given the job after fitting in perfectly between the duo.
The trio has been fantastic by being dynamic offensively, controlling possession, and staying relatively average defensively. Kaprizov, Hartman, and Zuccarello have dominated the competition with a 56 percent expected goals rate and outscored the opposition 11-4.
It's not just Hartman's emergence as a legitimate scoring threat that's changed the Wild's immediate future, though. It's worth noting that he made the transition from wing to center and did so seamlessly. The Wild still lack a true No. 1 center, but Hartman's emergence meaningfully improves the center situation.
With Marco Rossi nearing the status of a full-time NHLer, Hartman provides the stopgap the Wild need with Eriksson Ek dovetailing in the second-line role. The Wild have plenty of options to round the final two lines because Frederick Gaudreau, Nick Bjugstad, Nico Sturm, and Victor Rask are all decent options down the middle.
To fix the center situation, the Wild suddenly don't have a glaring need to make any adjustments — for example, an in-season trade or deadline acquisition. Aside from its current three-game skid, the Wild was recently the best team in the league after winning eight straight. The roster has proven that adding a center would undoubtedly help, but it's unnecessary and probably wouldn't be worth it considering the assets that the Wild would need to surrender.
More often than not, it's better not to fix what's not broken.
Beyond that, Hartman's ability to flourish in a top-six role affects the Wild's contracts this next summer. There is no doubt that his $1.8 million contract will set the bar for depth forwards Sturm, Greenway, and Rem Pitlick this summer if they all remain on the roster going forward. It will most definitely set the tone for the Wild's free agents, especially considering a lot of deals are handed out based on an individual team's contracts.
Lastly, Hartman's emergence is a glimpse of what the future will hold for the Wild over the next three seasons when the Zach Parise-Ryan Suter buyouts become expensive and cause roster complications moving forward. The Wild will be just fine during the cap-strapped years, given the boost Hartman and Foligno have provided and because they ice one of the deepest teams in the league.
All Data Via Evolving-Hockey, Natural Stat Trick, Hockey-Reference, and MoneyPuck.