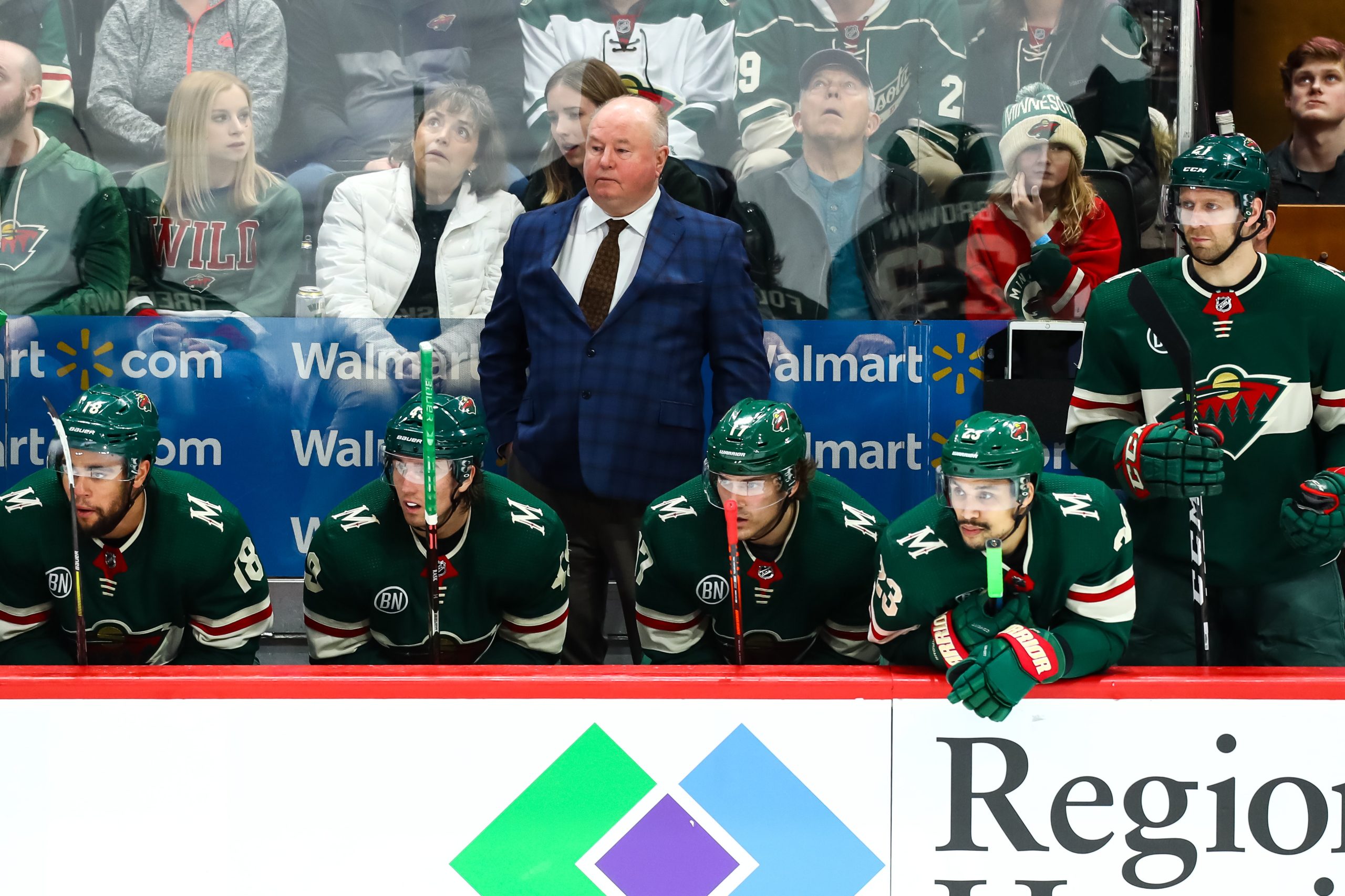 April 1 marks the beginning of the final week of the NHL's regular season, with all teams finishing up play on Saturday night. While the Minnesota Wild's 4-0 loss on Sunday to Arizona just about destroyed any chance they had of getting back into the playoffs this season, there are still some things to watch for in the final week. So if you want to stay interested as the season comes to a close, here are some things you can keep your eye on.
Bruce Boudreau's Last Stand?
This could very well be the final week for Boudreau behind the Wild bench. The head coach does have a year left on his contract at $3 million, but with the way the team/season has gone it could be in Paul Fenton's best interest to make a change behind the bench. The head coach even knows his days could be numbered as he left a telling quote last week when talking about Ryan Donato's future in the league.
Boudreau is the only head coach in team history to lead the team to multiple seasons of 100+ points, including a franchise-best 106 points in the 2016-17 season -- his first behind the Minnesota bench. There is a decent market for head coaches heading into the offseason, so Fenton could have some options if he decides to make a change.
Zach Parise Likely Done For The Year
Parise has not played since the Wild's visit to Washington on March 22 after sustaining a lower-body injury. He was reportedly going to try and work his way back into the lineup this week if the Wild were in it, but the loss on Sunday just about crushed the Wild's playoff odds and will no doubt shut Parise down for the rest of the season.
It was a decent season for Parise -- 26 goals and 33 assists in 73 games this season -- as he played in the most games since 2014-15 (74). He was coming off a half season last year after he needed a procedure on his back to relieve some immense pain and really was off to a great start this year before slowing down production-wise in the final month.
Draft Lottery Odds
For the first time since 2012, Wild fans can actually pay attention to the draft lottery this year. As the Wild sit on the doorstep of being eliminated from postseason contention, you can now turn your attention to the annual lottery, which this year will be held on Tuesday, April 9. Minnesota currently sits with the 11th-worst record in the league, which according to Tankathon gives them a 9.8 percent chance of getting a pick in the top three. If you want to even further dream, the 11th-worst record would get the Wild just a 3 percent chance of landing the no. 1 overall pick.
The Wild are only two points up on Chicago, three up on Edmonton and four up on Vancouver. So if the Wild lose out and those teams behind them pick up a couple of wins, Minnesota could even improve its odds of landing the draft's top pick and possibly drafting Jack Hughes.
Minnesota has only once picked inside the top three in their history, with that being their first ever draft back in 2000 when they selected Marian Gaborik.
No Mat Robson
For those wondering if Mat Robson -- who was recently signed from the University of Minnesota -- would get in a game this week, you will be disappointed as The Athletic's Michael Russo shed some light on that situation Sunday afternoon.
So if you are looking for a local flare in goal this week, you can probably expect a decent dosage of South St. Paul native Alex Stalock.
Winnipeg Sweep?
It is very weird how this season has gone, but Tuesday the Wild have a chance to complete a season sweep of Winnipeg. Minnesota has won all four meetings this season and could make it a perfect five if they can hold down the fort at Xcel Energy Center on Tuesday night.
Winnipeg is in the thick of a battle for home ice in the first round as they have Nashville and St. Louis directly on their tail in the Central, so one could assume that with the Wild now out of it the Jets will get a win on Tuesday.
But in this league, you never know...
---