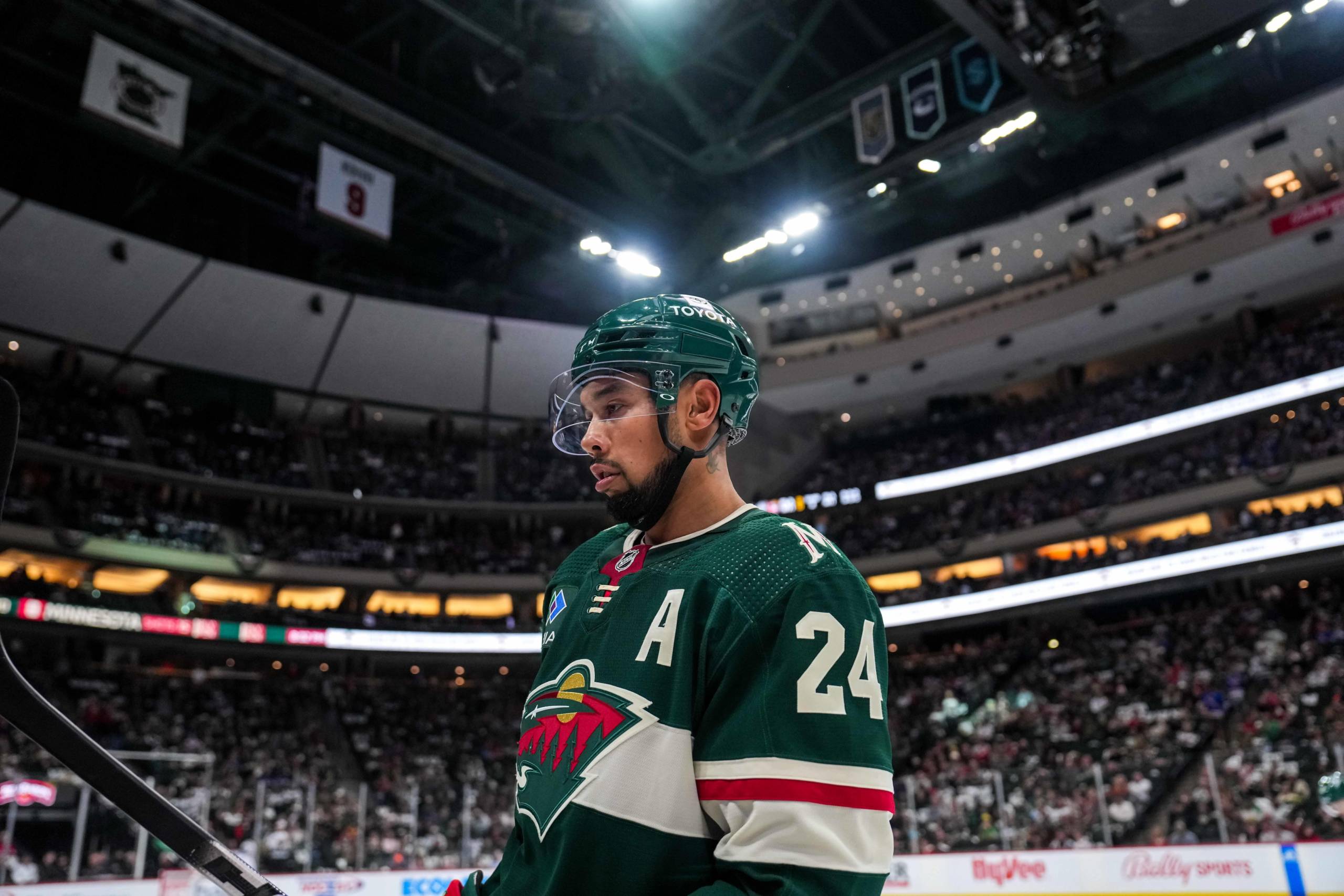 Death. Taxes. Matt Dumba's name revolving around the trade market.
Here we go again with the Dumba speculation. It's been raging, with the most recent stokes coming from Sportsnet's Elliotte Friedman's 32 Thoughts column from this week:
One executive said that when his team called Minnesota about Matt Dumba, GM Bill Guerin's response was, "Make it make sense for us." Guerin is trying to win, and, as a 1,263-game NHLer, knows how making a trade that hurts the team will play in the room. So it's got to make them better, or give him the assets to make them better in another move.
These rumors have been going on for years, but it feels different this time. In the past, general manager Bill Guerin took umbrage to anyone suggesting he might be looking to trade the 28-year-old defenseman. He even went as far as jumping on local radio to vehemently defend his alternate captain.
However, Guerin has sort of changed the tune of his tone lately. He's been transparent when publicly discussing Dumba, starting with an acknowledgment at the beginning of the year that he and Dumba sat down in training camp to discuss the very real possibility he could be dealt at some point.
That time could be very soon. Last week, TSN's Darren Dreger reported how Dumba's name was once again circulating in trade rumors around the league. For the first time, there are specific teams linked to him. Dreger identified two teams calling about Dumba: the Edmonton Oilers and Ottawa Senators.
Considering blue line help is No. 1 on both teams' wish lists, it's probably best to believe Dreger's intel is correct. More than that, though, The Athletic's Pierre LeBrun elaborated even further on the Dumba situation. LeBrun made sure to note his college Michael Russo has expressed multiple times that Dumba won't be traded for strictly future assets. Bill Guerin is competing for a Stanley Cup; thus, he won't manufacture any moves to make his team worse.
The good old hockey trade it is, then.
Or maybe not. It wouldn't surprise anyone in the hockey world if Guerin traded Dumba for picks and then packaged those picks to land a bigger fish on the forward market. If Dumba is indeed traded soon for just picks, that's the most likely outcome.
And why at forward, you ask? One has to assume Guerin will not trade Dumba for another defenseman, especially if that player has any term left on his deal. Minnesota's defensive cupboards are stock full, and it wouldn't make sense with Brock Faber conceivably jumping into the NHL later this spring.
No, Guerin is likely targeting an impact forward who can replace a little of the punch lost in the Fiala trade. Preferably, that player would be a center. So whether the Dumba trade with Ottawa or Edmonton is to set up for a bigger one, it will most likely be in an attempt to improve their scoring.
However, who would it be if Guerin has identified a player on either the Oilers or Senators to flip Dumba for? It's okay, I already checked. Let's dive in.
Ottawa Senators
Yeesh. Truth is, the Senators are stacked up front with young players signed to long contracts. These pieces just won't fit in Minnesota. Derick Brassard used to be a solid No. 2 center in his prime with the New York Rangers a decade ago. But at this point in his career, he's a fourth-line center.
Nearly everyone else is signed to a lengthy contract and are key parts of Ottawa's future core. However, their second-line center, Shane Pinto, would be interesting. The Senators have trusted Pinto with big minutes, but he hasn't been all that productive. But at just 22 years old, the former second-round pick has time to improve.
Why would Ottawa trade him? Because as valuable as young centers are in the NHL, Pinto is expendable on a Senators squad loaded with centers. Tim Stützle anchors the top line, and wingers Drake Batherson and Claude Giroux can move from wing to center if need be. They also have young superstar Josh Norris, who is out for the season.
But this season doesn't matter anymore for Ottawa, or at least it shouldn't. When Norris returns next season, they will be better positioned to exit their rebuild, and Pinto might find himself down the depth chart. Ottawa has the cap space to re-sign Dumba if they want to, and this trade would give them an audition period to see if he could be part of their future.
As for Minnesota, losing Dumba would hurt, but they could allow Pinto to play next to Matt Boldy or even on the top line. His contract is up this season, but he is an RFA, and an extension would work within the salary structure for the Wild. For the first time in their existence, they would almost have an abundance of young centers in their system.
Pinto is really the only option that makes sense for both sides.
Edmonton Oilers
Edmonton is an even bigger yeesh. The Oilers are completely capped out; thus, some money would need to come back in any deal. Jesse Puljujarvi is the obvious one with his $3 million cap hit, but it will take a lot more coming back the other way if they want Dumba. We've been big proponents of Puljujarvi here at 10K Rinks, but even we must admit this season has been disappointing for the former No. 4 overall pick. It seems unlikely Puljujarvi could positively impact the Wild this season.

 

None of their other options make sense in a trade with Minnesota. They either make too little money to offset the Dumba contract (unless Edmonton wants to pony up for Minnesota to retain, which seems unlikely), or they are untouchable (see: Connor McDavid.)

 

Believe it or not, an old friend would be the most enticing trade proposal. It's like we entered a time machine and went back to every summer between 2017 through 2020. Let's look at it again: The Ryan Nugent-Hopkins for Matt Dumba straight-up deal!

 

It makes sense financially, as RNH's $5.125 million cap hit would barely fit for Edmonton to take on Dumba's $6 million hit. For the Wild, it makes sense to finally find a dynamic center to play between Kaprizov and Zuccarello. RNH is having a career year, too. At age 29, he finds himself on a point-per-game pace for the first time in his career. Making his cap hit work for the next six years would be tough for Guerin, but it's a manageable task if he thinks he really found his No. 1 center.

 

But is that what RNH is? Because when you look under the hood, it doesn't seem so. His 20 goals and 30 assists this season pop out at you. But so does the fact just 18 of his 50 points this season have come at 5 on 5. Nugent-Hopkins seems to be riding his power play minutes with both McDavid and Leon Draisaitl but floundering at 5 on 5.

 

Nugent-Hopkins isn't asked to shoulder much responsibility at 5 on 5, but one would hope your No. 1 center making that much money could drive the play himself. So, while the trade is as enticing as it has been for the past decade from above, it starts to look far less appealing once you dig in.

 

And for those reasons, I'm out –

.

 

Truthfully, neither Ottawa nor Edmonton has a whole lot to offer outside of Pinto. Yet, if he isn't involved in this potential Dumba trade, I'd hope the Wild stock up on assets and make a run at a big fish in February.