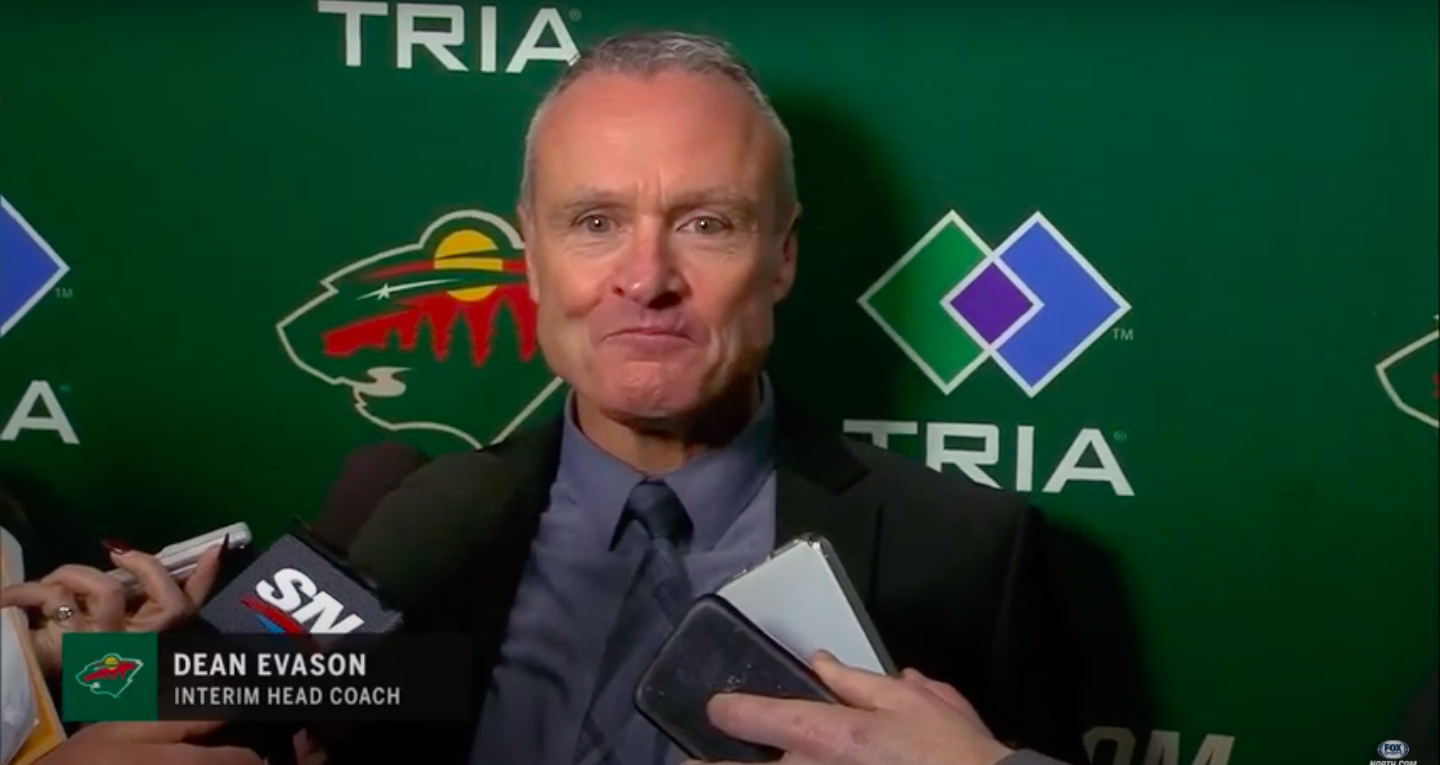 A year ago it seemed inevitable that Dean Evason would be the Minnesota Wild's head coach.
It didn't take a genius to see why, either. Minnesota hired Paul Fenton as general manager in 2018, when he inherited Bruce Boudreau as his coach. Boudreau still had two seasons remaining on his contract, but hadn't delivered playoff success to St. Paul. Anyone could see that Boudreau's seat was getting toasty.
Fenton made an intriguing addition to Boudreau's coaching staff, adding Evason as an assistant. Evason had a long working relationship with Fenton, serving as the coach of the Milwaukee Admirals, Nashville's AHL affiliate. Fenton was Milwaukee's general manager. It was pretty clear that a succession plan for Boudreau was now in place, and Evason was Fenton's handpicked candidate.
Then Minnesota shocked the hockey world by firing Paul Fenton just 14 months into his reign. In came Bill Guerin. Guerin had been a front office executive for five years and an NHL player for 18 more. Surely he had met someone in his travels he thought would make a great coach.
Suddenly Evason's future as the Minnesota bench boss wasn't so inevitable.
But Evason's work as an assistant clearly impressed Guerin. Boudreau was fired in February, and Evason assumed command in the interim. He then led the Wild to an 8-4 record that put them within one point of the playoffs.
Evason would have had another 13 games to work with the team, but coronavirus shut down the league in March. Despite the abbreviated audition, Evason enters the playoffs as the fifth full-time coach in Wild history. How did a coach-in-waiting survive his general manager being fired, only to claim the job a year later without NHL coaching experience? Let's find out.
Picking Up The Pace
When Boudreau arrived in St. Paul back in 2016, the goal was a Stanley Cup. But an added hope was that he would bring some offensive flair to a very defensive-minded team. Boudreau did boost Minnesota's offense somewhat, but anyone who thought Boudreau would replicate his high-flying past was disappointed. Minnesota continued to grind play to a halt, slowing down the pace for themselves in the process.
That's fine when it's successful. Fans will see a winning hockey club, even if that brand of hockey isn't aesthetically pleasing. And you could argue that due to a lack of shooting talent, prioritizing defense was good strategy.
But when you play a boring style of hockey and your team starts losing? That doesn't do anything to keep fans in the stands. Boudreau's Wild missed the playoffs in 2018-19, then spent most of the 2019-20 season outside the playoff bubble. He didn't try to adjust the Wild's style, and instead doubled down on defense to protect his weak goaltending.
When Evason took over, he pulled Minnesota in a more offensive-minded direction. The Wild shot 29.3 times per hour under Boudreau at 5-on-5 play last year. That increased to almost 34 under Evason. Minnesota's attack improved in terms of quality as well. The team went from 2.21 expected goals per hour at 5-on-5 (27th in the NHL) to 2.51 per hour (15th).
If those numbers were maintained over a full season, both would be the best marks in Wild history. And Evason opening up the offense didn't sacrifice much in the way of defense, either. Minnesota was still a top 10 team defensively.
Twelve games is a small sample, sure. But the early returns were that Evason was able to win and play exciting hockey.
The Fiala Factor
Evason's experience in Milwaukee did seem to be a factor in this decision, in a roundabout way. He coached Kevin Fiala through parts of three seasons when he was 18 to 20 years old. Fiala developed nicely under Evason, scoring 36 goals and 89 points in 121 games for the Admirals.
Two years later, Fenton traded for Fiala, reuniting him with Evason in Minnesota. Fiala had a rough start to his Wild career, but turned things around nicely en route to a breakout season.
This isn't to give all the credit for Fiala's breakout to Evason. Boudreau deserves a lot of credit, as does the team leadership and Fiala himself. Fiala performed excellently in his last two months under Boudreau, posting 22 points in 25 games.
But it was clear Evason had a level of trust in Fiala that Boudreau never did. Fiala never got heavy minutes under Boudreau, averaging 14:46 per night overall (15:20 in those last two months). Evason unleashed Fiala, playing him more than 18 minutes a night - the most among Wild forwards in that stretch.
Evason also built the offense around Fiala, to great results. Fiala racked up nine goals and seven assists in those 12 games. And he was a shot machine on top of that, averaging more than four shots per game. Under Evason, the State of Hockey got to see what Fiala looked like as the focal point of the offense.
The reviews are in: It looks pretty good.
Sure, Evason getting the gig is about more than just his relationship with Fiala. But make no mistake, this is a league where star players drive the best teams. And being able to get the most out of Minnesota's budding superstar is a selling point.
What Could Have Been?
It is surprising that Guerin was so quick to remove the interim label from Evason. Evason's 12-game audition represents his only NHL coaching experience. He performed well, but a 12-game sample is pretty small.
Guerin could have spoken to a number of decorated coaches, had he wished. Peter Laviolette has taken three teams to the Stanley Cup Final, winning one in Carolina. Gerard Gallant in particular would have been intriguing, as he presided over a juggernaut offense in Vegas. And who knows, an early playoff exit could free up a coach like Jon Cooper.
Is it justifiable to skip that part of the process altogether? It's certainly debatable. Conducting an interview process would at least give Guerin multiple chances to weigh options, even if his instinct was to go with Evason.
But on the other hand, Evason makes sense for Minnesota as well. He was able to get the most out of his players, even if his run as coach was only 12 games. The players seemed to respond to him, whether that's attributable more to his personality, his up-tempo system or both. Evason has a proven track record of fostering the development of Minnesota's best player.
There are a lot of ways that this hire could go wrong. This would also be true of a retread hire like Laviolette or Gallant. Same with any college coach looking to make the leap to the NHL. It's a risk, for sure. But Evason gave Minnesota a glimpse at an exciting brand of hockey that delivered wins. If that trend holds, then Guerin's choice here will be an inspired one.