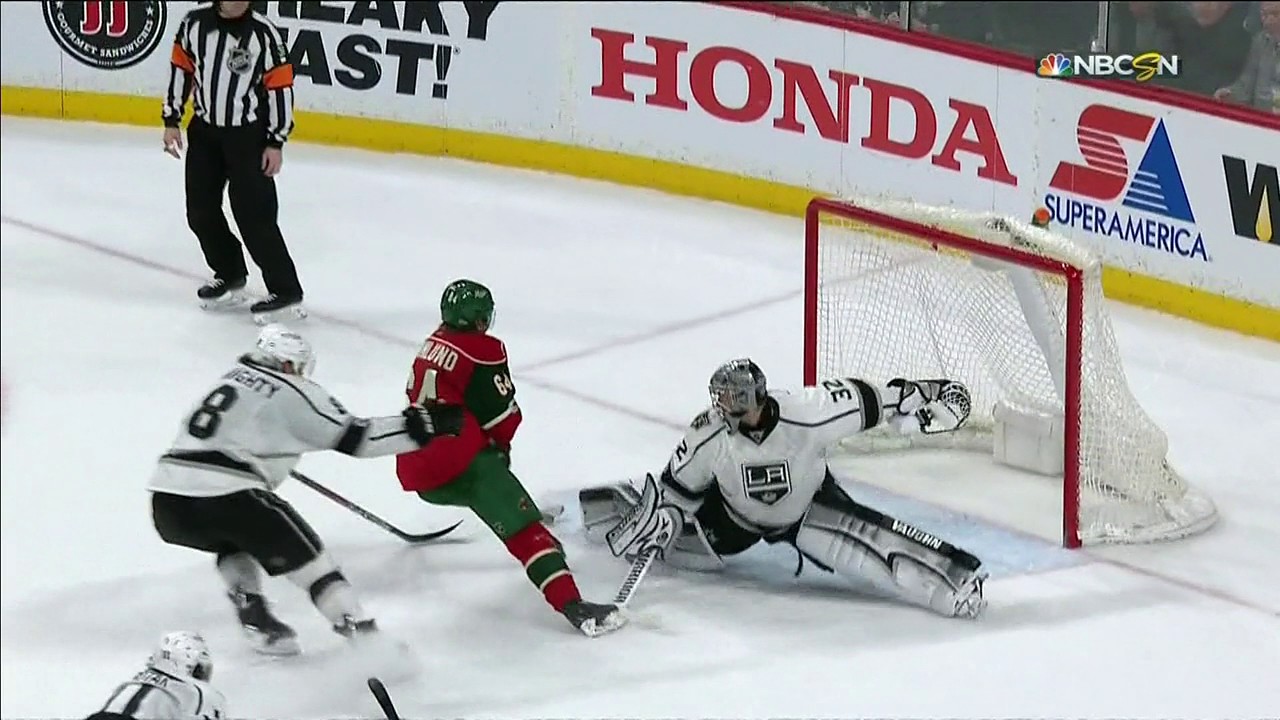 You look at what our team is, our leaders are our leaders. I put them in charge. Are there some things I would do over again differently? Yeah, for sure. But it's not like we had somebody else that was all of a sudden going to get 100 points.
-- Mike Yeo in a parting Q&A in late February of last year
A little over a year ago Mike Yeo was fired. The local media immediately turned their attention to general manager Chuck Fletcher, who was now about to hire his third coach. Many suggested the team had to be dismantled. That Mikael Granlund needed a change of scenery. That Jason Zucker had speed, but always found himself riding up and down I-35 as he shuffled between the NHL and the minor leagues. That Nino Niederreiter wouldn't live up to his billing as the No. 5 overall pick in 2010 and that Charlie Coyle's lapses in play would keep him from ever reaching his potential.
The issue was not with the players, of course, nor was it with the general manager. It was the coach, who was overwhelmed with championship expectations that were placed on the team once Zach Parise and Ryan Suter were signed and hampered the development of his young forwards by deferring to underachieving veterans like Thomas Vanek and Jason Pominville.
Now, under the guidance of veteran coach Bruce Boudreau, all four forwards have more than 40 points 60 games into the season. Granlund leads the team with 59 as of Monday, and Niederreiter, Coyle and Zucker are all in the mid-40s. Outside of Mikko Koivu and Eric Staal, who each have 48 points, it is the production of the young forwards that is the difference-maker this season. Pominville has 39 points, but only eight goals -- fewer than Erik Haula and Chris Stewart -- and Parise, who has been plagued with injury and illness, only has 29.
The Wild roster is far from perfect, but clearly isn't as flawed as it once looked. Minnesota is in a heated race with the Chicago Blackhawks for the best record in the Western Conference and is in the discussion as a dark horse Stanley Cup contender -- if it can beat Chicago, of course. The reality is the Wild may have been here years ago had Yeo been fired after failing to speak to his team after games during the first official Swoon™, when he appeared to have run out of answers. Or when he lost it during a practice. Or, really, just for failing to keep his team from Swooning™ every year.
The Wild have cornered the market on 2010 draft picks -- Niederreiter (No. 5 overall), Granlund (9), Coyle (28) all went in the first round, and Zucker (59) in the second -- and the team is where they are now, with the young players pushing each other for the goal-scoring lead, something that was practically unfathomably under Yeo.
"We're all genuinely happy for each other, I mean every guy," Zucker told the Star Tribune in early March. "The more guys we have that score goals, the better off we're going to be, right?
"Granny has been unbelievable, Nino's been unreal. We've got tons of guys that are right there with us, too, so it's been fun."
The truth about the Wild is that they really are going to undergo two phases. There's the current phase, which is centered around Parise, Suter and Koivu, and then there's going to be the "Old Parise-Suter" phase that likely will be built around the young guys, plus prospects like Joel Eriksson-Ek, Jordan Greenway, Alex Tuch, etc. That may be a ways out -- Suter is a solid minutes-eating defenseman and Parise a relentless two-way player -- but it's coming, probably before their contracts are up, so the young guys might as well kick it into gear now.
The San Jose Sharks, Sunday's opponent, have peacefully migrated from the Joe Thornton and Patrick Marleau captaincies to the Joe Pavelski, Logan Couture, Brent Burns era. Minnesota should be able to as well, but having the '92s kick it into gear will give everyone more confidence that they can take over leadership roles on and off the ice in the future.
"It's why you don't have long losing streaks"
"It's good that they're all scoring," Boudreau told the Star Tribune regarding the goal-scoring competition. "That's one of the things about this team. Our balance has been pretty good all year. It's surprising that we're second in the league now in goals for, or what have you, but it's all because of the balance and everybody chips in.
"It's why you don't have long losing streaks."
Losing streaks. Or, you know, Swoons™.
The question with the class of 2010, really, is how good can these guys be? Is this just going to be a team that scores by committee, or will one of the players really separate himself?
"We're definitely all pushing each other to be better, and obviously, the more goals you score, the better it is for our team and everybody wants that success," Niederreiter told the Star Tribune. "It's been fun. We're all in the 20s now. You want to hit the 20s. It's just a relief, kind of a mark which is great to break.
"The next one is 30, which would be great to break and hopefully we can achieve that one day. I'll try my best to get as many or as close as possible this year."
Niederreiter and Granlund should be capable of breaking that 30-goal plateau. Both were top-10 picks in the draft and have immaculate skillsets. Niederreiter is more of the bruiser, a player who gets to the front of the net and can unleash a hard shot, where Granlund is a finesse player that can dart around opponents like he did in overtime of the Los Angeles Kings game and beat the goalie now that he's not, ahem, deferring as often.
Coyle has the makeup of a sturdy two-way player, but probably doesn't have gamebreaker potential like his other teammates. He may be a candidate for captain down the road, however, given his amicable personality and willingness to be the voice of the team after wins and losses -- a trait Parise currently possesses. And Zucker's speed will always allow for the possibility that he has another level he can reach. His Las Vegas roots, however, make him a candidate to join the newly formed Vegas Golden Knights next season.
In the end, Yeo might have been right. Maybe none of the '92s have the capability to score 100 points in one season. It's a bit of a self-fulfilling prophecy, however, given that they weren't really given the opportunity under his watch.