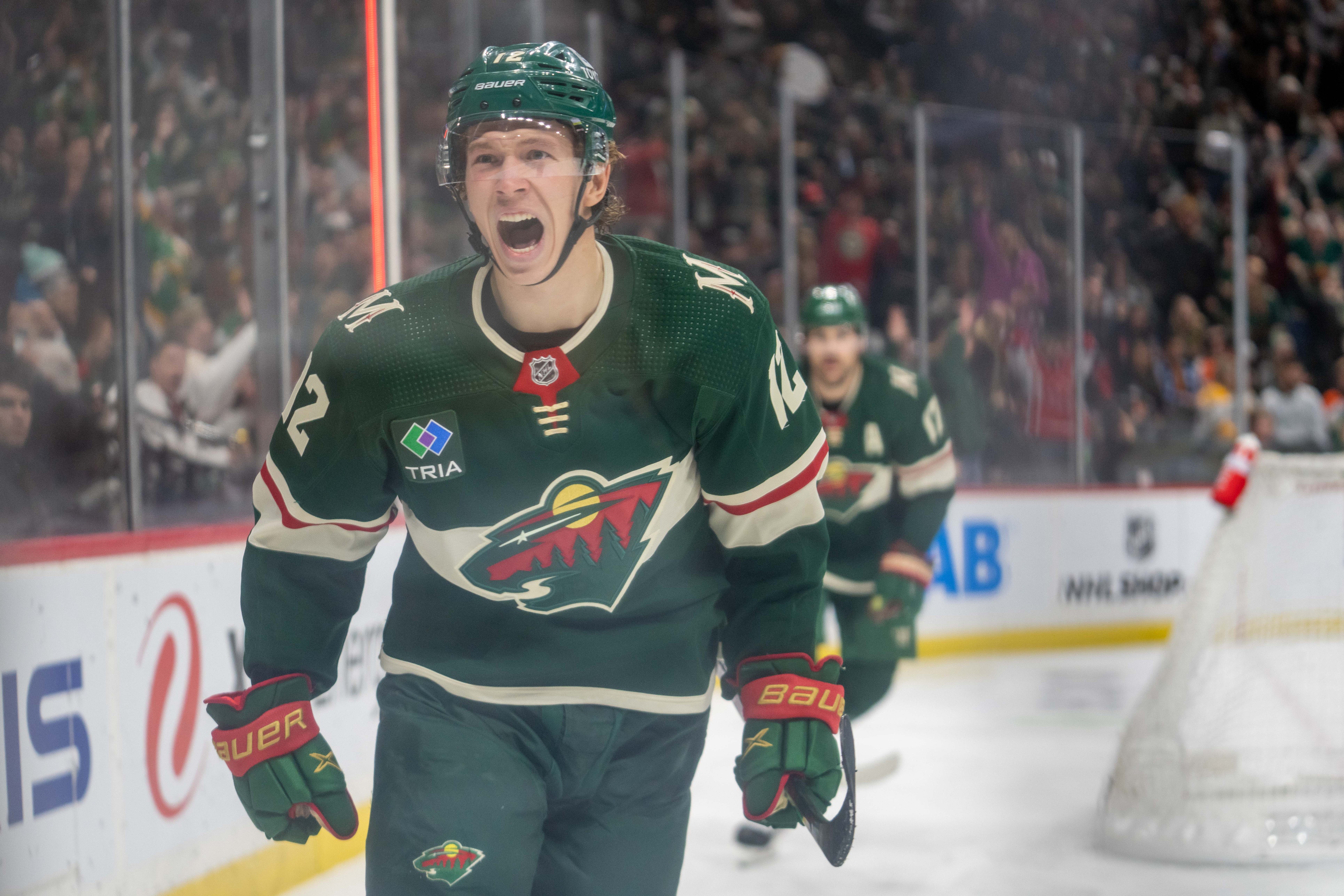 Image courtesy of © Matt Blewett - USA TODAY Sports
When a hockey player becomes proficient from a particular spot on the ice, the geography of a hockey rink changes. It becomes that player's "office." Ardent hockey fans are familiar with Wayne Gretzky's office behind the net, which he pioneered with help from his cross-training in lacrosse. Alexander Ovechkin is known for his blistering one-timer from the top of the left circle. 
Similarly, Matt Boldy spent last season building a peculiar trend of generating scoring chances from his off-hand faceoff dot. Instead of operating from distance, though, he does his work right on the goal line. 
Highlighting this area of the ice is difficult -- there really isn't yet a word for it. It's not the half boards, and it's not the slot or the home-plate area. It's not the faceoff circle, but it's also not the space below the goal line. It's the no-man's land between all these areas. 
Boldy's Office is bound by the right-side dot lane, the goal line, the middle of the ice, and the low hash mark. Some would call this the net-front, but the way that Boldy does his job makes this little cubicle feel enormous.

Sometimes, Boldy shows up to work and simply puts his head down immediately. He's clearly held this position for some time, as his Iowa highlights are peppered with plays from this area. 
In the video above, Boldy scores on his signature move from his office. He drives the net from forehand to backhand and doesn't care whether he's the one who ends up with the puck on the backdoor. If the defense over-commits to his hulking 6'3" frame barreling from right to left, he knows a teammate will clean it up. Watch him in 2023-24, and I assure you he'll score three to five goals in this manner. When that play isn't there, Boldy will set up with or without the puck, and this workspace highlights his unique combination of hockey skills. 
Boldy's hat trick from last February highlights all of his superpowers: a nose for space, a nuclear shot, an immovable build, and soft hands. On top of this, he's got the confidence to shoot from anywhere, which pairs well with his obvious comfort near the goal line. 
The first goal displays Boldy's combination of size and skill. He posts up like Shaquille O'Neal before dunking the puck past the goaltender. The second goal comes outside of Boldy's Office, but it's still a good display of his buttery soft hands. Finally, to cap the hat trick, Boldy displays his nose for space and brash confidence to shoot from any angle. 
If Boldy is Shaq in the post, he's Kobe Bryant between the ears. His frame makes for as easy a path to the net as can be found in the NHL, which will endear him to every coach he'll ever play for. He cashes this goodwill in with stickhandling moves and shot selection that is almost arrogant. Not only can he tip shots beautifully, but he dekes on a level with Kirill Kaprizov and Kevin Fiala. Boldy is one of the few players on the team with the green light to try anything. 
Boldy's hands support him off the rush despite his greatest weakness: straight-line speed. While he's a good lateral skater and supremely agile for his size, Boldy scores off the rush much more than his foot speed would suggest. True superstars have a knack for finding their game, and they typically do so by using their superpowers to neutralize their "kryptonite." Boldy is no exception. His hand-eye coordination is on full display here: 
Boldy picks the puck out of the air knee-high on his backhand and works right down to his office. He settles the puck and threatens the cross-ice pass so fast it backs off the Anaheim Ducks defender, then beats John Gibson glove side. Sure, there's elite zip on this shot, but you can't just zip it past a top-five best goaltender in the league. 
Boldy's comfort shooting and distributing from his off-wing really opens up his line. Playing with Joel Eriksson Ek and Marcus Johansson, the fit was evident. That line carried Minnesota during Kaprizov's absence late in the 2022-23 season. One reason for this is that both Boldy and Eriksson Ek are truly elite two-way players. The way that Boldy hangs out high and steals pucks from his opponents' breakout gives shades of Mikko Koivu. 
While all three players are left-handed, they were highly effective off the rush. That should be a prerequisite for any line Johansson plays on, one of the game's smoothest skaters. But even with just Eriksson Ek (another slower straight-line skater), the two undress Alex Pietrangelo -- Vegas's cornerstone defenseman.  
Pietrangelo is an extremely intelligent defender, so let's rule out puck-watching. What's going on here is that he believes Boldy is locked down because he's on his off-hand. It's another reason Boldy is such a danger on his off-wing. He's comfortable at the net because of his size. He's comfortable when opponents blanket him because of his sick hands. And he's comfortable below the faceoff circle because while most players can't shoot from here, he can. 
Show them this the next time somebody asks why Matt Boldy is a superstar. The adjustment Boldy makes on this puck to gather the shot, all in one shooting motion, is nothing short of elite. Consider on top of that that this is the fastest Kirill Kaprizov can pass a puck. On top of that, consider that the puck was over his right shoulder less than two seconds before he begins his shooting motion. Watch the clock -- it's literally less than two seconds. 
Unquestionably, Boldy sees the game in an uncommon way. It's not just that he sees the game better than other players, though. Where NHL defensemen see a safe place for rebounds, Boldy sees his favorite spot on the ice. Most forwards feel pressure in this area -- the opponent's defenseman, center, and near-side winger can all collapse to double you at any time. Next time you watch the Wild, watch Boldy in his office. Anybody who wants to learn this facet of the game must start by shadowing Boldy at his nine-to-five.
4