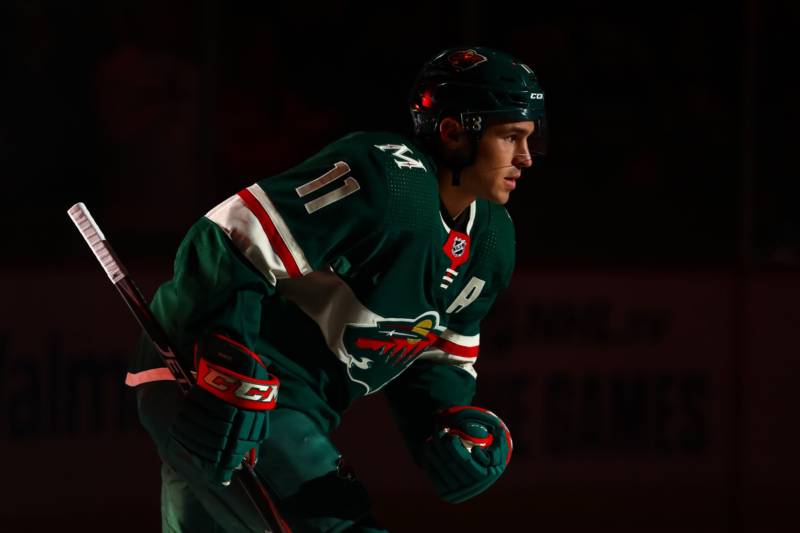 Sometimes in sports, the best trades are the ones you don't make.
Imagine if the Minnesota Wild traded Kevin Fiala back in October of 2019 after making a lousy first impression on a new general manager. Or if one of the Wild's three recent GMs decided to pull the plug on Joel Eriksson Ek.
Hell, you don't even have to speculate to get a good example of this. Paul Fenton tried to give away Jason Zucker for a solid year. He almost did it in exchange for Michael Frolik and a first-round pick at the 2019 Trade Deadline. Then that summer, he tried swinging a deal trading Zucker for Phil Kessel, Jack Johnson, and an expired pack of BallPark Franks.
If Fiala hadn't become a game-breaker, the two best decisions of the Fenton Era would've been made by the NHL official who ruled the Frolik deal came in too late and Kessel saying "No" to Minnesota. One year later, Bill Guerin traded Zucker for top prospect Calen Addison and a first-round pick — a proper return.
Unfortunately, Guerin's deadline performance last year shows that some of the worst trades are the ones you don't make.
It's no secret that Minnesota has a Zach Parise problem. He's hinted at unhappiness since 2019, but his unmovable contract destined -- or doomed? -- him to play out his career in St. Paul. Still, Guerin reportedly had a deal in place to make everyone happy. Parise would go to the New York Islanders, and the Wild would get out of the remaining five years of his $7.5 million cap hit.
For whatever reason, the trade fell through. That fact seemed okay at the time. With 25 goals in 69 games, Parise still boasted nice production, compared to Andrew Ladd -- the problem contract Minnesota would've received from the Islanders.
Today, this looks significantly worse and could get a lot uglier depending on how the summer goes. Parise is unhappier than ever, having a falling out that included a disciplinary healthy scratch in March, then reduced ice time down the stretch, then was healthy scratched again for the first three playoff games of the year.
Worse than being unhappy, he's unhappy and unproductive, scoring just 7 goals and 18 points over 45 games. With four years remaining on his contract, it's unlikely the Islanders — or any contending team that Parise's likely to waive his no-move clause to go to — would want to take on his cap hit, even if they had the room.
Without trade, the Wild have no ability to get any meaningful relief from Parise's contract. A buyout this offseason would clear over $5 million, but at the cost of absorbing most of his cap hit in the next three years. Given that Parise clearly wants to play, one can scratch the idea of him pulling a trip to Long-Term Injured Reserve, à la Marian Hossa.
Barring anything unforeseen, there's no way out for Minnesota or Parise.
Sixteen months later, it's unequivocally true that the Wild would be much better off had they pulled off the trade. Ladd's an AHL exile, which means his $5.5 million cap hit is pure dead weight. Still, there are advantages to his deal that aren't present with Parise.
Ladd has a no-trade clause, but not a no-move clause, which crucially means the Islanders can bury him in the minors. That doesn't eliminate his entire cap hit — those rules changed after the 2012 lockout — but it does provide mild relief. Sending Ladd to the minors clears a little over $1 million off his cap hit, making the final bill $4.375 million.
Second, Ladd is only on the books for two more seasons, meaning his money would free up in summer 2023, just in time for Addison and Matt Boldy to receive raises.
Easing things down the road would be great, but more importantly, Ladd would make things better now. Minnesota's $22 million in cap space is all but already spoken for. Kirill Kaprizov, Eriksson Ek, and Fiala are all restricted free agents due for massive raises.
That goes on top of a mandate to improve at center, a famously hard position to acquire talent. It already appears inevitable that Matt Dumba and his $6 million cap hit will leave this offseason. What other cuts will Minnesota have to make? Will it cost them Fiala? Is Parise's contract preventing Minnesota from spending the money required to lock Kaprizov down long-term?
Saving ~$3.2 million in cap space might seem like a drop in the bucket against Minnesota's cap issues, but we're talking almost 4% of the salary cap. Add in the fact that it'd be much easier to offload half of Ladd's salary onto a bottom-feeder than it would be for Parise, and we're talking potential savings of up to nearly $5 million. That's likely enough cap space to sign Eriksson Ek, for example, preserving more money for a big move.
Alas, we can only dream of a better world, one where Parise gets his shot Stanley Cup glory, and Ladd is proudly wearing the Wheat Iowa Wild jersey. Here, in the HellLeague where the Wild are condemned to navigate the Flat Cap Era's labyrinth, they face some brutally tough decisions this offseason.
Look, Guerin was a rookie GM, and all rookies need to learn lessons. Lessons like, "When you got a sucker willing to make a cap headache go away, you better seal that deal." It might be a good thing to file away until the next opportunity to casually ask, say, Mats Zuccarello or Ryan Suter if they've thought about an exit strategy lately.