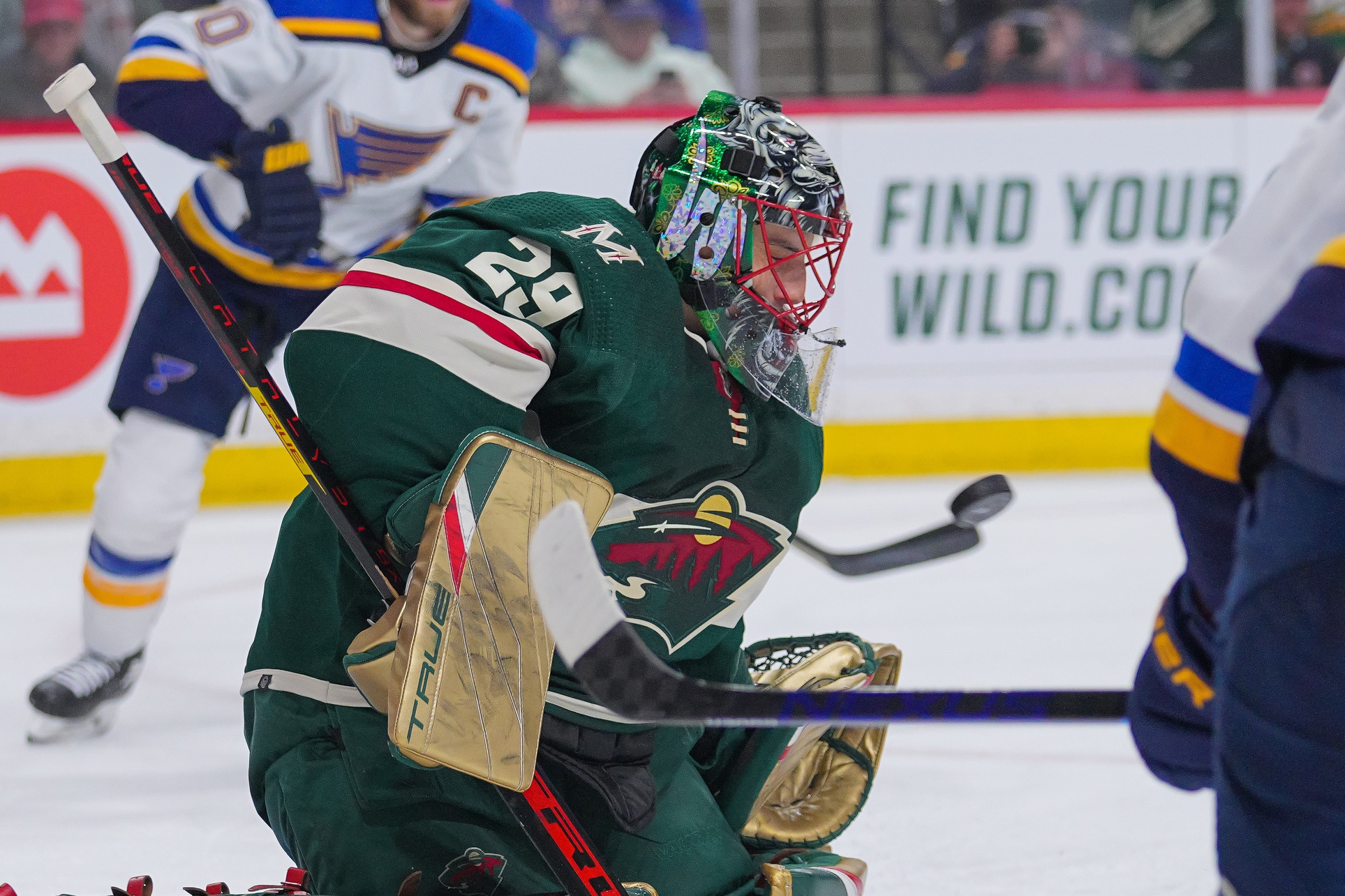 The Minnesota Wild finished second in the Central Division and ended the season on an 11-2-2 run. They even got home-ice advantage against the St. Louis Blues in the first round. After a great regular season, there was a decent amount of hype heading into the playoffs. Minnesota's stars were playing like stars, and fans expected that to translate to the postseason.
Then Game 1 happened.
Red-hot Ville Husso and the Blues stunned the Wild Monday night. Husso showed shades of former St. Louis goalie Jake Allen in the 2017 playoffs when he single-handedly won the series against the Wild.
No matter how hard the Wild tried, they just could not get past the Blues netminder. Wild fans will be haunted by the way Husso came up with saves so easily.
Ville Husso had never played in the Stanley Cup Playoffs before. But in his first postseason appearance, he outplayed a future Hall of Fame goaltender in Marc-Andre Fleury. Husso also became the first goaltender in Blues history to record a shutout in his playoff debut and the third ever to blank an opponent in his first career postseason appearance. That wouldn't happen against any team other than the Wild. They seem to attract this kind of stuff.
Granted, the Wild didn't fire too many high-danger shots on Husso, and he wasn't forced to make spectacular saves. But he did what he had to do to get the job done.
Husso was 9-1-2 in his last 12 regular-season games, so he's here to stay in earned the starting role. If the Wild cannot solve Husso, they might be looking at booking their tee times soon.
Coach Dean Evason had to make the final decision on who would start Game One. He had mostly been using Cam Talbot and Fleury every other game in the regular season. "Well, we talked before that it's not a tough decision," Evason said. "Right? It's an easy decision because we feel both are more than capable of starting for us here. So we're excited about the opportunity to have both guys available if we need it, and we probably will."
Talbot ultimately sat and watched on the bench as his team got pummeled by David Perron and the Blues. The Wild went with the guy with more playoff experience in Fleury for Game 1, and as of Wednesday morning, Game 2. But Talbot is sitting on 13 consecutive wins and was playing great hockey at the end of the season.
Fleury has an incredible postseason pedigree. He's won three Stanley Cups and 90 playoff games, which is undoubtedly very good. But he played on teams with a lot of stars and playoff experience. This Wild team may struggle to get out of the first round alive. Evason is leaning on that experience, but Talbot deserves a look.
Fleury started the game with an early save on a questionably earned penalty shot and made several great saves throughout the game. Ultimately, though, he was outplayed by St. Louis's netminder. His rebound control was poor, and his defense didn't do much to help.
"Yeah, it was a good way to get into the game early on if you make the save," Fleury said about the penalty shot. "I thought we had a good start. The team was skating well, and we had the puck a bunch. I wanted to make the save and keep the momentum going for us. That was fun. The crowd got on their feet and stuff. It's just too bad for the rest of the game."
The crowd would not be on their feet for the rest of the game.
This Wild team looked very shaky in front of Fleury, and they often left him out to fend for himself. On all three of David Perron's goals, Fleury could not control the rebounds, and the puck ended up on the tape of Perron's stick. He scored easily every time.
In his postgame comments, Fleury talked about Perron, the biggest Wild killer right now. "We know each other very well," he said. "He's a good shooter. He's always a threat around the net, I know. It seems like every puck on the power play ended up on his stick, back door there. And he's a good player, he put them in."
Defenseman Dmitry Kulikov might be the one to find himself benched for Game 2, as he was the biggest offender in his own zone. During one of his shifts, he left Ryan O'Reilly wide open as he scored the game's second goal. Fleury had no chance to make the save, and again the Blues capitalized on the Wild's mistakes.
All the Wild can do is forget about Game 1 and the mistakes like Kulikov's. "It's not easy tonight, I know. I think personally I always go over goals in my head and try to think what I could've done differently," said Fleury. "As a team what we could've done differently to win this. But tomorrow comes, and it's a new day. You learn from tonight and come back with a smile. Keep working and get ready for the next game."
Last year the Wild won Game 1 against the Vegas Golden Knights but lost the series. Teams that win Game 1 are 499-228 (68.8 percent) winning a best-of-7 NHL playoff series, including 6-2 in the first round last season. So while the stats are against them, the Wild will prove that their regular season was not a fluke. They'll have to find a way to get past Husso and get better goaltending, and this series will be a lot more competitive.