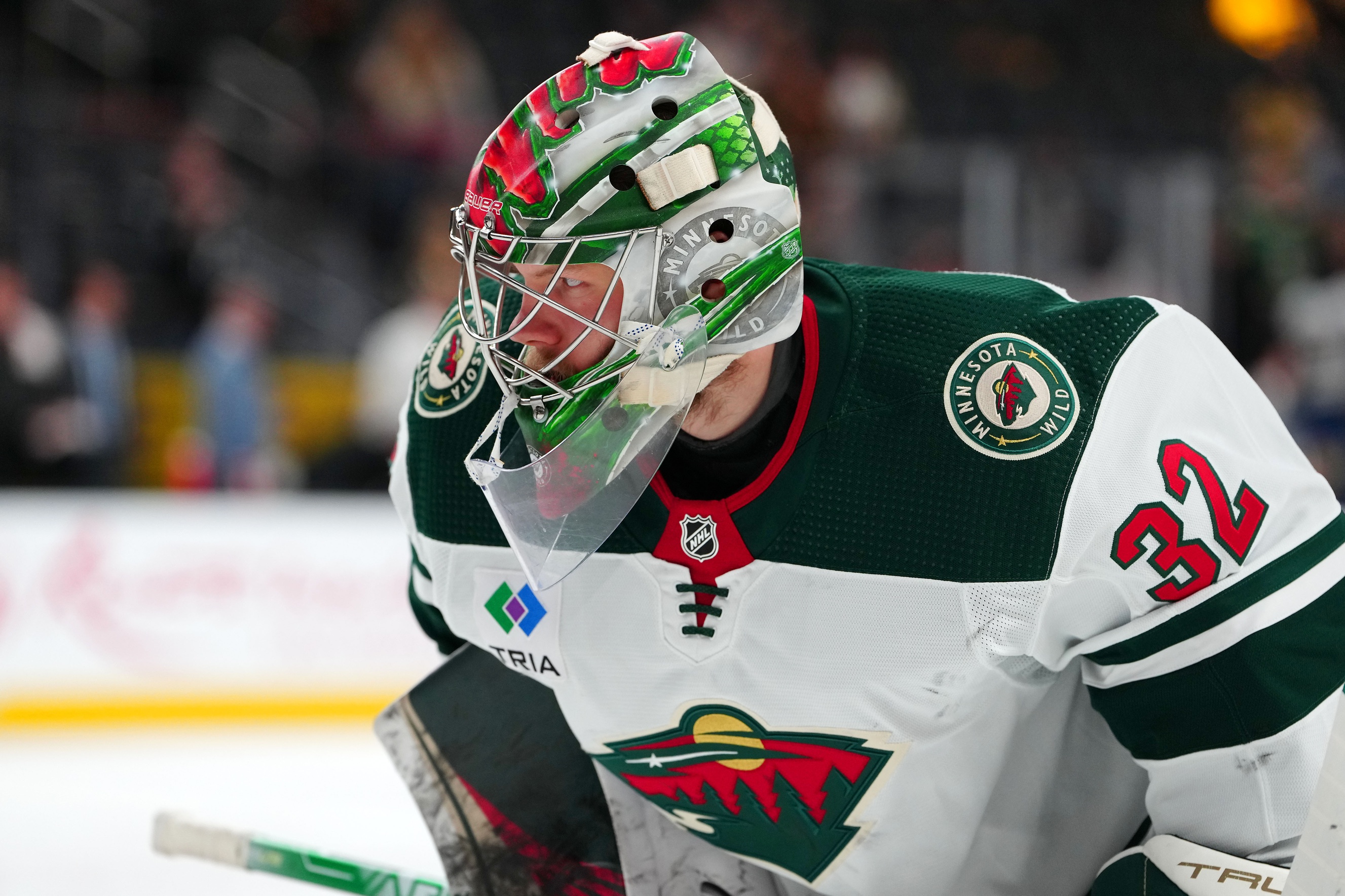 Image courtesy of © Stephen R. Sylvanie-USA TODAY Sports
Minnesota Wild fans are probably tired of not having their starting goalie under contract for next season. Many people, including management and Filip Gustavsson, probably hoped they could put pen to paper by now. Arbitration is not uncommon. Many players file and work something out before it. Brandon Duhaime did. 
The Wild must pinch pennies to get Gustavsson under the salary cap. Minnesota only has $5.39 million remaining to sign Gustavsson and Calen Addison, a restricted free agent, assuming Brock Faber and Marco Rossi make the team. August 4th is the day of Gustavsson's arbitration hearing. The Wild and Gustavsson have until then to decide. 
Multiple young goalies have arbitration hearings this offseason, which will set the market for Gustavsson.
Ilya Samsonov played 42 games for the Toronto Maple Leafs and recorded some impressive numbers. He had a 2.33 goals against average (GAA) and a .919 save percentage. Those are solid numbers for him as somewhat of a reclamation project with Toronto after his rocky tenure (.913 SV% in 2019-20 to .896 in 2021-22) with the Washington Capitals. The Maple Leafs reportedly have a $2.4 million offer. Samsonov, 26, has other ideas for his next contract. He's at $4.9 million. If Samsonov signs for anything in the $3.5-4 million range, that could spell trouble for Gustavsson and the Wild. 
Jeremy Swayman is another name to watch out for. The 24-year-old goalie filed for arbitration, and the Boston Bruins may have a difficult time signing him with their cap squeeze. The hearing for the Bruins goalie is on July 30th, roughly a week before Gustavsson's. There aren't reporters on the numbers Swayman wants and what the Bruins want to pay him yet. However, they are likely to be similar to Gustavsson's, if not higher, because Swayman has been playing at a higher level for longer.
There are a handful of other young goalies who have inked contracts recently. The Wild got to see one of them firsthand in the playoffs. Jake Oettinger signed a three-year, $12 million deal at the start of last season. It was a bit of a bridge deal for a 24-year-old player who's worth much more than that to the Dallas Stars. However, the Lakeville native's lack of experience (77 starts) likely got that AAV down to just $4 million per season. 
Thatcher Demko, 27, signed with the Vancouver Canucks for $5 million per season. He has a bit more experience than Otteinger and Gus, but his level of play is comparable (9.15 SV% in 2022). (Not so much last season, but blame Vancouver, and it's 47.0 Corsi For % for that, not him.) 
Oettinger and Demko are somewhat comparable to Gus, and they received $4-5 million paydays. 
Other goalies have received bigger extensions in the offseason. Ilya Sorokin signed an eight-year deal with the New York Islanders for $8.25 million annually. Granted, he's one of the best goalies in the league and has been putting up elite numbers since debuting three seasons ago (2.33 GAA & 2.24 SV%). He's in a different situation than Gustavsson, but his contract illustrates the high end of the market.
Gustavsson's lack of experience will help the Wild in contract negotiations. While he was terrific last year, he only played 39 games and has 66 total. That will make NHL teams cautious of his longevity or ability to repeat his performance. 
More than likely, Addison will accept his one-year, $787,000 qualifying offer. That would leave the Wild with about $4.6 million to sign Gustavsson. Minnesota will want a little wiggle room in the cap for in-season transactions like call-ups and in case of injuries. 
Gustavsson could reasonably ask for $4 million. Minnesota probably has his number somewhere in the $3 million range. If Gus is asking for more than the Wild have to give, they may have to trade him to a team that can afford him. 
What are the options for the Wild if Gustavsson is indeed too expensive? Prized prospect Jesper Wallstedt is still too raw to play in the NHL, and it's counterproductive to rush goalies. They could scrape the bottom of the barrel for the leftover free-agent goalies that don't have a home yet. 
Jaroslav Halak is an interesting name. In his 20-year career, he has only one season where his save percentage was under .900 – and that was .899 with the St. Louis Blues in 2012-2013. Those are some pretty remarkable stats, but he is 38 years old. Having a pair of 38-year-olds as your goalie tandem is pretty risky. 
Minnesota's other options are aging goalies. Anton Khudobin, 37, for example. He guided the Stars to a Stanley Cup Final not too long ago during the 2020 season. He could return to the team that drafted over 15 years ago. Alex Stalock, 35, may want to run it back for another stint in St. Paul. Martin Jones is as inconsistent as ever (48 games played and a .887 SV%). I'm sure he'd be willing to don the mask and block a few pucks here and there. Mike Smith is 41 years old. Adding him would mean the Wild could have a goalie tandem with a combined age of almost 80! That would be fun, right… right? 
The point is that the Wild don't have many other great options. The value they'd get from trading Gustavsson is bound to be less than the value they'd get by re-signing him. Now, the deal will probably get done, and the Wild won't have to scramble to fix their goalie situation. It just feels like it should have been done by now. Somewhere in the low $3 million range seems like a reasonable deal for Gustavsson and the Wild. 
If Gus wants more and the case goes to arbitration, and he's awarded more, the Wild may have no choice but to search for other options. As I said, it will most likely get resolved, and they have time before the hearing. But if it doesn't, you and I don't want to find out what the contingency plan is. 
All stats and data via HockeyDB, Evolving Hockey, and CapFriendly unless otherwise noted.
2