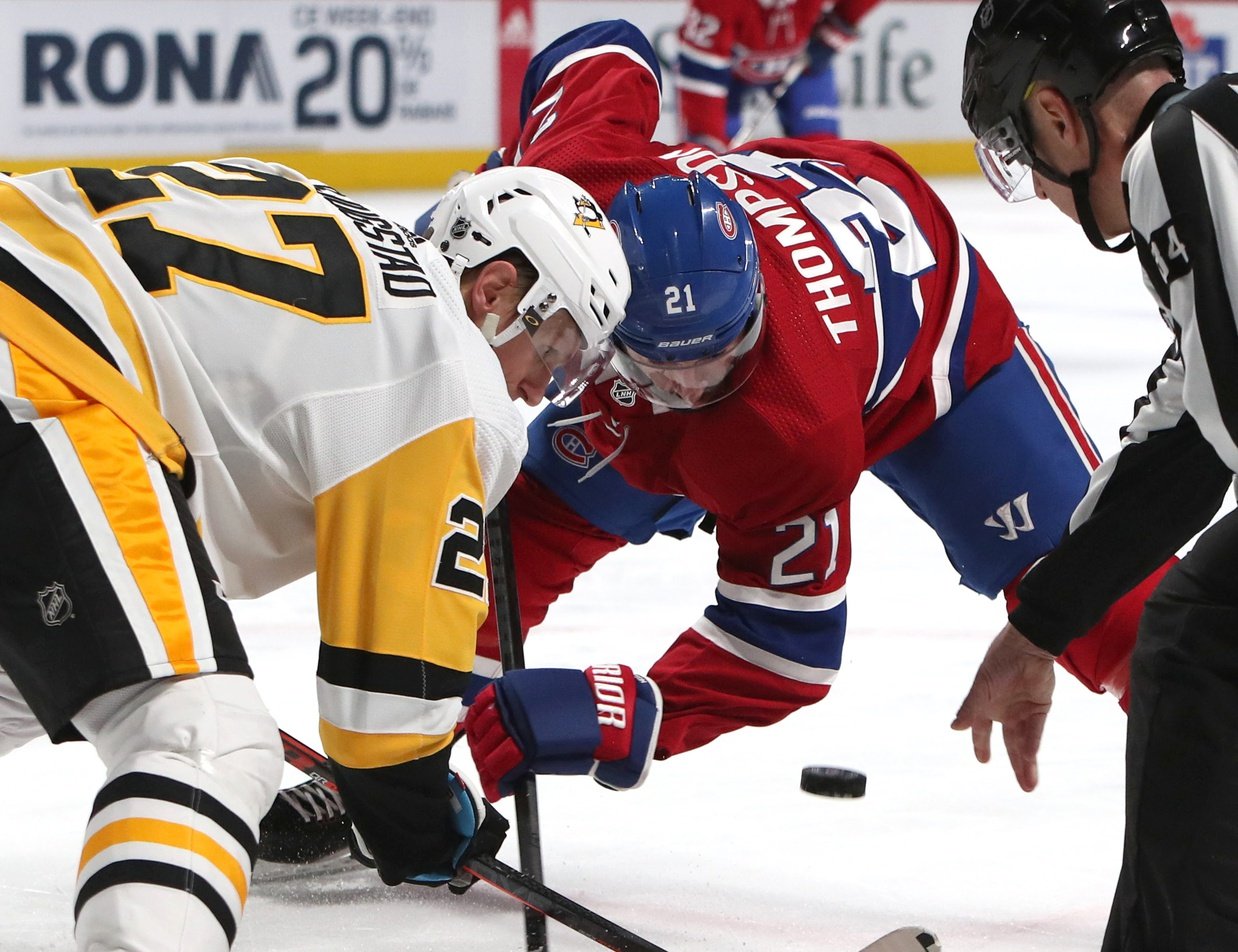 Perhaps the best chess play Chuck Fletcher ever executed as general manager of the Minnesota Wild was the free agent signing of Eric Staal. On its face, the acquisition looked to be nothing more than a move in checkers. In the end, the 31 year old turned out to be the top-line center the Wild desperately needed. He stabilized the position for the first time during Fletcher's tenure.
The only glaring problem with this move, however, was that Staal was the aging, short term option.
The Wild begin the 2021 season Thursday night in Los Angeles, and it's been just three days shy of four months since Bill Guerin traded Staal to the Buffalo Sabres for Marcus Johansson. Five days into Wild training camp, the gigantic hole in the lineup has been felt. The Johansson experiment at center didn't make it to Day 1. Instead, Nick Bjugstad has been centering the top line, and Nick Bonino slots in the middle of the second line. 
Marco Rossi has yet to take part in practice because of quarantine procedures. However, he is expected to rotate in as camp moves along. Head coach Dean Evason hasn't broken up the third line of Jordan Greenway, Joel Eriksson Ek or Marcus Foligno. Nico Sturm and Victor Rask are getting in when they can.
The center position is very much in flux. At the very least, there's a battle for the spot on every line. 
Bjugstad and Bonino are forced into top roles
Bjugstad and Bonino arrive in St. Paul on expiring contracts, acquired in low-wattage moves. Minnesota sent a conditional pick to Pittsburgh Penguins to acquire Bjugstad. It was a no-lose situation: The former Blaine star has been hampered by injury, so getting anything from him this season was going to be looked at as a positive. 
Bonino was a toss-in in the Luke Kunin trade. Guerin received a second-round pick in return from the Nashville Predators, which draft guru Judd Brackett used to select Marat Khusnutdinov. Bonino, 32, has only ever produced over 40 points in a season once in his career -- the pick was the real prize in the deal.

Yet these two have been slotted into the Wild's first- and second-center roles. Neither player is truly a first line center though. Bjugstad has a bit more ability to drive the puck north and get his line into the offensive zone, and that's all a Kevin Fiala would need to work his magic. Bonino's numbers show that he has more ability on the defensive side of the puck, which helps keep his line afloat and resulted in a lot of goals for while he's on the ice. 
How Sturm compares to Eriksson Ek
The battle between Eriksson Ek and Sturm isn't a true battle. Eriksson Ek has proven himself as a fine third-line center as his career has progressed. His defense has been solid and was on display during the play-in round back in September. His offense, however, is nowhere to be found. He nearly went the entirety of an 82-game NHL season without scoring a goal.
He does possess some offense in his game, however. It might not be to the level of Minnesota's top wingers, but it also hasn't been fully enabled in the past. Eriksson Ek hasn't been flanked by scoring wingers during his career. Conversely, he's focused on locking down defensively, a role he's embraced.
What would happen if he got unleashed? Fans caught a glimpse of Eriksson Ek as a second line center after injuries ravaged the Wild's depth. Ryan Donato, Fiala and Eriksson Ek were assembled for all of 31 minutes last season. That line controlled play by taking 65% of the shots on the ice. Even just adding Zach Parise to the duo of Greenway and Eriksson Ek had a positive impact on control of play and scoring goals to the tune of almost four goals per hour.

Sturm is a similar player to Eriksson Ek, but faces a separate set of expectations -- Eriksson Ek was a first-round pick, Sturm went undrafted. He's played well enough at times to earn a spot on the NHL roster, but he is not as strong as Eriksson Ek defensively in the limited ice time he has earned. A lot of people are excited about how Sturm strengthens the depth down the middle, even if he is a third- or fourth-line center at best.
Sturm has a lot to prove yet, but things are looking up for him, and he has an opportunity to take ice time away from Victor Rask.
Sturm might force Rask into the press box
Rask is the typical replacement archetype. He doesn't bring much offense and doesn't really even bring it on defense either. The only thing he brings is a large cap hit, and front offices are reluctant to scratch a player with his salary on a nightly basis. But replacement players like him have value when injuries start to hit the team. They can slot in for a game or two and the team won't see a huge drop in production. 

Sturm's numbers are similar to Rask's from last season. The difference? Rask played in 37 more games than Sturm. Rask is a veteran player, and therefore receives more of the benefit of the doubt whether he deserves it or not. This is a transition season, so giving time to Rask over Sturm isn't recommended for player development.
Don't forget about Rossi
Advanced stats for the CHL are hard to come by. It's tough to quantify just how much Rossi was driving play on his line as a member of the Ottawa 67's. What we do know are his raw box score numbers, and his 39 goals and 81 assists speak for itself. Digging deeper, 103 goals were scored for his team at even-strength when Rossi was on the ice. No other player in the CHL broke 100 last season according to Pick224.com.
The offensive numbers are striking, but perhaps more importantly, Rossi's line surrendered only 35 goals at even strength in 56 games played, a differential of plus-68. In the last five seasons, only one player has had that kind of margin in the CHL. Peter Abbandonato squeaked out one more goal for and gave up one fewer goal against in 2019, but he was a 21 year old playing among boys.
Rossi isn't like any other center prospect the Wild has had in a long time, maybe ever. He has few options for development left. If he doesn't make the NHL this season, he must return to his junior team in the OHL. However, with the OHL currently shuttered due to the pandemic, he'll have to go to Zurich in the Swiss league. At this point, playing in lower-tiered leagues does little for his development. If Rossi makes the team, he is another center who needs ice time. 
The center position isn't likely to be settled in the near future. Each player has a case to be made to be in the lineup every night. Furthermore, Evason must experiment to find the best fit for each forward line with so many new pieces. Filling the role of "stabilizing force" without someone of Staal's stature won't be easy, but for the first time in a long time, this team has the opportunity to have a new line-up every night. Be that as it may, time will tell if Evason is playing with bishops, rooks or pawns.
Graphs and stats courtesy of Evolving-Hockey.com