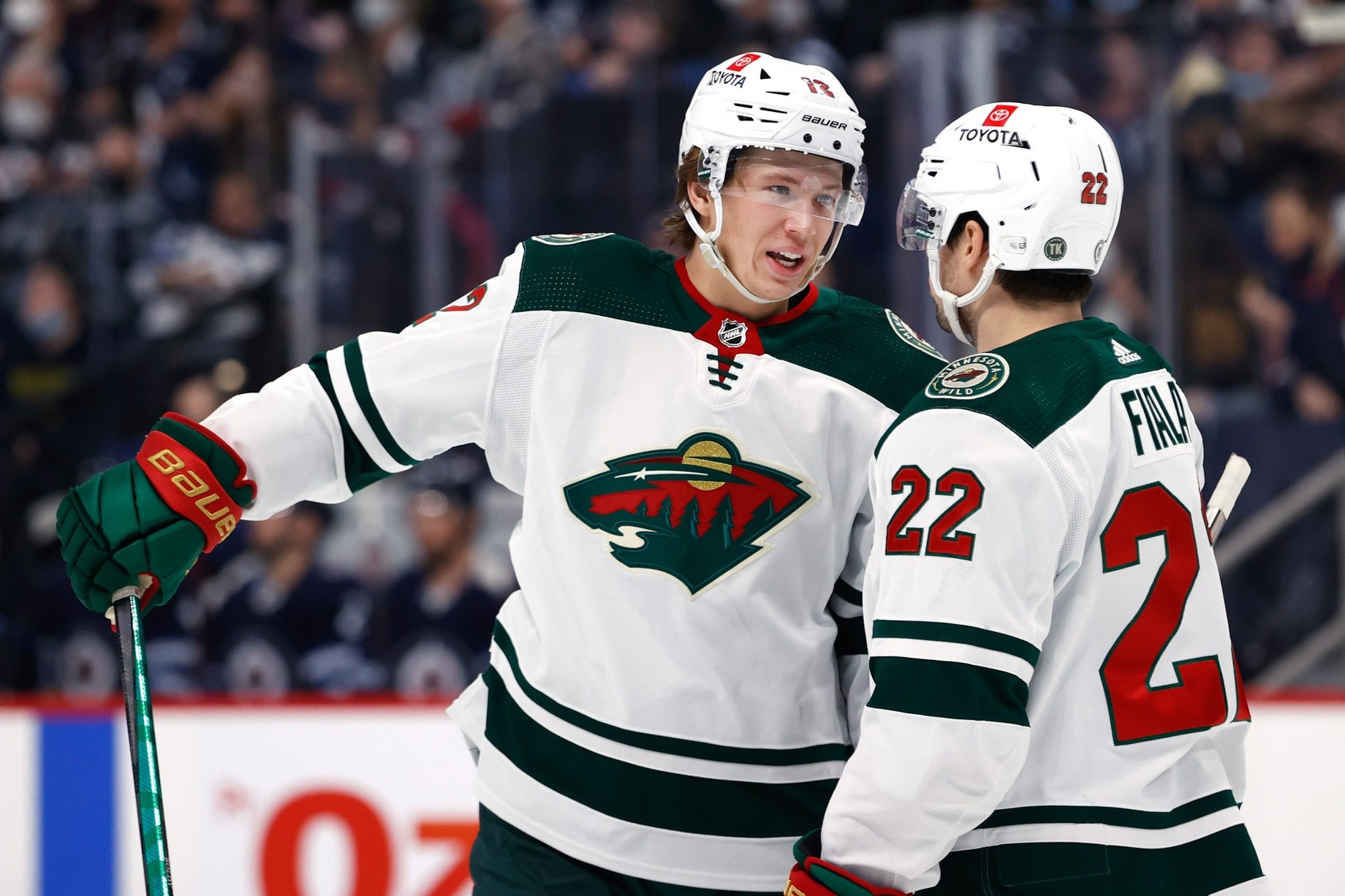 Who fueled who? Matt Boldy or Kevin Fiala? That was a question Minnesota Wild fans pondered for the latter half of the season. On the one hand, Fiala reached new heights once Boldy made the lineup. On the other, Fiala was a proven scorer and playmaker, which means Boldy could've feasted on a game breaker's coattails. It was as impossible to answer as the chicken or the egg.
But we might actually get an answer next season.
The Wild broke up this dynamic duo by trading Fiala in late June. Fiala will be in Los Angeles, and Boldy will remain in St. Paul. From Jan. 14 on, they combined for points on 24 goals, nine scored by Fiala and nine more for Boldy. Their partnership ended too soon, but it was fun to watch while it lasted.
It's hard to imagine Fiala will take a step back with the Los Angeles Kings. They've invested in him, and he'll get every opportunity to succeed. Fiala will likely be alongside future but aging Hall of Famer Anze Kopitar on the first line. Even if that doesn't gel, though, he'll still have Jeff Bezos' Freddy Gaudreau on his second line in Phillip Danault, along with potentially another Boldy in 6'4" Quinton Byfield.
Fiala's the known quantity. Boldy's not. At least, not entirely. Sure, his 47 games last year were unbelievably good. But take away Fiala, and what happens then? We just don't know. Marco Rossi, his presumptive linemate, will be a rookie. Is he ready for a Top-6 role? Will Gaudreau repeat his Cinderella season without Fiala? Can Tyson Jost finally thrive in a scoring opportunity?
We can't know this. All we can know at the moment is what happens to young rookies who find success with a star player, only to see that star depart. We dug up a few examples, and here's what we've found.
Brady Tkachuk feels like a solid parallel here. Tkachuk is, like Boldy, a big, skilled, Boston-based college winger. He made his debut straight out of the draft, rather than spending two years in the NCAA like Boldy, but was 19 when he broke into the NHL. Tkachuk spent his rookie season with Mark Stone as his primary partner.
Tkachuk had a strong rookie season with Stone, one of the best two-way wingers in the world. Before the Ottawa Senators traded Stone to the Vegas Golden Knights, Tkachuk put up 14 goals and 31 points in 51 games. Over an 82-game pace, that's a solid 23-goal, 50-point season. Afterward, Tkachuk increased his point-per-game pace, scoring eight goals and 14 points in his final 20 games. He finished his season with 22 goals and 45 points in 71 games.
How about the next year? Well, step on down, Jean-Gabriel Pageau and Connor Brown. You're the most-common linemates for Tkachuk in 2019-20. Despite the significant drop-off in talent alongside him, Tkachuk's production was remarkably stable. He scored 21 goals and 44 points in 71 games. Virtually no difference. He did take a hit defensively, with Stone not there to anchor him, but his offensive impact stayed identical.
Today, Tkachuk is coming off his best season, with 30 goals and 67 points. Maybe it took a bit longer for Tkachuk to advance to that than it would've been with Stone, but there's no doubt he's one of the best power forwards in the league entering his fifth year.
Nico Hischier had a similar experience to Boldy in his rookie season, back in 2017-18. He teamed up with Taylor Hall, who, like Fiala, took his game to new heights. Hall won the MVP with 39 goals and 93 points, beating his career-highs by double digits. Hischier was his most common linemate, scoring 20 goals and 52 points in 82 games.
The New Jersey Devils traded Hall in December of the next season. Hall slowed down a touch, but Hischier picked up his game, with 20 points in 27 games before the trade. That was a slight, but notable increase over his rookie production (0.74 points per game vs. 0.63)
For the rest of the season without Hall, Hischier reverted to his rookie production levels, with 27 points in his final 42 games. He still maintained his value in terms of Standings Points Above Replacement, notching 5.5 SPAR, roughly the same pace as his rookie season (5.9). Injuries and the pandemic interrupted the next two seasons, but now Hischier is a dynamic two-way center, scoring a career-high 21 goals and 60 points last year.
Pierre-Luc Dubois hit the lottery when he entered the league, getting to play alongside Artemi Panarin. Panarin was an offensive superstar, and his impact certainly helped Dubios. Dubois had a solid rookie season at age 19, scoring 20 goals and 48 points, then followed it up with 27 and 61 the following season.
Then Panarin left via free agency, and Dubois saw his rise level off like Tkachuk and Hischier. His 18 goals and 49 points indicate a repeat of his rookie season, but with 11 fewer games, it was closer to his sophomore season in per-game production. Dubois had 0.74 points per game in his final year with Panarin, then 0.70 in his first year without.
Still, his ability to drive offense without Panarin took a step back initially. Then he had a lost season after the Columbus Blue Jackets traded him to the Winnipeg Jets. Now he's essentially back to where he was in his first two seasons, with a 28-goal, 60-point season that puts him on par with where he was in his last year with Panarin.
And speaking of Panarin, remember when Panarin broke into the league and beat out Connor McDavid for a Calder Trophy? Critics at the time claimed Panarin rode Patrick Kane's coattails. Kane took a leap, scoring 106 points and capturing the Hart and Art Ross Trophies.
Panarin had two seasons alongside Kane, putting up back-to-back years of 30-plus-goals and 70-plus-points. Then, much like the Wild had to do with Fiala, the Chicago Blackhawks shed Panarin as a cap casualty, trading him to Columbus.
He was 26 at the time of the trade, so Panarin was hardly a developing player like the other three. Still, he showed his time with Kane wasn't a fluke. He slightly increased his production, going from about .90 points per game to crossing the point-per-game threshold in the next two seasons.
Oddly enough, though, Panarin follows the rest of the group in having a pattern of leveling out a bit, then taking a big jump after two years. Panarin's destroyed the NHL over the past three years, racking up an absurd 249 points in 186 games (1.34 points per game).
If that general path is what Boldy takes — repeating last year, then taking a leap two years later — then that's probably a good thing for Minnesota. Remember, his 82-game paces last season had him as a 26-goal, 68-point player. If he's at that level over the next two seasons, then takes a leap afterward, you'd take that from your (currently) second-line winger. Did Fiala help Boldy or did Boldy help Fiala? Maybe it doesn't matter. Both are great players, and recent history shows that Boldy will be more than fine going forward.