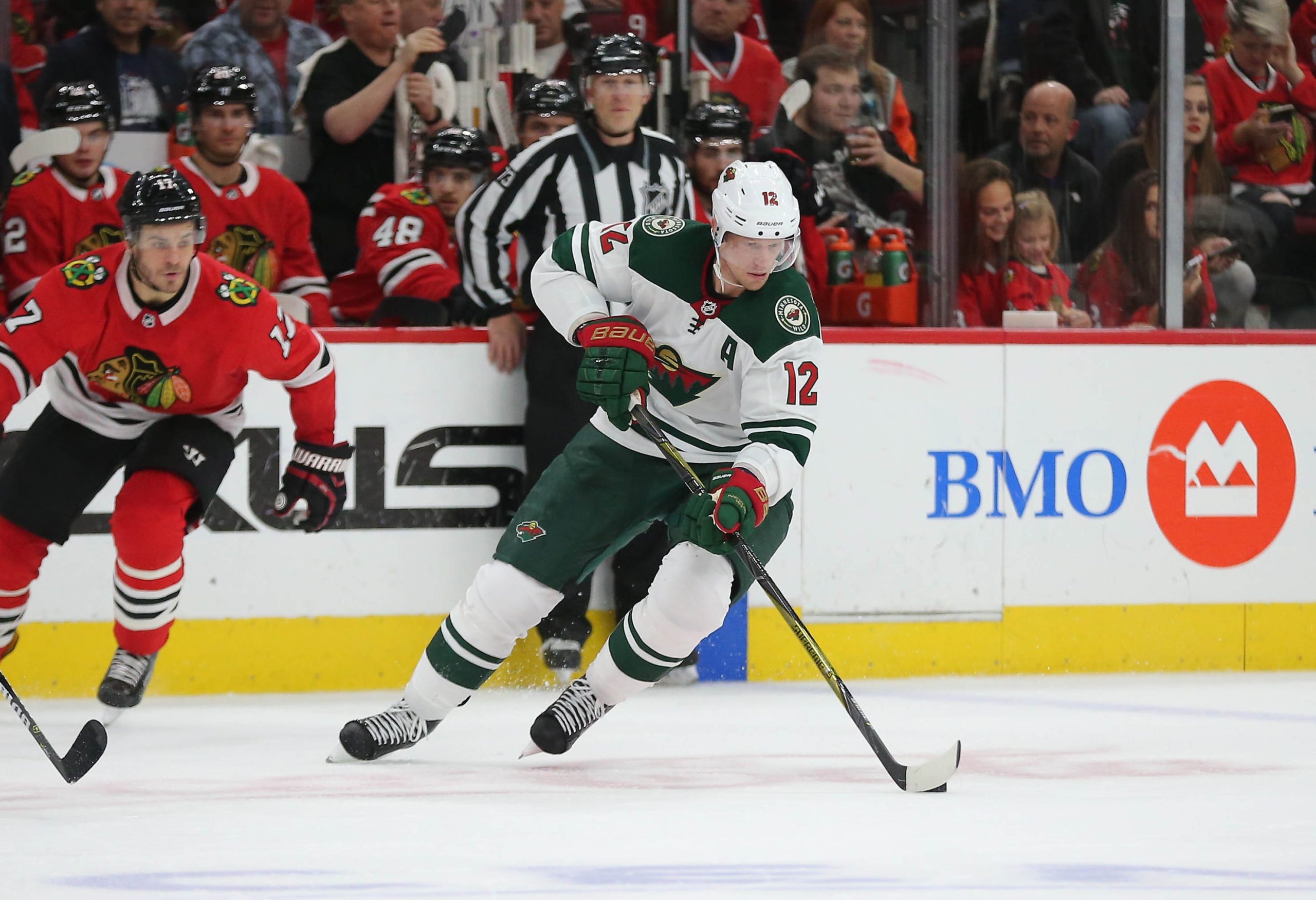 No, the title is not referring to Sunday night's Vikings-Bears matchup, but to the Wild and Blackhawks of course!
Another new series coming here to Zone Coverage where every Friday we will highlight various hockey matchups for you to watch over the course of the weekend. This will cover the NHL, college, and even high school when that gets underway.
We have to make sure you have an escape from the local football teams should they flounder your hopes once again (joke).
Let's take a look at the weekend schedule:
Wild: Saturday vs. Buffalo, 5 p.m. Sunday at Chicago, 5 p.m.
After Thursday night's win against Vancouver, the Wild finish out their brief three-game homestand on Saturday against the surprisingly average Buffalo Sabres. Jeff Skinner -- 20 points in 18 games -- has been a wonderful addition to the western New York club as the Sabres currently sit third in the Atlantic Division.
Minnesota then turns it around and heads to Chicago Sunday for a 5 p.m. start against the Blackhawks. Condolences to those fans who bought tickets to both the hockey and football game, as the football game was flexed from its originally scheduled noon start a couple weeks ago for the primetime audience. If that were me, I'd cut out of the hockey game early if I was hearing too much Chelsea Dagger.
NHL: 11/16 - Sabres at Jets, 7 p.m. 11/17 - Oilers at Flames, 9 p.m.
Want to get an early look at the Sabres before their matchup with the Wild? Check them out Friday night up in Manitoba as they battle the Jets, who are right behind the Wild for second place in the Central Divison.
The Oilers and Flames don't exactly jump off the page as great teams this year, but you can't go wrong with watching the Battle of Alberta. The star players -- Connor McDavid and Johnny Gaudreau -- are alone worth the price of admission, or in this case, your viewing experience.
Gophers: 11/16 vs. St. Lawrence, 7 p.m. 11/17 vs. St. Lawrence, 7 p.m.
Not a good start to the Bob Motzko era, as the University of Minnesota is just 2-4-1. If you still want to check out the Maroon and Gold, the University decided to lower ticket prices a bit and you can get in the door for just $21!
Bulldogs: 11/16 at Denver, 8:07 p.m. 11/17 at Denver, 8:07 p.m.
The best college team in Minnesota and the country take a visit to Jason Zucker's alma mater -- the University of Denver. The Pioneers come into the weekend as the No. 7 team in the nation with a 5-2-1 record on the young season. If you can find the game on TV, this is probably your best viewing option following Saturday's 5 PM Wild game.
Huskies/Beavers: 11/16 vs. Bemidji State, 7 p.m. 11/17 vs. Bemidji State, 7 p.m.
Losing Moztko does not appear to have slowed down St. Cloud State yet, as the second-ranked Huskies are 9-1 to start the season including sweeps over Colorado College and Denver. Bemidji State -- 5-2-1 to begin the year -- at the Herb Brooks Hockey Center is on tap for the Huskies this weekend.
Mavericks: 11/16 vs. Ferris State, 7:07 p.m. 11/17 vs. Ferris State, 7:07 p.m.
We have heard from the number one and number two ranked teams in the country, so let us check in on the number three ranked team -- Minnesota State. After a weekend off following their sweep of the University of Minnesota at the beginning of November, the Mavericks return to action this weekend against Ferris State. The Bulldogs are off to a 4-6 start this season so another sweep for the Mavericks could easily be on the horizon.
High School: 11/16 White Bear Lake vs. Blake 7:30 p.m. 11/17 Minnetonka vs. Warroad, 1 p.m. 11/17 Hill-Murray vs. Eden Prairie, 3 p.m. 11/17 Wayzata vs Blake, 7:30 p.m. (Tria Rink).
Girls high school hockey kicked off this past week, and this weekend there will be plenty of great matchups for you to watch. All of the matchups listed above feature teams ranked in the top 10 of both Class A and AA, so if you are looking to go out and watch some local hockey you have plenty of great options!
---