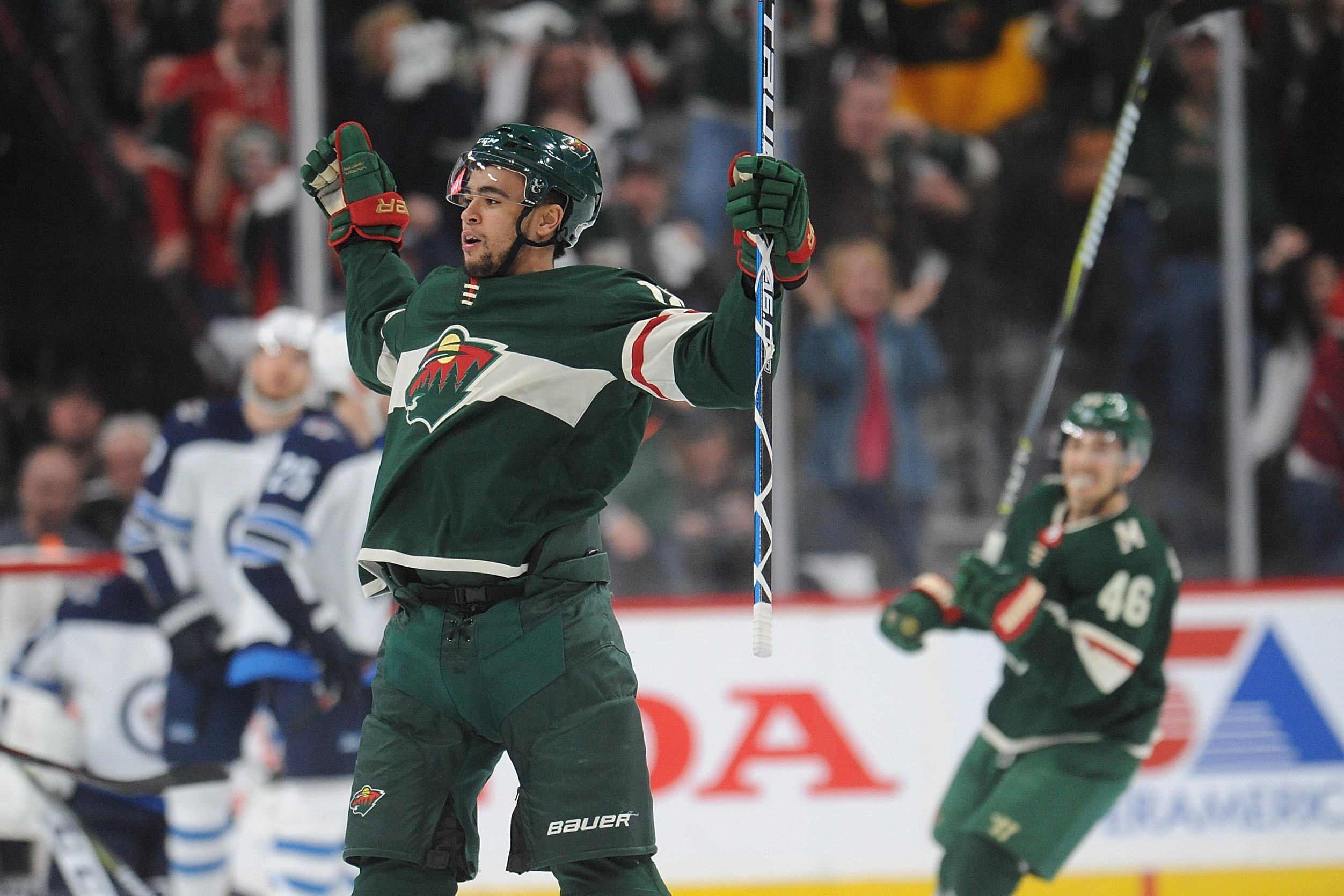 Happy Black Friday! Be safe, and be sure to check out the hockey slate this weekend as you relax and enjoy some turkey day left overs.
Wild: 11/23 vs Jets, 3 p.m.
The Wild just have one game over the holiday weekend, as they host the high-powered Jets in their annual Black Friday matinee game. Wild fans fondly remember the Jets beating Minnesota in three out of four regular season games last season before squashing the Wild in five games in their first-round playoff meeting. Heading into the matchup, Minnesota holds second place in the Central Division -- just a two-point lead over Winnipeg -- with the Jets looking to strike and take that spot away from Minnesota.
NHL: 11/23 Flyers at Rangers, noon. 11/23 Toronto at Columbus, 6 p.m.
Exhausted from all that early shopping? Well the NHL has you covered right away at noon on Friday as the 'Thanksgiving Showdown' between the Flyers and Rangers will take place on NBC. If watching the Flyers -- and their record would indicate many people might not be -- doesn't exactly float your boat and you prefer to take a nap, the good news is a big showdown happens Friday night between the Metropolitan Division leading Blue Jackets and the mighty Maple Leafs.
Gophers: 11/23 vs Michigan State, 7 p.m. 11/24 vs Michigan State, 7 p.m.
Minnesota split last weekend's series with St. Lawrence and now fully moves into their Big Ten schedule for this season. The Spartans enter the weekend series at Mariucci Arena with a 4-6-0 record and losers of seven of the past eight meetings against the University of Minnesota.
Bulldogs: Off
No. 2 ranked UMD gets the weekend off after their split in Denver last weekend. They host North Dakota Nov. 30 and Dec. 1.
Huskies: Off
The nation's top hockey team also gets the weekend off after a sweep of Bemidji State where St. Cloud State outscored the Beavers 9-4 in the two games.
Mavericks/Beavers: 11/23 at Bemidji State, 7:07 p.m. 11/24 at Bemidji State, 7:07 p.m.
Minnesota State swept Ferris State last weekend and now travels to Bemidji for a weekend series against the Beavers. The Mavericks enter the weekend as college hockey's third best team, so another sweep is expected.
Girls High School: 11/24 Edina vs Proctor/Hermantown, 2 p.m.
It's a battle of the number two ranked team in Class AA -- Edina -- against the number three ranked team in Class A -- Proctor/Hermantown -- Saturday in Duluth.
Boys High School: 11/23 St. Thomas Academy vs Minnetonka, 7 p.m.
Kicking off the boys high school schedule this weekend features a titanic showdown between #5 St. Thomas Academy and #1 Minnetonka. If you are looking to go, this game will be played at the Bloomington Ice Garden in what could be a matchup of two state tournament teams.
---