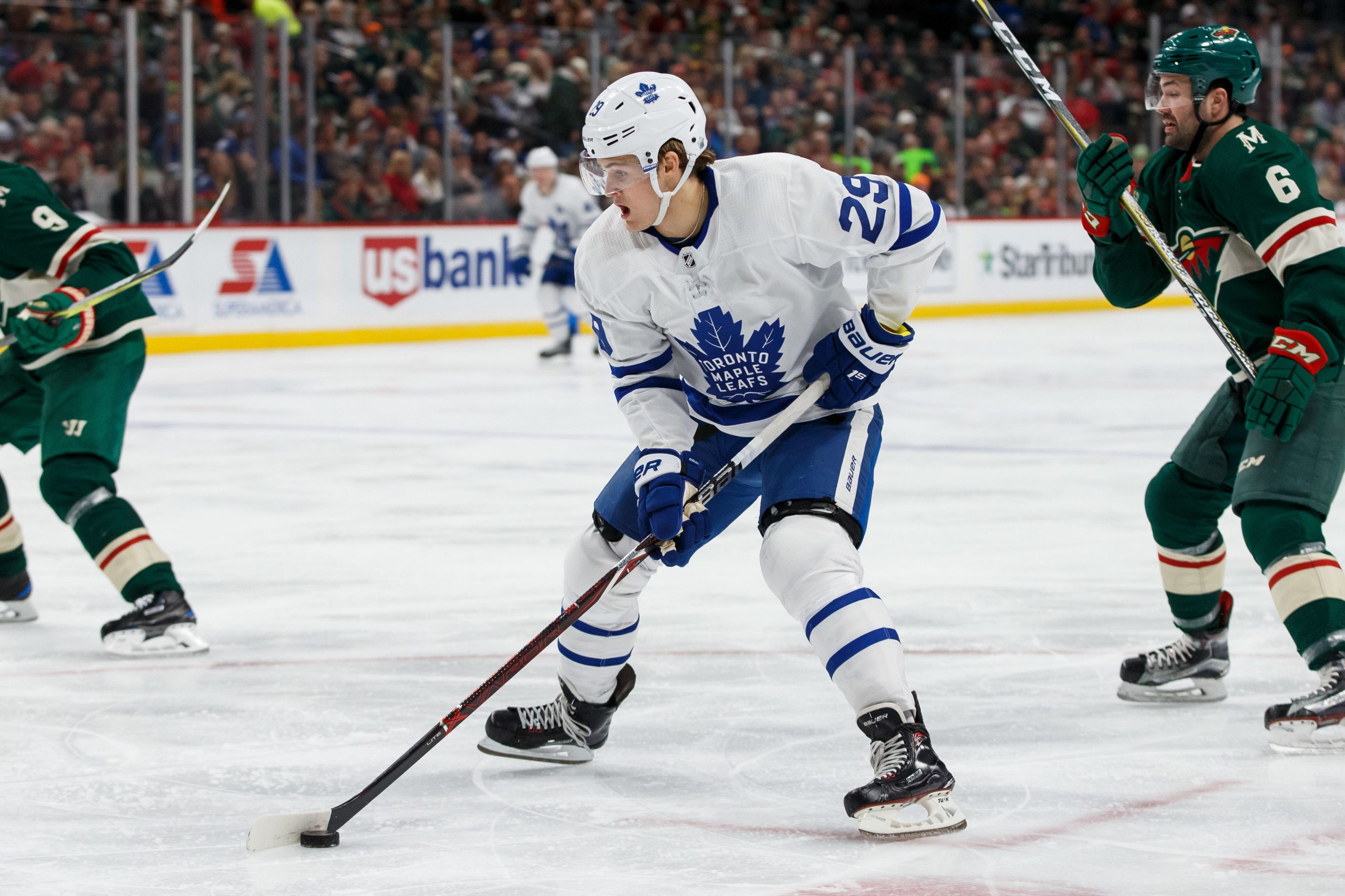 Plenty of hockey for you to take in on this first weekend of December! Let's check in on the schedules!
Wild: 12/1 vs. Maple Leafs, 7 p.m.
The Wild are coming off back-to-back losses, and things are looking grim once again. Worse news for Wild fans is that they host Toronto on Saturday night, and the Leafs have won three straight and are winners of nine of 12 road games this season. Auston Matthews is back for Toronto as well, in case you thought there might be a chance. Also, this weekend is the deadline for the William Nylander watch, as the winger will have to sign or miss the rest of the season. Trade rumors are abounding for Nylander, but the Leafs obviously wish to keep their prized winger.
NHL: 12/1, San Jose at Ottawa, noon.
The biggest game on the NHL calendar this weekend is by far Erik Karlsson's return to Ottawa. It is the only trip San Jose makes to the Canadian capital this season, and Karlsson was not exactly thrilled when asked about his return to the team he played with for nine seasons.
Gophers Men: 11/30 vs. Ohio State, 7 p.m. 12/1 vs. Ohio State, 4 p.m.
No. 5 ranked Ohio State visits Mariucci this weekend as the Gophers close out a six-game homestand. It has been a split for Minnesota on this homestand -- 2-2 against St. Lawrence and Michigan State -- and if they could again split the weekend that would be considered a success.
Gophers Women: 11/30 at Yale, 5 p.m. 12/1 at Yale, 2 p.m.
A trip out to New Haven, Conn., is in store for the second-ranked Gopher womens hockey team this weekend. Minnesota has won six in a row entering the weekend, with their last loss coming against the top-ranked Badgers back on Oct. 28.
Bulldogs Men: 11/30 vs. North Dakota, 7 p.m. 12/1 vs. North Dakota, 7 p.m.
The Fighting Hawks are off to a not so great 7-5-1 start this season as they travel to Duluth this weekend for a matchup with the second-ranked Bulldogs, who have just lost twice so far this season. The Bulldogs took two out of three games against North Dakota last season.
Bulldogs Women: off
Duluth enjoys a weekend off to open December, as they currently are riding a six-game losing streak. The Bulldogs are led in scoring by freshmen Gabbie Hughes -- 12 points -- and Anneke Linser -- 9 points.
Huskies Men: 11/30 at Miami (OH), 6:35 p.m. 12/1 at Miami (OH), 6:05 p.m.
The nation's top dogs are back in action after getting Thanksgiving weekend off. St. Cloud travels out to Ohio for a matchup with Miami who is off to a 9-6-1 start this season.
Huskies/Beavers Women: 11/30 at Bemidji State, 6:07 p.m. 12/1 at Bemidji State, 6:07 p.m.
It has been a slow start for the Huskies this year -- 5-11-1 -- but they are coming off a win Tuesday against Bemidji State in the U.S. Hockey Hall of Fame game which snapped a six-game winless streak. Meanwhile, the Beavers have lost three in a row -- including Tuesday's game -- since their weekend sweep of No. 6 Ohio State in early November.
Mavericks Men: 11/30 at Lake Superior State, 7 p.m. 12/1 at Lake Superior State, 7 p.m.
After last weekend's split with Bemidji State, Mankato heads out to Michigan to play 7-4-1 Lake Superior State. Mankato is 4-0-1 in their last five meetings against the Lakers and lead the all-time series 16-2-1.
Mavericks Women: 12/1 vs. Ohio State, 6 p.m. 12/2 vs. Ohio State, 2 p.m.
Minnesota State heads into their weekend against No. 6-ranked Ohio State on a three-game winning streak. The Buckeyes swept a series in early October in Columbus by a combined score of 6-1.
Beavers Men: 11/30 at Michigan Tech, 6 p.m. 12/1 at Michigan Tech, 6 p.m.
Last Saturday's win over Mankato snapped a four-game losing streak for Bemidji State, as they travel for a weekend series with Michigan Tech. Tech took three out of four games from the Beavers last season, as the two meet for the first time this season.
Boys High School: 12/1 East Grand Forks vs. St. Cloud Cathedral, 1:15 p.m. 12/1 Eden Prairie vs. Cretin-Derham Hall, 7 p.m.
Some great hockey will be played all around this weekend, highlighted by the two games above. Saturday afternoon it's a showdown of two top Class A teams as No. 6 East Grand Forks visits No. 2 St. Cloud Cathedral. Then to cap off the evening it is two Class AA titans meeting in St. Paul as No. 5 Cretin-Derham Hall hosts No. 8 Eden Prairie.
Girls High School: 11/30 East Grand Forks vs. St. Paul United, 7:30 p.m. 12/1 Roseau vs. Breck, 2 p.m. 12/1 Hill-Murray vs Edina, 3 p.m.
Again, more great hockey to be had on the girls side, as three matchups featuring ranked teams are taking place this weekend, highlighted by No. 2 Edina and No. 6 Hill-Murray squaring off at Braemar Saturday afternoon. Both teams could very well meet again at the State Tournament next February.
---