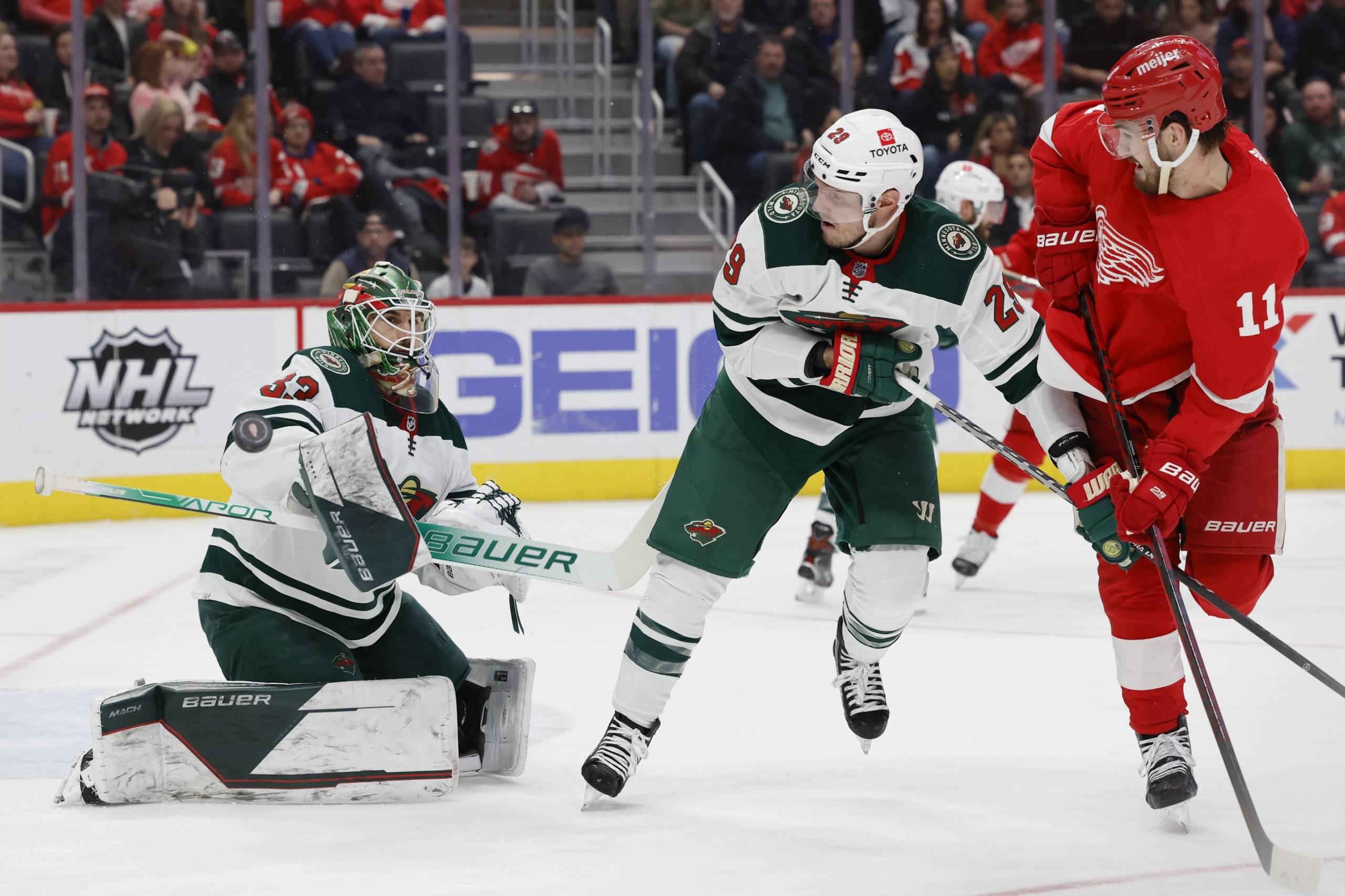 It's been almost six weeks since Anson Carter dismissed the Minnesota Wild's depth on a TNT intermission. At the time, Carter's comments were not well-received in the State of Hockey. To most local observers, including this writer, it was demonstrably wrong. The Wild had a strong, deep lineup at both forward and defense.
How strong was it? Look at the caliber of players who couldn't crack it regularly. Not even a blistering hot start could keep Rem Pitlick in Minnesota. Victor Rask is now in the AHL, despite decent scoring and possession numbers this year. Top prospects Marco Rossi, Calen Addison, Adam Beckman, Mason Shaw, and more might have gotten chances in other organizations. Not in St. Paul.
Coach Dean Evason had trust in all his forward lines, his defensive pairs, and boasted a 28-10-3 record to back it up. That trust in his full lineup helped Minnesota withstand injuries to countless top players. If anything, depth was their strength, and it looked silly to say otherwise.
Six weeks later, though, it looks like Carter had a decent point.
The depth that was the engine of Minnesota's success has all but dried up. The good news at forward is that the Wild are still a killer 5-on-5 team. Since Nick Bjugstad's return, all four of their regular forward lines control 50%-plus of the expected goal share. One could still argue this as a great signal of their depth.
The bad news? While the Wild are still scoring (tied for fifth in the NHL with 41 5-on-5 goals since Feb. 3), they've been entirely reliant on their top two lines. Kirill Kaprizov and Kevin Fiala's lines account for a whopping 31 of those 41 goals. That's a lot of quiet nights for the bottom-six and defense. Some of that's luck-based, for sure, but it's a far cry from when someone new seemingly stepped up every night.
Even more alarming is the depth's showing on the power play, which, as Evason regularly points out, sucks. What's odd is that the first unit isn't deserving of that reputation at all. Since the new year, the Wild's regular five-man unit (Kaprizov, Matt Boldy, Joel Eriksson Ek, Jared Spurgeon, and Mats Zuccarello) are producing at an elite rate. Per Natural Stat Trick, the five-man unit has been responsible for 12.6 goals per hour since the New Year. Considering the Oilers lead the league with 10 goals per hour as a team, that's is pretty elite.
Meanwhile, Minnesota's second power-play unit is a warped reflection of the first. In 28 games since Jan. 1, the Wild have just two power-play goals from someone outside their top unit. This isn't a case where the first unit hogs all the ice time, leaving no time for the second to operate. They've thoroughly earned this ineptitude.
Not only aren't they scoring, they hardly look capable of it. Fiala, Freddy Gaudreau, Ryan Hartman, and Marcus Foligno are the forward mainstays of the second unit. They've all been among the worst in the league at generating expected goals on the power play in that time. Fiala's only goal (and the second goal from the second unit) since Jan. 1 came off an assist from Boldy, who Evason moved down in an attempt to have some balance.
You can't judge depth only at 5-on-5. Compare Minnesota's power play to the Florida Panthers, and you'll see a vast difference. Yes, Sasha Barkov's top unit takes up a lot of the minutes, but their second unit doesn't let up. Established threats like Sam Bennett and Patric Hornqvist, along with (ahem) 2020 first-round center Anton Lundell are also lighting it up on the second unit.
The Wild either don't have, or aren't using, the kind of skilled players that makes up a good second unit. Neither analysis speaks well of the team's depth.
The focus on forwards doesn't let Minnesota's defense off the hook. Jon Merrill and Dmitry Kulikov had strong starts that earned them praise. Merrill, Kulikov, and Jordie Benn performed well in Spurgeon's absence through late November and December.
But the cracks are now showing there since the New Year, unfortunately. Alex Goligoski plays well with Spurgeon but struggles mightily with anyone else. Whenever Matt Dumba or Jonas Brodin get hurt, their replacement drags down the healthy player. If Spurgeon, Brodin, or Dumba are injured, the team's puck-moving evaporates.
The team's defense is now healthy, returning Goligoski to Spurgeon, reuniting Brodin and Dumba, and putting Merrill and Kulikov back to their familiar third-pair roles. They've rebounded a touch from their slump since that happened, taking five of eight possible points.
But part of having good depth is not collapsing like a Jenga tower whenever someone gets hurt. Their recent spat of defenseman injuries highlights that the Wild's top three blueliners are irreplaceable as things stand now. And the less said about the mess in Minnesota's net, the better.
Maybe this gets better over the next week leading up to the trade deadline. Perhaps Bill Guerin will find a forward or defenseman who can increase a healthy lineup's strength and provide insurance for injuries. But a move like that will be a pretty big sign that Guerin is on the same page as Carter, believing Minnesota needs better, more quality depth.