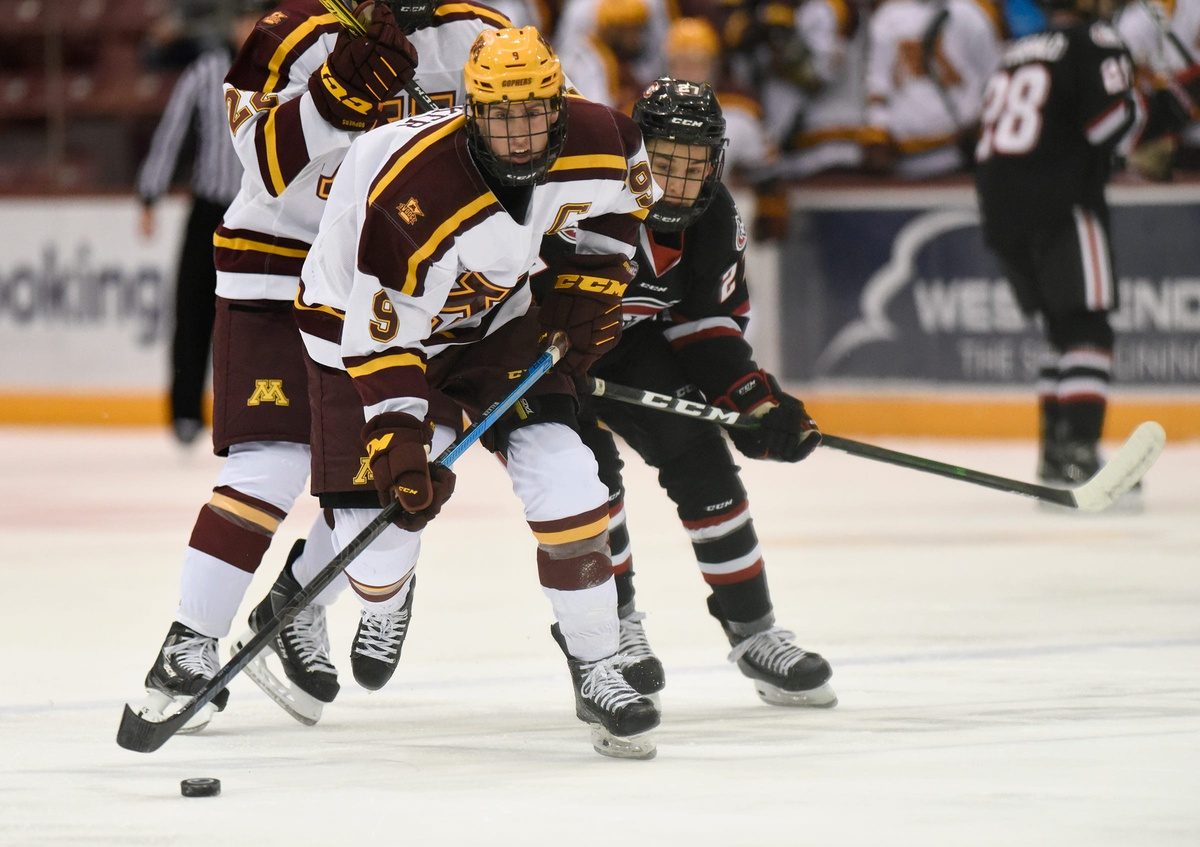 Last weekend, the Tom Kurvers Prospect Showcase featured several players coming into their first season of professional hockey, including a trio of recent NCAA players looking to make their mark on this year's Iowa Wild team. Sammy Walker (Gophers), Sam Hentges (St. Cloud State), and Vladislav Firstov (UCONN) are all shoo-ins to make Iowa's roster this season.
The three forwards all played in both games against the Chicago Blackhawks' prospects. In the two games, the Wild won the first and lost the second. However, Walker, Hentges, and Firstov were standout players and are now looking to make a mark in their first season of professional hockey.
The Wild won the first game, 5-2, and lost the second, 5-0. The results of these games don't mean much, but it's still a chance for the younger players to get some game time in. Some of these players may not become full-time Wild players, and others could find themselves as mainstays in the big leagues. Whatever the case, these games give the rookies and young players a chance to show off their skills and prove that they have what it takes to be a professional.
Sammy Walker
The recently-signed Walker tallied the secondary assist on the game-tying power-play goal in the first prospect showcase game. He was used in all situations and played two solid games. He will likely become a bottom-six NHL player, depending on how he does in Iowa this year.
Walker is the latest college hockey player to utilize the four-year loophole. He was picked by the Tampa Bay Lightning in the seventh round of the 2017 NHL draft, but because he played four years of college hockey, he could choose not to sign with the Bolts. Thus, Walker became a free agent.
He decided to go with his local NHL squad, saying, "It was stressful but definitely super exciting at the same time. I'm super pumped to be able to sign with the hometown team, and I'm super excited to get everything started and rolling." While he wasn't exactly a roster-changing signing, he is still a great depth signing for the Wild.
Walker was a captain of the Gophers for three years, so he brings a great leadership presence to Iowa, even though he's a rookie. He captained several deep NCAA runs and a few Big Ten Championships and was also Minnesota's 'Mr. Hockey' in 2018.
Sam Hentges
Hentges had a great first game in the prospect showcase, with a goal and an assist. The second game wasn't fantastic, but he provided the most memorable moment for the Wild with a fight. It might not be considered a full-fledged fight, though. His Blackhawks opponent spent most of the time trying to rip Hentges' helmet off, and neither player threw heavy punches.
Hentges's college career was solid. St. Cloud is always a presence in the NCAA tournament, and they made it to the finals two years ago but ended up losing to UMass.
Like Walker, Hentges played four years of college hockey. But unlike Walker, he chose to sign with the team that drafted him. As a Minnesota native, it's not surprising that he'd jump at the chance to play for his hometown team.
Coming into any rookie camp is a big deal, and there's extra pressure on the guys looking to make the team. Hentges talked about being at the Wild's rookie camp, saying, "Growing up watching the Wild play, it's something I've always dreamed for, so it's a little extra motivation. It's been fun, it's an exciting time, but there's also a lot of stress and pressure."
Vladislav Firstov
Firstov had a great first game as well. He tallied a laser of a goal off of a faceoff, then had a fantastic celly to top it off. Firstov was a second-round pick in 2019, 42nd overall. He will need some development time, but he should help Iowa tremendously this season. He did not take the typical path for a Russian player. He never played in the KHL, instead opting for the North American route, joining the USHL, then playing three years at the University of Connecticut.
UCONN never made any runs at any titles, but Firstov still was a great addition to the Huskies. He made it to the Hockey East All-Rookie team in 2020, then turned pro after his junior season and played eight games for the Iowa Wild, tallying two assists.
An increasing number of players are choosing to play NCAA hockey. Last year, a record 348 former college players played in the NHL regular season, with 48 D1 schools having an alum in the NHL as well. And hockey players all over the world are choosing to play NCAA hockey. Canadians like UMass alum Cale Makar and North Dakota's Jonathan Toews. It's not just American players, either. Finns like former Gophers Sampo Raanta and Erik Haula, Swedes like Wisconsin's Linus Weissbach, and even Russian prospects like Firstov are choosing the NCAA route.
Walker, Hentges, and Firstov have a combined 11 years of competitive NCAA experience. There's no knowing how any of their careers will end up, but all the college games they played are a huge advantage.