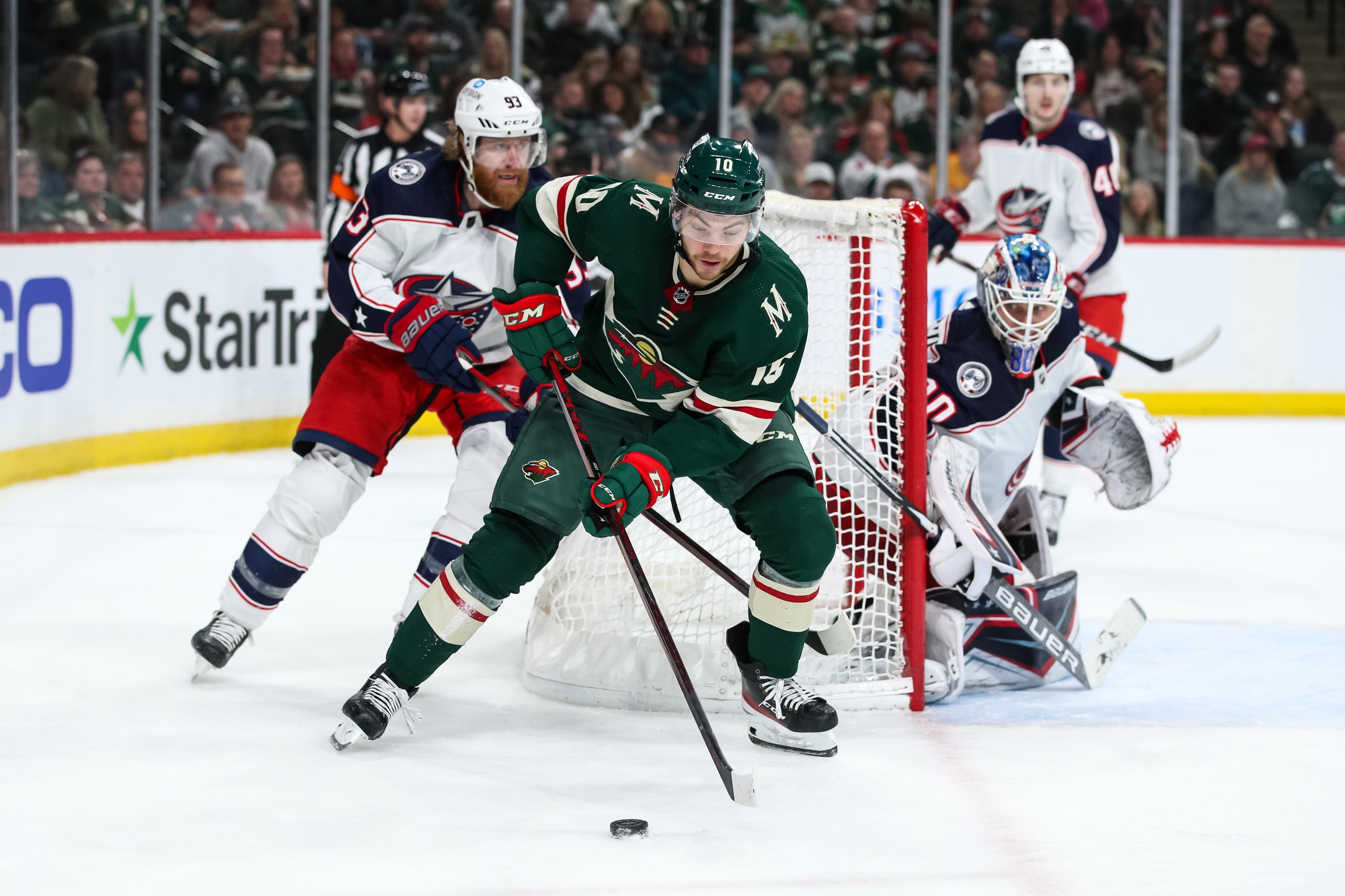 Don't look now, but Minnesota Wild are suddenly on another tear. Sunday night's OT victory over the Colorado Avalanche was the sixth victory in a row and the third time this season they've had three winning streaks of six games or more. An impressive feat for the franchise, for sure. But perhaps more so that it came while they overhauled the roster. The NHL trade deadline came and went smack dab in the middle of this latest run, which included big contributions from the newcomers.
The Wild traded Nico Sturm to the Avs for Tyson Jost on March 15th. It was the first move in what became a handful of aggressive trades by general manager Bill Guerin before the deadline last week. Six games into his Wild career, Jost, the former 10th-overall pick, is starting to settle into his new role… on the fourth line.
Swapping fourth-liners wouldn't usually be more than a footnote, especially with Minnesota's other trades. The Avs mostly used Jost in a defensive role, with few chances to play with Colorado's best offensive talent. But the Wild feel like Jost was miscast on the Avalanche.
"Defensively, actually, the last couple of years, he's been very strong," Guerin said following the acquisition. "But I know one thing he really wants to do is get the opportunity to play offensively and produce."
He's not the only one that thinks Jost has untapped talent. Scott Wheeler, a prospect specialist for The Athletic, believes that Jost was "Brutally misused in Colorado" and that "Jost will be a more impactful player in Minnesota than Sturm in Colorado."
The former UND standout believes the offense is there too. "I can play that defensive role," Jost said, characterizing his game. "I also believe I can bring offense too, whatever is going to help the team win."
The problem is, Jost isn't getting the chance to show off that offense. He's seen 73:34 total time on ice since his arrival, a little over 12 minutes per game. Comparatively, that's only slightly more minutes per game than coach Dean Evason was willing to play Sturm, who notched 11:32 on average. However, Jost has logged just nine whole seconds of power-play time in all of the six games he's been in Minnesota. That's less time per game on the man-advantage than Jordie Benn or Jon Merrill. It's also drastically less than they gave Rem Pitlick or Victor Rask, two players now playing for different teams.
If the Wild really believe Jost has offensive upside to his game, why not place him on the second power-play unit? A power-play unit that currently depends on Freddy Gaudreau, who had zero power-play points in his career before this year and has two now. Minnesota clearly could use an upgrade at that spot after Gaudreau's showing in 92 minutes. 
Meanwhile, Jost has 18 points on the power play in his career. However, cracking the high-power offense of the first line and PP unit of the Avs became increasingly difficult until he was completely phased out of any PP time over the last two years. He might only be a Gaudreau doppelganger on the second unit. But when scouting reports during his draft year described him as "a crafty goal scorer" or a player "that creates a lot of energy as an offensive catalyst," it leads to the belief that he can help the Wild in an area they desperately need to have clicking come playoff time.
It's great that Jost can step in and play defensive minutes right now. But the Wild can't say that swapping Sturm for Jost is a great trade or an upgrade if Jost doesn't get to play in offensive situations. The Wild are a deep team, and they've only become deeper since the deadline.
Still, Evason isn't likely to upset the lines as they are now. Unless they acquire a first-line center, they're not removing Ryan Hartman from the middle of Kirill Kaprizov and Mats Zuccarello. Evason isn't going to punish himself by breaking up the Joel Eriksson Ek line, which he calls his security blanket.
The only placement that makes sense is potentially inserting Jost in for Gaudreau between Kevin Fiala and Matt Boldy. But even that isn't likely to happen because Evason has forced that square peg (Gaudreau) into that round hole (centering Fiala and Boldy) all year, and it's finally starting to work now that Fiala is scoring again.
So putting Jost on the fourth line isn't the worst idea, at least for now. Granted, he isn't going to showcase his offense next to Nicolas Deslauriers and Brandon Duhaime. However, giving Jost time on the power play isn't going to displace anyone who's tearing the twine off the goalposts. It's a low-risk, high-reward adjustment Evason can make to offer a real power play combination once the first unit comes off. 
If the Wild believes Jost has the goods to be a good offensive player for them, they need to put him in a position to show the team he can get it done. He'll be with Minnesota next season and given more opportunity once the roster turns over. Why not dangle the carrot now and see what he's got? It's almost too simple.