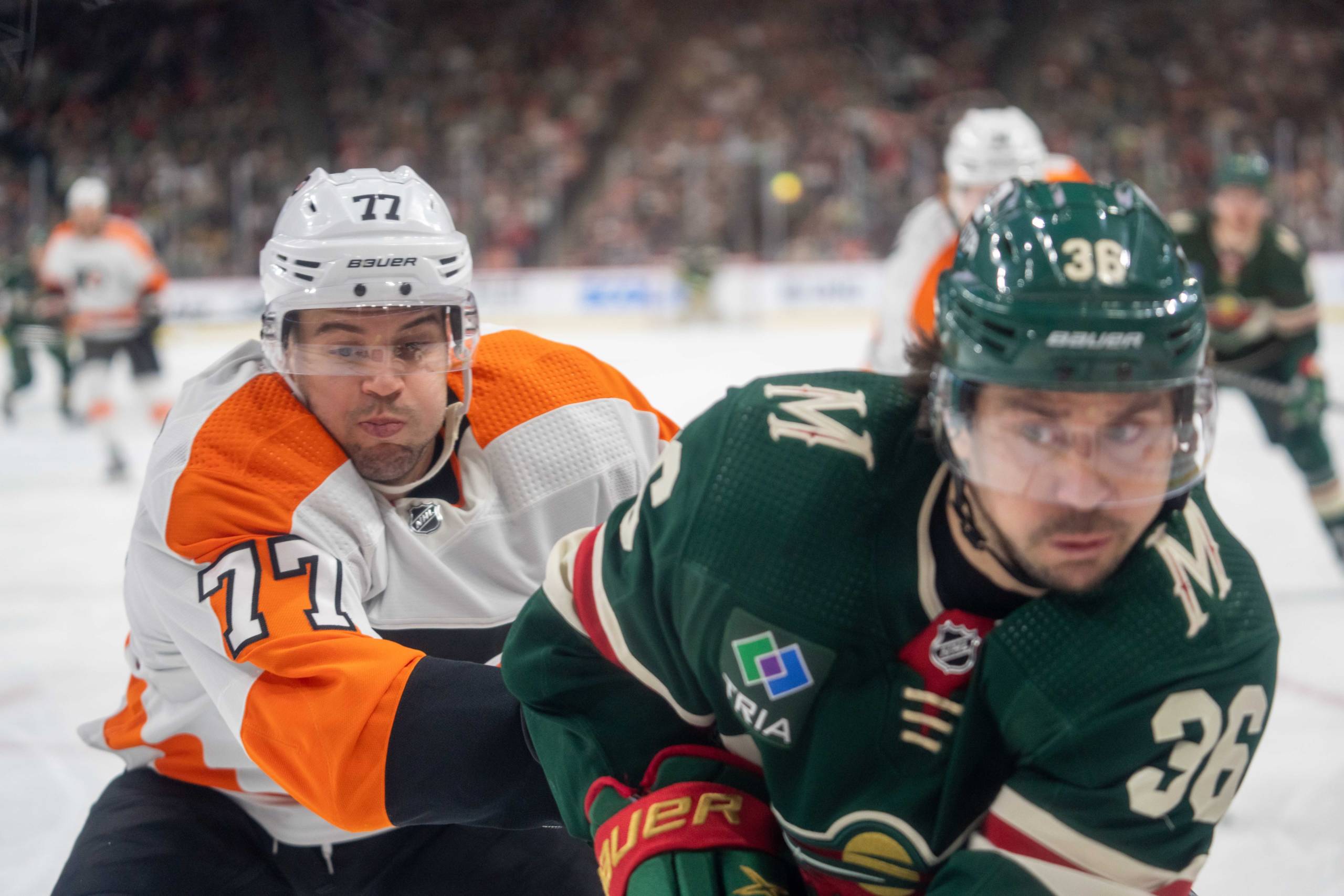 On Wednesday, the sky was threatening to fall on the Minnesota Wild. By Sunday, they were riding into the All-Star Break, and all was right in the world.
After a disastrous road trip where they went 1-3, played poorly at 5-on-5, and fell out of the playoff bubble, the Wild gave fans something to cheer about upon returning home. They pulled out back-to-back wins against the Philadelphia Flyers and Buffalo Sabres in extra time.
The wins salvaged what was otherwise a 4-4-2 January. It put them one point ahead of the Colorado Avalanche for the third in the Central Division and one point ahead of the Calgary Flames for the second Wild Card spot. It's a thin margin, but at least the Wild are entering the All-Star Game on the right side of the bubble.
Taking the desperation and pressure off the players is undoubtedly beneficial for them. But the coaches and front office can't lose that feeling. Their playoff spot is still precarious, but they still have the same problems they did on Wednesday.
The Wild score 2.21 goals per hour at 5-on-5, which ties them for 26th in the NHL. Their lack of offensive punch on a lineup touted for its depth has been shocking. For example, here are their goal-scorers during their four-game road trip:
Matt Boldy: 2
Jonas Brodin: 1
Wins are wins, yes, but the issues continued on the homestand. Minnesota scored only five goals in those two games, with just two coming at 5-on-5. As for the goal-scorers? Boldy (two goals), Spurgeon, Eriksson Ek, and Mats Zuccarello. At least one new player entered the chat, right?
It's not only that the Wild are still struggling to get scoring from anyone other than their six most prominent players. Getting wins is better than the alternative, but having the Flyers and Sabres take you to overtime at home? It's not exactly inspiring after four tough games against playoff-caliber teams on the road.
The Flyers (51 standings points) are 24th in the NHL at controlling play, with just 46.3% of the expected goal share at 5-on-5. The Sabres (56 points) are at 21st with 50.1% of the expected goals and give up nearly three goals per hour at 5-on-5. Those are two teams that a good, motivated, even pissed team should be able to run out of their own building.
Instead, they scored two regulation goals against each.
I'm not asking whether Minnesota's success in the past two games is sustainable. That's not really a question — it isn't. It's about whether the Wild can adjust to this reality, despite the wins.
If there's one constant in the Dean Evason/Bill Guerin era, it's that when things are good, they don't mess with the formula. Upon coming home, a desperate Evason made seismic changes by his standards. He took Ryan Hartman out of the lineup against Philly, then swapped him and Marcus Foligno against Buffalo.
Both players could use a spark, yes, but neither experienced one (no points for either player). Nor will they solve the Wild's talent gap with contending teams. The big re-shuffle also leaves Sam Steel (pointless in six games, four 5-on-5 points in his last 17 contests) intact on a struggling top line. Steel only had two 5-on-5 shots in nearly 38 minutes in the homestand.
But with those crucial four points, will Evason and Guerin let this team ride until their next slump? Or are they going to make moves to fix their obvious shortcomings?
They might simply be tight-lipped on their plans, but according to the plugged-in writers at The Athletic, it doesn't seem like it. Michael Russo and Joe Smith discounted the possibility of reeling in big rental fish like Bo Horvat or a longer-term defense upgrade in Jakob Chychrun. Patrick Kane, Jonathan Toews, and Ryan O'Reilly are the names they are connecting to Minnesota. However, they acknowledge the price on all three may be too high.
And in fairness, if it involves Chicago or St. Louis getting virtually anything, it probably is too much. All three of those players are below replacement level. Kane has cost Chicago 2.4 standings points and Toews 1.8. O'Reilly is the bright spot of the group, only worth 0.5 fewer points than a bog-standard replacement option.
The Athletic's trade deadline update instead focused on who might move. Considering the list includes mostly sell-low candidates like Matt Dumba, Alex Goligoski, and Jordan Greenway, good luck making a legitimate upgrade.
Also conspicuously missing from the forecast of the Wild's plans is anything having to do with Marco Rossi. The No. 9 overall pick from the 2020 Draft is heating up in Iowa, riding a five-game point streak where he has three goals and eight points.
He's now at eight goals and 24 points in 23 AHL games. Among players with 20-plus games in that league, he's tied for 23rd with 1.04 points per game. Rossi's points per game ranks second in the AHL among Under-23 players.
Despite his performance and the Wild in a tailspin, you never heard a whisper about Rossi coming back to inject some scoring into the club. You're probably not going to listen to it during the break, not with Minnesota being on a two-game winning streak and guaranteed to stay in the playoff bubble through February 7.
Again, that's better for the Wild than entering the break three points out of a playoff spot. Some desperate efforts by the team got them to a much better spot than Wednesday. But suppose the decision-makers aren't prepared to approach the team's flaws with the same desperation that they would have had the All-Star Break arrived before the homestand. In that case, they'll find themselves back in desperate situations soon enough.