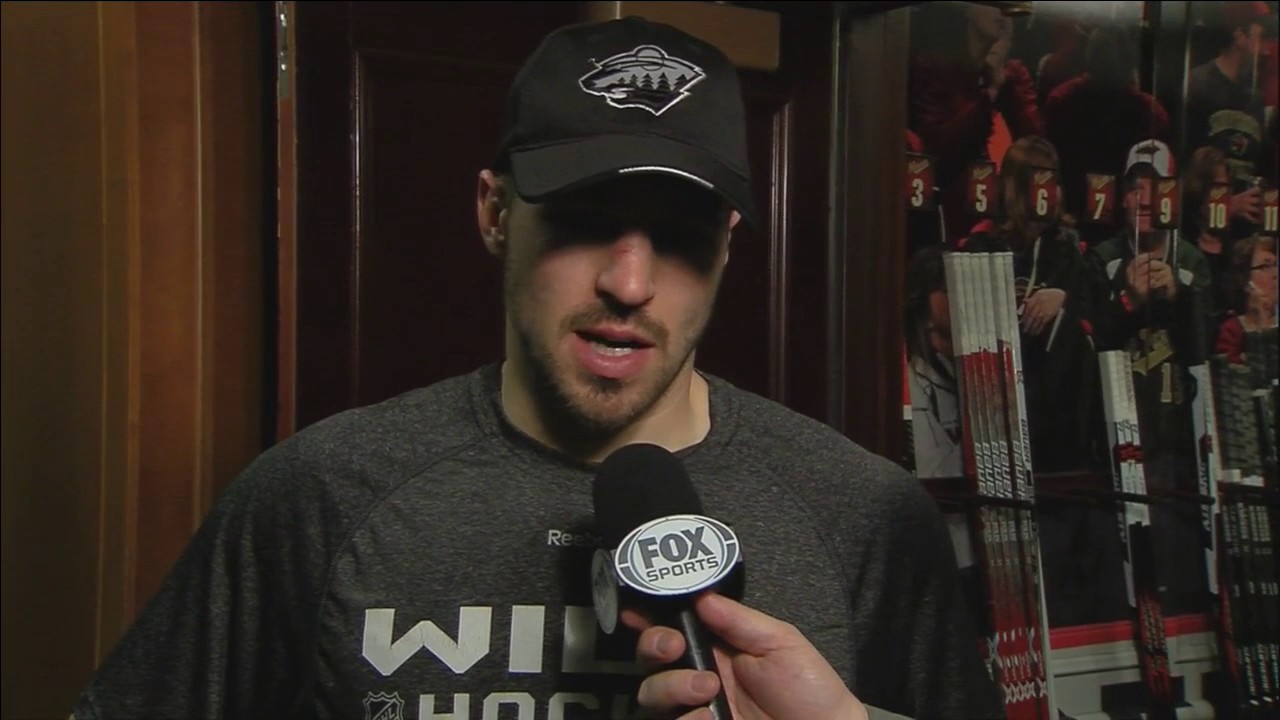 So here we are Wild fans. Another crushing one and done in the playoffs.
I know how you all feel. I'm right there with you. Thinking about how much the Wild dominated the play in five games yet ended up only winning one makes me 'Dean Portman getting tossed in the first Iceland game of Mighty Ducks 2' angry.
Yeah, I get it. It's only a hockey game.
My father would no doubt call attention to that, as he often did with me, at this juncture. But I irrationally love this sport, including my favorite squad. You're never going to change that about me. And perhaps there comes a bit more stock put into it emotionally year after year, as Minnesota waits for a team to make a long-awaited meaningful postseason run.
I did not think the season would come to a halt on April 22. I certainly didn't think it would end at the hands of a much less talented, Mike Yeo-led Blues team. More of that has to with the fact I did not think Jake Allen would have an out-of-this-world series with a .956 save percentage.
That is what drives me up the tree most, and I'm trying my best to prepare myself for when his save percentage plummets back to earth in Round 2. I'm not sure my attempts will be successful, but I can only try.
As for how I feel about the team moving forward, well, I'm trying to be as rational as I can, but maybe there is still a bit of irrational thinking in there still. Maybe this is due to the fact that I have not been able to fully process the season is over and that there are no more Wild games to be played. Maybe when the second round starts it will kick in? I have no clue.
But here's what I have.
It was great to see the team go all in and get Martin Hanzal at the trade deadline. You don't often see that in these parts, as teams usually just play it conservative instead of pushing the chips all in. Yes, the price was steep, but do you really believe the team was better off with Erik Haula/Tyler Graovac/Joel Eriksson-Ek as the third and fourth line centers? And if you believe Hanzal "disrupted" team chemistry, kindly buzz off. Hanzal was the best player available (in a weak year for rentals) and the team went and got him to fix a glaring weakness on the roster. Sure, his postseason could have been better, but you can make that argument for quite a few players on the roster.
The man who pulled the trigger on that trade, Chuck Fletcher, has come under scrutiny again for this team's failure. I'll be the first to tell you, he has flaws. All GMs do. But do I believe he needs to be shown the door? Not at this juncture.
Call me an apologist if you must. But if you are looking for change on the roster this summer, he's going to be the best man to make that change. I'm not saying huge changes, but I'd be willing to bet a few moves come along the way. Certainly, more would come from him than someone who would replace him, as new GMs usually like to take a year and "assess" what they have before making huge roster decisions.
Also, I'm not of the belief that tearing it down and rebuilding is the answer right now. There are no guarantees that rebuilds work, just ask the Edmonton Oilers pre-Connor McDavid and the present day Buffalo Sabres (who just fired their GM and head coach after tearing it all down three years ago). I do still believe the Wild have the talent to make a deep postseason run, just need a few tweaks here and there.
Again, this probably not what you want to hear, but this is how I feel deep down.
I'm not one who fully buys into the advanced stats in hockey, but I do believe there is merit to them. No, I'm not going to go in detail on them here, but I was encouraged to see the Wild take a favorable step in that department from March on. What hides the fact the Wild did well in that area, was the fact they were getting such porous goaltending and it led to a later than usual month-long swoon that derailed this team's shot at winning a Central Division title/having the best record in the Western Conference.
That improvement carried into the postseason, where the Wild dominated the series with the Blues on a level not often seen in the analytics era. I know there will be those out there now who will use this to decry analytics because the Wild were firing pucks at a brick wall with the last name Allen. And please, get off my lawn with the whole "Yeo and forcing shots from the outside" garbage. Allen simply stole a series, which is very reminiscent of another Bruce Boudreau team (2009-10 Capitals against Jaroslav Halak).
...they were getting such porous goaltending and it led to a later than usual month-long swoon that derailed this team's shot at winning a Central Division title/having the best record in the Western Conference.
Allen stealing the series is what aggravates me the most. He has been a below-average goaltender, who got hot after Yeo took over the reins as Blues head coach. And while we want to point fingers at anything else, this is why the Wild lost. I can't rationally explain it any other way.
Goaltenders are the best/worst thing in hockey. They can win you a game and just as easily take one away from you. It's as simple as that.
In the end, I'm going to try and be a part of the minority (along with my podcast cohort Ben Remington, who is fighting the good fight on twitter about this) who wants to stay the course. Sure, the vets are going to be another year older, but the Granlunds/Niederreters/Zuckers took a promsing step this year, and there are some talented kids on the way (see: Eriksson-Ek, Kunin, Greenway, Kaprizov).
Again, I'm not saying to make zero moves, but just don't make rash moves just for the sake of saying you made moves. Kneejerk reaction moves will do this team no good. Make moves that simply makes this hockey team better.
That's what I want. And if I'm a fool for thinking so, then so be it.
---
Never Miss an Episode of Giles & The Goalie!