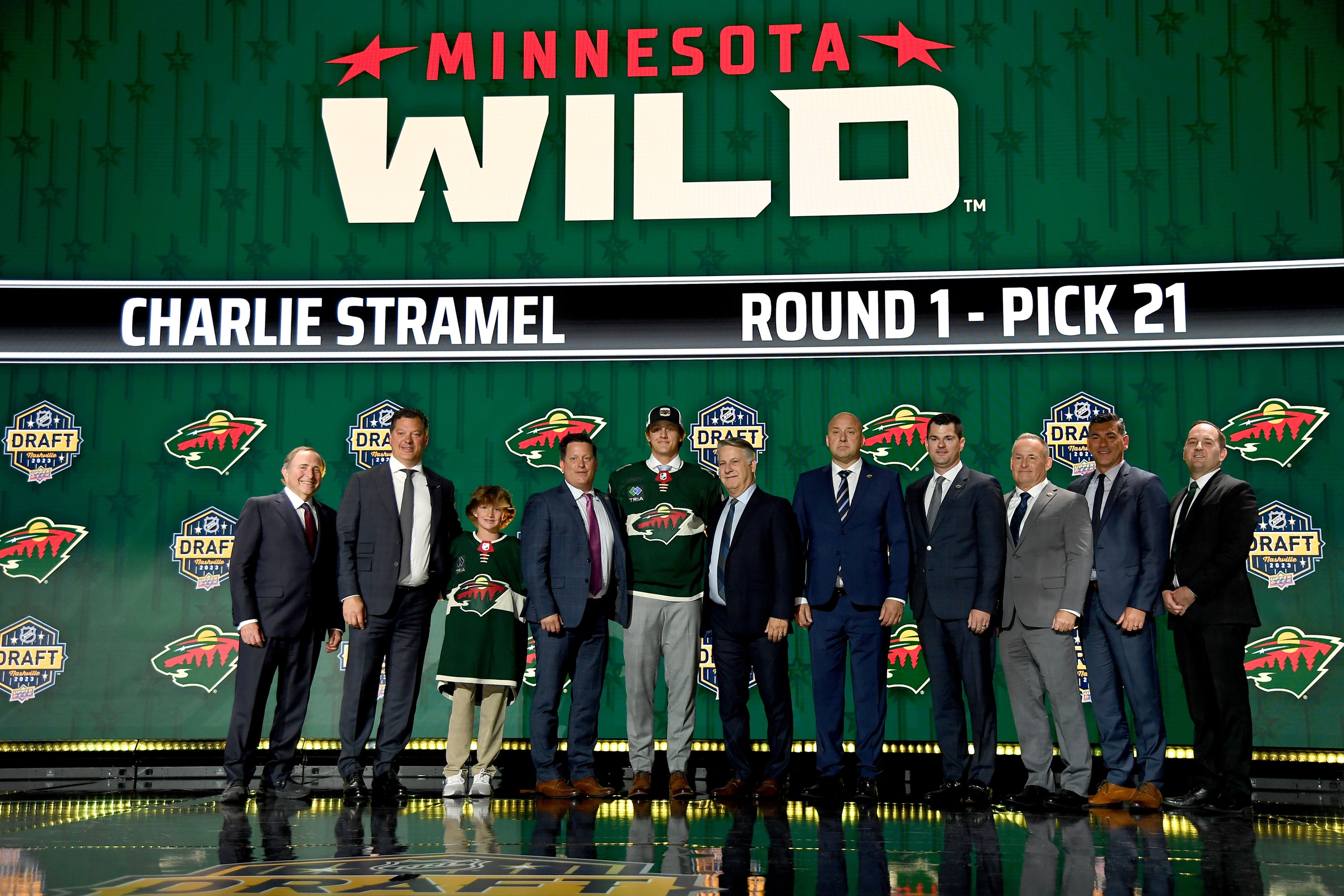 Image courtesy of Christopher Hanewinc-USA TODAY Sports
The Minnesota Wild had the 21st pick in the 2023 Draft, where, as expected, most of the big names were off the board. In that spot, the Wild picked Charlie Stramel. He's a Minnesota boy, and while he might play for the University of Wisconsin Badgers hockey team, it's always good to see a hometown player drafted by his hometown team. 
So why are there so many complaints?
Let's be clear: The NHL draft is full of good players. The Wild are lucky because their scouts have taken advantage of their opportunities to the point where their prospect pool has been rated as No. 1 in the league. While other teams are hunting for any raw value they can get their hands on, Minnesota doesn't need to do that. They've already got a stockpile of players, why would they need to load up on strengths? Bill Guerin was clear that they would probably be taking a more selective approach this year.
We will almost certainly see the fruits of this strong pool this season. It's easy to forget the goalscorers like Sammy Walker and Adam Beckman, goalie Jesper Wallstadt, and defenseman Daemon Hunt when they are playing in Iowa. But these prospects should be able to start filling many positions that might need coverage next year as Minnesota loses key free agents this summer.
But what position does the Wild need in their prospect pipeline? We all know there isn't much depth at center. Right now, the Wild have Joel Eriksson Ek, Ryan Hartman, Freddy Gaudreau, and Connor Dewar. They're all good in their own right, but aside from Eriksson Ek, no one in this group is a stand-out center. The Wild have plenty of wing, defense, and goalie depth coming up in the next few years. What good does getting another one of those positions do at the expense of the most important position on the ice?
So what did Guerin do with the first pick in the draft this year? He drafted a center! Draft experts describe Charlie Stramel as a physical, two-way forward. Who else does that description work for? Eriksson Ek, the best center on the team! If Stramel can become another player in the Eriksson Ek mold, they're in a good position.
But what about the amazing goal-scorers that the Wild passed over? Social media was ablaze with anger when Minnesota picked Stramel over other players with more dazzling offensive abilities. But do the Wild need that? Sure, more is always better, but they already have Matt Boldy and Kirill Kaprizov, who are bona fide superstars.
Some want to point to Stramel's sub-par point production last season. In 33 games played, Stramel only produced 12 points. It's important to point out that Stramel played on a weak University of Wisconsin team that went 13-23-0 during the 2022-23 season, finishing the season in last place in the Big Ten. First-round talent or not, it's hard to perform well when dropped into the void left by the exodus of big names the Badgers experienced in recent years. 
If he continues playing for Wisconsin next season, he'll be under the direction of a new coach. Mike Hastings is coming to Wisconsin from Minnesota State University, Mankato. Hastings brings a winning record with him. During 11 years with the Mavericks, their record was 299-109-25, which ranks him as the active leader in win percentage in the nation. If Hastings can coach Wisconsin like he did Mankato, Stramel will have a better chance to shine next season.
If stats are still a concern, look to Stramel's performance in the 2022 U18 World Junior Championships. He had five points in six games and played on the top power-play unit as a 16-year-old. He doesn't turn 18 until October, and still has made the cut twice for Team USA at the U20 World Junior Championships, where he has four points in eight games. Stramel can produce and drive play when surrounded by other good players in a better-managed program. 
That isn't to say that Stramel can jump right into the NHL. He'll need more refining at the college or AHL level before he can play with the big club. Who else needed some time before coming up? Again, Joel Eriksson Ek! And Eriksson Ek is not only the Wild's best center, but he's continuing to improve as he ages. 
Stramel just fits so many boxes for the Wild that it's impossible to ignore. Not only is Stramel a center, but he's a right-shot, sizable player. This team has lacked right-shot players forever, and they also have a notable amount of small players for a squad with such a physical, gritty identity. Stramel is closer to Eriksson Ek's size, at 6-foot-3 and 216 lbs. If he can use his size like Eriksson Ek does, the Wild have drafted a winner.
Stramel seems like a good fit for Minnesota's gritty identity. He's big and physical but not necessarily quick. That's alright because speed isn't the highest need for the club. The Wild have speedy players in Kirill Kaprizov and Marcus Johansson. To fit seamlessly into the big club once he's ready, Stramel needs to accentuate his physical play rather than his speed. 
Minnesota's centers share a few qualities. They're defensively-minded, good in the neutral zone, gritty, and unconcerned with being top goal-scorers. Of course, they all find the net throughout the season, but their main concern is winning faceoffs, getting the puck out of the defensive zone, and setting up plays. If Stramel can do those things, he can easily not just play, but be an asset at center for the Wild.
The Wild needed a center and drafted one. "Billy G." and the front office should have earned Wild fan's trust on this, so let them cook. They had a plan, and they stuck to it. For now, let's congratulate a Minnesota boy for being drafted to a Minnesota team. It's always nice to welcome a boy home.
3

1