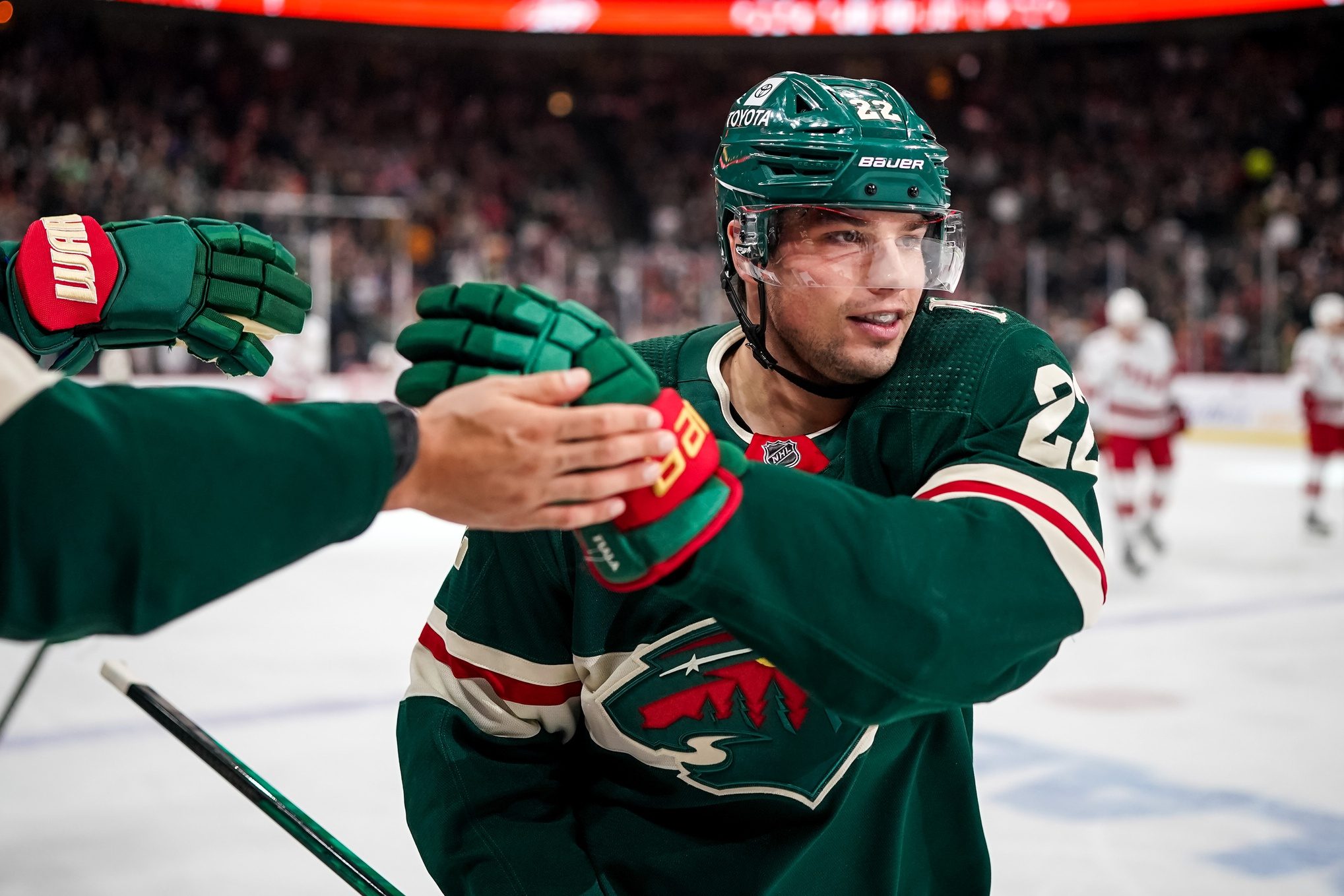 No matter what Kevin Fiala did, it seemed like he could never get a full buy-in with the Minnesota Wild. After scoring 94 points over a 114 game-stretch, Minnesota rewarded him with a one-year prove-it deal. Meanwhile, the Wild locked both Kirill Kaprizov and Joel Eriksson Ek for five-plus years.
While he has played like a top-line forward over the past two seasons, the Wild wanted more consistency and attention to his defensive game. Fiala's slow start to the season didn't help matters, but he has become an enormous reason behind Minnesota's ascent to contender status.
Fiala's surge mostly coincides with Minnesota putting top prospect Matt Boldy into the lineup. Go figure: Put a player in a position to truly succeed, and they just might have success. Fiala and Boldy's connection is similar to Kaprizov and Mats Zuccarello's chemistry, which is a huge reason why retaining him should be the No. 1 priority. Considering that Marco Rossi will be on the roster next season, Fiala and Boldy could make a top trio.
Fiala has 16 points in 14 games – including a 12-game point streak – since Boldy's arrival. Fiala's skillset is irreplaceable, and his offense is crucial to Minnesota's success.
Fiala's elite transition game is what sets him apart from other talented offensive players. He excels at entering and exiting the zone – something players past and present on the Wild have lacked. His controlled entries and exits per 60 from 2017-20 were in the 87th and 91st percentile, respectively. Fiala thrives when it comes to driving play, which is a huge asset for a team.
The only reason Fiala's future is in limbo is because of the upcoming cap squeeze. Due to salaries and no-trade clauses, the only movable big-money players are him and Matt Dumba.
The predicament is whether the Wild are willing to give Fiala $7 million annually. That's probably the price to retain him and is in line with contract projections from last summer. His 3.01 points-per-60 in all situations over the past three seasons ranks 30th among all forwards league-wide. It's a lot of money, but Fiala will only be 26 when he signs his next deal. That contract should cover his prime, without many pesky decline years. Minnesota should sign up for that.
In that same stretch, Fiala's 10.93 shots per 60 ranks 14th highest in the league. The shot volume is present. It's just a matter of finishing and focusing on the shot quality. Fiala doesn't get enough credit, too, as his overall game has significantly improved. There is still much room for growth, but he has shown us the threat he can be for three seasons now.
However, we often fail to consider Kaprizov's contract status when discussing Fiala. If the Wild aren't in a position to contend when his deal ends, there's always a chance he will test the market in free agency. It doesn't send the best message if Minnesota extends their depth players – for example, signing Jordan Greenway to $3 million annually – but aren't willing to pay the price for their top players.
The Wild are a deep organization, especially after ranking third in Scott Wheeler's prospect pool rankings. But banking solely on prospects to run the future is unwise. Fiala helps lessen the pressure for the next wave of top-of-the-lineup forwards in Marco Rossi, Boldy, Marat Khusnutdinov, and Adam Beckman.
The Wild's reputation for mediocrity came after the old core couldn't do any postseason damage. That's because the likes of Mikael Granlund, Jason Zucker, Nino Niederreiter, and Charlie Coyle didn't have the talent to shine in the brightest moments. Well, Fiala is a better player than all of them. He's shown how good he is in his early-20s. Imagine when he's in his prime.
If the Wild trade Fiala, they could be moving one of the best offensive players the club has ever witnessed. For an organization lacking elite talent since its inception, they simply can't allow that to happen.
There's no question the Wild could get a big return for the 25-year-old winger, but his value on the roster is more important than the assets in return. It's unlikely the organization will win the trade in the long run. It usually doesn't work out for the teams that trade one of their best players, especially at his age.
Trading Fiala will significantly hurt the Wild's firepower upfront. And if the Wild want to stay competitive through the cap-strapped years ahead and give a reason for Kaprizov to remain in Minnesota long term, locking up Fiala to a long-term deal has to happen.
All Data Via Evolving-Hockey, Natural Stat Trick and Hockey-Reference