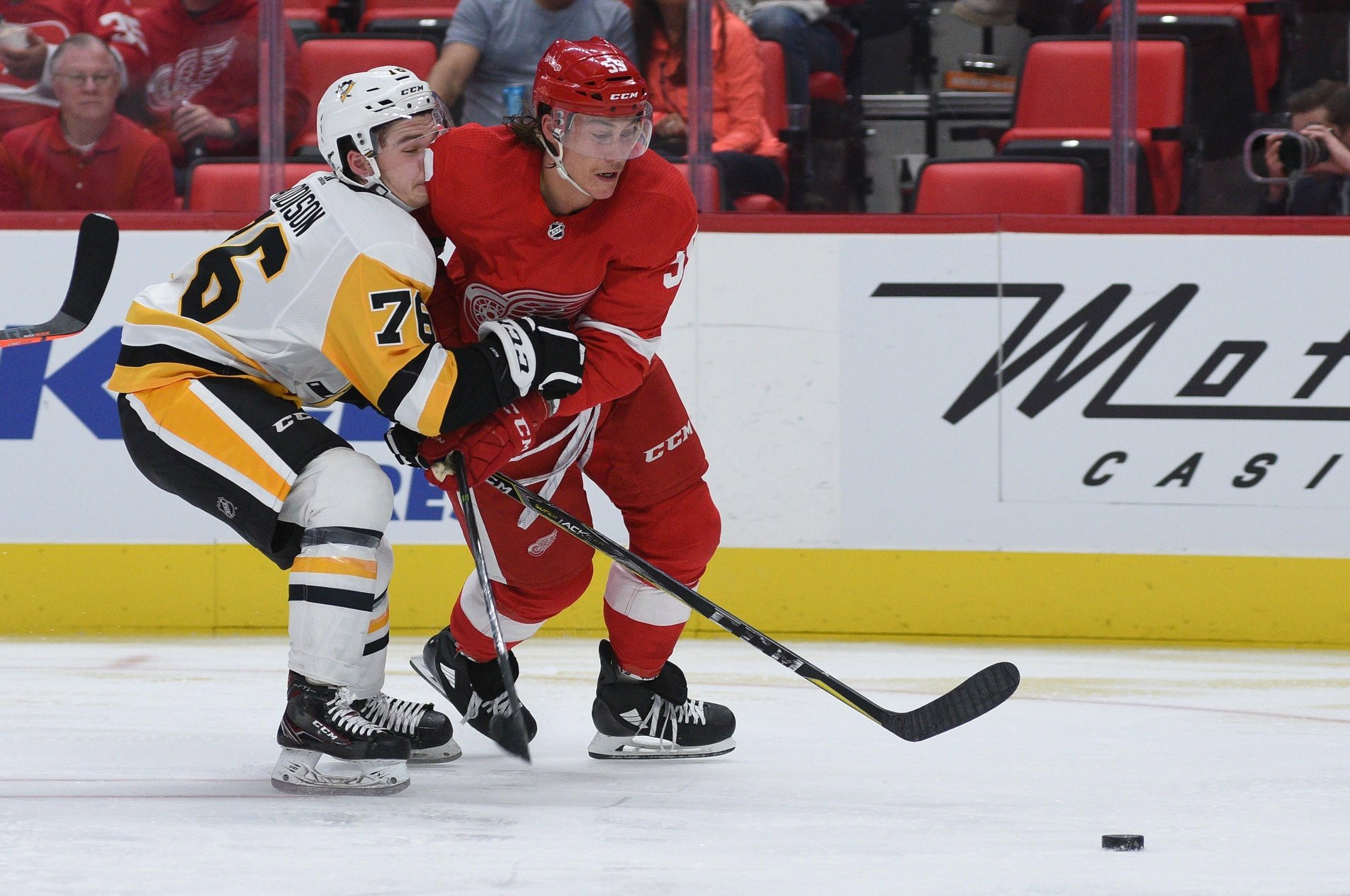 The Minnesota Wild released their training camp roster on Saturday. Our own Drew Cove took a look at how the roster might shake out last week, and there were few surprises on Minnesota's roster. Just about every NHL player and the Iowa Wild's top players will make it to camp.
The one surprise was the inclusion of one Calen Addison. You may know Addison as the prospect who arrived in February's Jason Zucker trade. Addison is a prized prospect, boasting both skill and production. He's been a point-per-game player in the past three seasons with the WHL's Lethbridge Hurricanes. So it's not surprising that the Wild are showing belief in him.
But what is surprising is the timetable. Addison wasn't widely considered to be a factor this season. Nor did many think Addison would be NHL-ready next year, in his age-20 season. So to see him contending for a spot on a playoff roster so soon is eyebrow-raising.
So let's dig into this decision. What can we expect from Addison, and can he make an impact in the playoffs?
Who is Calen Addison?
We know that Addison is a highly touted prospect, but why? Certainly his production stands out, but what else in his game made Guerin covet him so much?
Addison's biggest calling card is his skating. The speed of modern hockey is changing what's needed from modern defensemen. Addison may be 5'10", but his skills are perfect for where the NHL is trending. Here's what Future Considerations had to say about his transition game in 2018:
"He is a nimble skater who is dynamic laterally and can provide separation because of his quickness and acceleration. His range of gears is tough to pick up for opponents as he is so good at dictating pace and driving play from the back end."
Believe it or not, that's the kind of defenseman the Minnesota Wild could use more of. Aside from Jared Spurgeon, the Wild's blue line is fine, but not great in transition. Addison has the speed and puck skills to be a zone entry machine as a defenseman.
Beyond his transition ability, he also possesses high-end offensive skills. He not only racked up points at Lethbridge, but he was dominant at the 2020 World Junior Championships. Addison finished second among defensemen at the tournament with nine points while serving as Team Canada's power play quarterback.
The main knocks with Addison are on his defensive game, but the reviews are mixed. It seems that the issue is that he's not able to be physical in his own zone. Lucky for him, Wild defensemen have mastered the ability to be effective defensively with skating and positioning. If Addison can pick up on the latter, he should be a fine blueliner in the modern NHL.
Teenage Defensemen in the Playoffs
We've established that Addison is a very good prospect. But does that mean he's ready to contribute now? Especially in the playoffs?
While Addison turned 20 in April, he's still technically in his age-19 season. Typically, the players making big contributions to playoff teams as a teenager are forwards. Things are changing, but it is still rare for teenage defensemen to make an impact in the NHL. And even rarer for them to do so on a competitive team.
Just six teenage defensemen played in any postseason games over the past five playoffs. And that list reads like a Who's Who? of the top young defensemen in the game. Aaron Ekblad, Zach Werenski, Charlie McAvoy, Samuel Girard, Mikhail Sergachev and Miro Heiskanen. With the exception of Girard, all of them were taken in the Top-15 of their draft class.
It shows just how great of a prospect you have to be to get playoff minutes as a 19-year-old defenseman. And you could argue that Addison is in that conversation. His CHL numbers are fairly similar to Girard and Sergachev. But that's still an extremely tall order.
Even rarer is the teenage defenseman to debut in the playoffs. The only player to do that since the 2000-01 season is McAvoy. Defensemen that young don't just jump straight from juniors or college into a playoff lineup.
And that's just to play in the playoffs, not excel. Collectively, these six 19-year-old defensemen played 48 playoff games as teenagers and scored 14 points. That's an 82-game pace of 24 points. That's incredibly solid for a group of teenage defensemen, but it's not quite as impactful when not accounting for age.
Will Addison Get to Play?
Not only is age working against Addison, but he has a logjam at his position to contend with. It wasn't long ago when the Wild had weak organizational depth at right defense. That's started to change in the last year and a half. Now, a top prospect like Addison has an uphill climb for minutes.
Of course, Spurgeon and Matt Dumba are on top of the depth chart. They're both top-pairing quality, and should soak up 45-plus minutes in any playoff game. Left-shot defensemen Brad Hunt and Carson Soucy have filled in the right side in third pairing roles. The 6'5" and physical Soucy in particular shined when Dumba was injured earlier this season. Behind them is Brennan Menell, a puck moving defenseman who made first-team All-AHL this season at age 23.
Addison's specialty as a power play quarterback is also more than spoken for. Ryan Suter rules the roost as the top minute-eater on the power play. Dumba's shot is deadly on the man advantage, and Spurgeon knows his way around the offensive zone.
So where does this leave Addison? Even in a vacuum, Addison would have to beat out Menell, Hunt, and Soucy for minutes. But with the offensive roles filled on this team, coach Dean Evason might opt for a defensive third pair. That leaves Addison on the outside, looking in.
Addison will have to blow everyone away in training camp to make the lineup in Game 1 against Vancouver. But that doesn't mean he won't have an opportunity. Injuries, struggles or the dark reality of coronavirus could open a spot for Addison that's unforeseen now. But as of now, that spot is hard to find.
That Minnesota sees Addison as a roster contender at such a young age is exciting. It'll be a special thing if he is able to play any time at all in the playoffs. But don't be disappointed if Addison doesn't make it onto the ice in August, or if he plays without making an impact. Playoff hockey is hard for a teenager, and Addison's future remains bright no matter what.