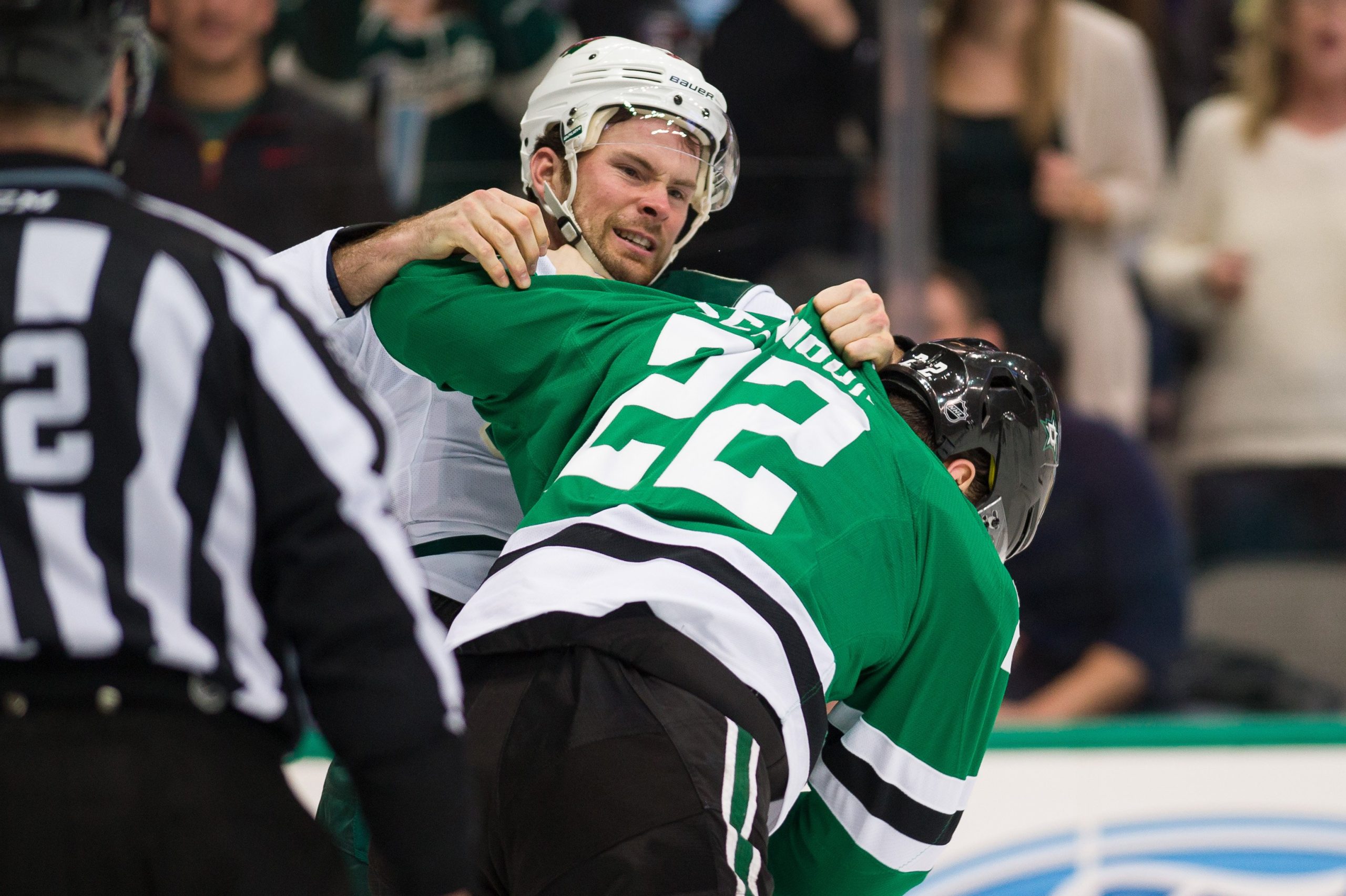 In this day in age for the National Hockey League, high volumes of penalty minutes are becoming a rarity. Players not often get up into the double digits of penalty minutes during a single game, as that would involve either a game misconduct or a pair of fights.

 

But only four years ago, the Wild had their single-game penalty minutes record set on Jan. 3 in Dallas.

 

The Wild do not have a rich history of any bench clearing or line brawls. In fact, their history is pretty tame compared to other teams that have dated them in this league.

 

So on this night in Dallas, Wild defenseman Stu Bickel made his mark on the Wild history book. In just 1:29 of ice time, Bickel was able to amass 39 individual penalty minutes, which set and still is the Minnesota Wild team record for most penalty minutes in one game.

 

Bickel did so while coming to the aid of his teammate -- Ryan Carter -- who started the altercation after the play. Carter shoves Trevor Daley into Kari Lehtonen, Vernon Fiddler -- who had two goals already by this point -- steps in to defend his teammates and Bickel tries to butt in but gets taken on by Jason Demers.

 

Here is the video which takes place with the Wild already down 5-0 and the second period not even halfway over:

 

 

Bickel had taken an unsportsmanlike penalty earlier in the second period and, on this brawl, was assessed 37 penalty minutes, giving him 39 total for the game. Here was the complete list of penalties he was given on this play:

Two minutes for instigating

Five minutes for fighting

10 minutes for a misconduct

10 minutes for a game misconduct

10 minutes for aggressor

If you are asking what is an aggressor penalty, you are not alone. Here is the uncommon penalty from the official NHL rulebook.

46.2 Aggressor – The aggressor in an altercation shall be the player who

continues to throw punches in an attempt to inflict punishment on his

opponent who is in a defenseless position or who is an unwilling

combatant.

A player must be deemed the aggressor when he has clearly won

the fight but he continues throwing and landing punches in a further

attempt to inflict punishment and/or injury on his opponent who is no

longer in a position to defend himself.

A player who is deemed to be the aggressor of an altercation shall

be assessed a major penalty for fighting and a game misconduct.

A player who is deemed to be the aggressor of an altercation will

have this recorded as an aggressor of an altercation for statistical and

suspension purposes.

A player who is deemed to be both the instigator and aggressor of

an altercation shall be assessed an instigating minor penalty, a major

penalty for fighting, a ten-minute misconduct (instigator) and a game

misconduct penalty (aggressor).

From the video shown, it is hard to say if Bickel met the criteria for being given the aggressor. But needless to say, Bickel did not play again that evening. In fact, that was the final time we saw him in a Minnesota Wild uniform, as he would never again play for his home state team.

 

It was a forgettable night for the Wild, as they were waxed by Dallas 7-1. But it certainly did not stay out of the record books, as Bickel's 39 penalty minutes broke Matt Johnson's team record of 37 which was set back in 2002.

 

Below is a chart of the 10 instances in Wild history where a player had amassed 20 or more penalty minutes in a single game.

 

 

Not a long list, and certainly not one that is going to have many instances in the near future.

 
---