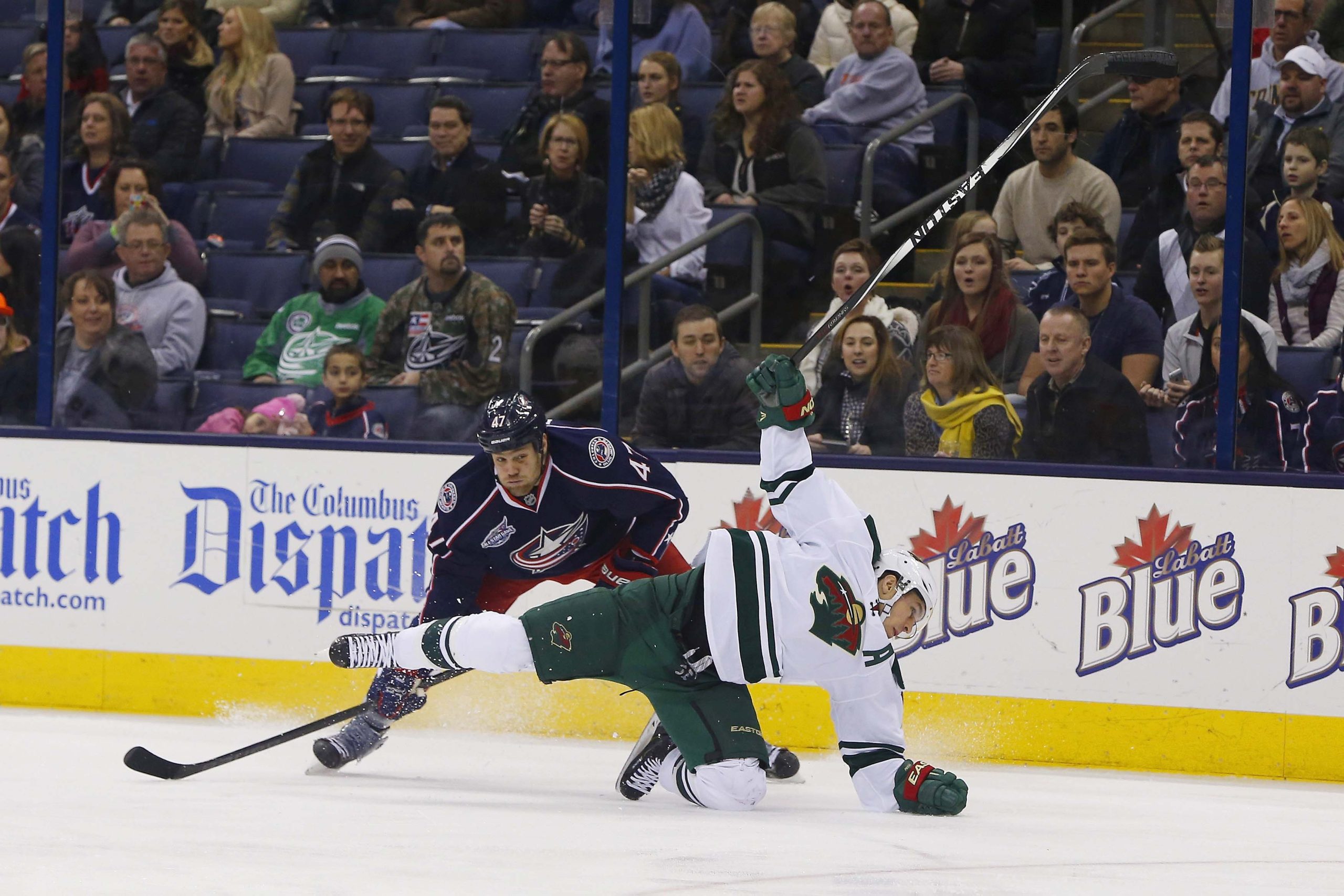 Every Thursday we will take a look into the Minnesota Wild archives and point out an event that happened on this date. The event could be well known, or it could be an obscure occurrence as well. Either way, it's going to get pointed out on this throwback Thursday segment.
To kick off this segment, we travel back in time to Nov. 15, 2011. The Minnesota Wild played against Columbus at Nationwide Arena to end a five-game road trip.
The Wild needed a win over the lowly Blue Jackets to make it a winning road trip -- they had split the first four games -- as Columbus was off to an abysmal start, losing 12 of their first 16 games. This was the short-lived Jeff Carter era in Columbus, as the winger was traded the following February.
Why is this game being highlighted?
If you take a look at the boxscore, you find Wild forward Pierre-Marc Bouchard on it in many ways. One of which was a misconduct penalty, which is a surprise given the forward played 593 career games in the National Hockey League and only amassed 190 penalty minutes. He was pretty well-known for being a more gentlemanly player on the ice.
Apparently in this game, Columbus players -- including noted enforcer Jarret Boll -- were out to pick a fight with Bouchard.
Yep, you read that correctly. Or at least that is what Cal Clutterbuck told the media postgame.
"One strange moment occurred when several players milled around in the first period, pushing and shoving and exchanging words. Blue Jackets players, Clutterbuck said, wanted to fight Bouchard.
"Nobody asks Pierre-Marc Bouchard to fight. You just don't do it," Clutterbuck said.
One referee apparently feared things would get out of hand, so he called misconducts on four players." - via TwinCities.com
So to recap, the scrum was Jarret Boll and Matt Calvert for Columbus against Cal Clutterbuck and Pierre-Marc Bouchard for Minnesota. *insert one of these things is not like the other meme here*
And then the referee was so concerned about things getting out of hand, he threw them all in the box for 10 minutes. Why? Because Columbus was out for vengeance against Bouchard from an incident that took place earlier that season.
That suspension was the only time in Bouchard's career he received a ban from the league, and it was seen by some as a joke considering his previous history -- or lack thereof -- when it came to being disciplined by the league. This was also the only time in his career he was given a misconduct with a 10-minute timeout.
So while we remember Bouchard for his great passing and shootout skills, today we remember his only 10-minute misconduct penalty.
Truly a memorable moment in Wild history! (Disclaimer: that was sarcasm)
---