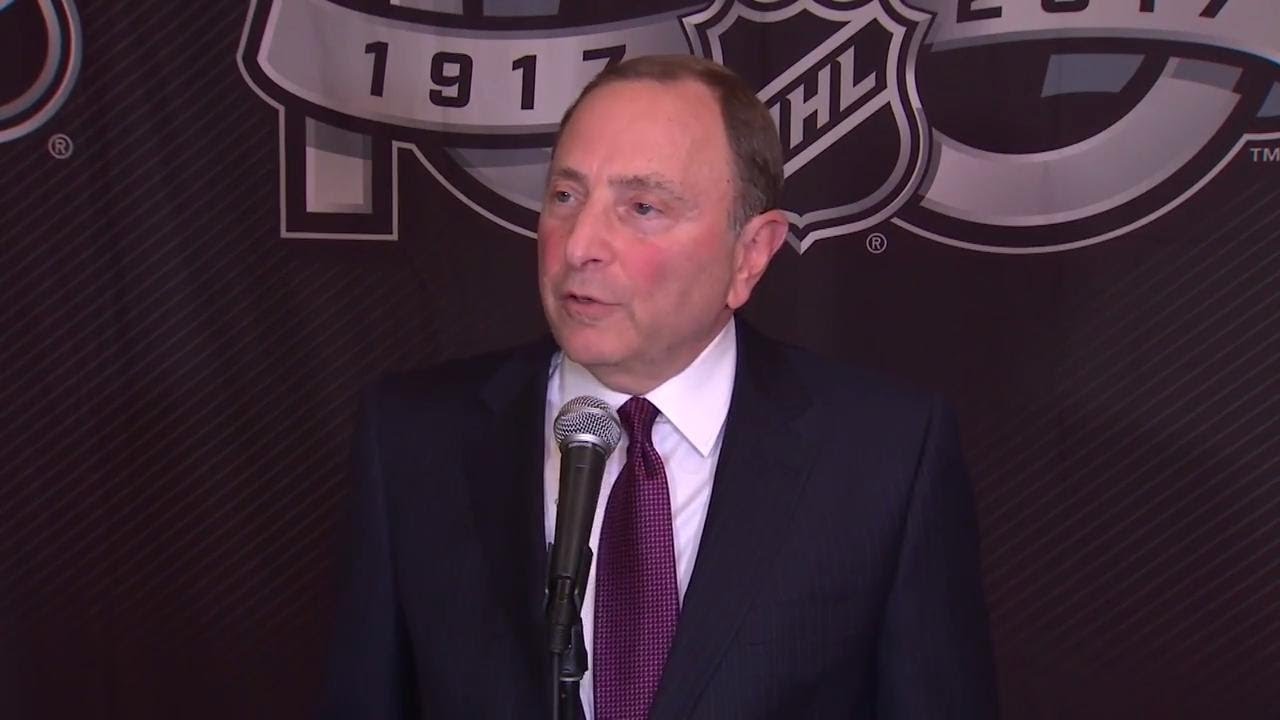 It was three years ago this past Friday that NHL commissioner Gary Bettman stood in front of the media at the December Board of Governors meetings and said the league was allowing William Foley to conduct a ticket drive in Las Vegas to see if the market could support an NHL franchise.
As we all know, that ticket drive was a huge success and the NHL awarded an NHL franchise to Sin City in the summer of 2016.
You may have heard of that team, the Golden Knights, who currently are sitting in second place in the Pacific Division thanks to a Cinderella start to their inaugural season.
Flash forward three years from the 2014 Board of Governors meeting, and we found Bettman once again standing out front of the media.
This time, Bettman announced on Thursday he is allowing Seattle based 'Oak View Group' -- which includes Hollywood producer Jerry Bruckheimer -- to conduct a similar ticket drive. This decision came just days after the City of Seattle voted 7-1 in favor of a $600 million deal with OVG to renovate the outdated Key Arena -- the previous home of the NBA's Supersonics -- with an expected completion date prior to the 2020-21 NHL season.
Now Bettman and the league will tell you, 'This is just simple research being conducted, blah blah blah, we are in no hurry to expand,' but is far from the truth. The ink on the deal between and Seattle and OVG had yet to dry, and the NHL was already on their doorstep going, "Let's get your expansion process started."
The NHL wants their foot in the door in the market of Seattle, and they want it now.
With the NBA in no hurry to expand or relocate any teams -- especially after Sacramento, a team that was rumored to be relocating to Seattle a few years back, got a new arena ending any chance of them moving -- the NHL sees an opportunity with a supportive market in Seattle.
The Seahawks have sold out every home game since 2002. The Sounders -- a Major League Soccer team -- average 43,000-plus fans for every match in the same building the Seahawks play in.
Clearly, the NHL places its highest priority in expanding to Seattle, as Bob McKenzie noted this past week. However, OVG will have to pony up a cool $650 million, a $150 million increase from what Bill Foley paid last year for his Golden Knights.
But with the quick jump into the Seattle market, two other markets are left on the outside: Houston and Quebec City.
It was just a few short weeks ago that Bettman sat down with Tilman Fertitta -- the owner of the NBA's Houston Rockets -- and discussed the possibility of bringing an NHL franchise to one of the United States' largest markets. In the report from the Athletic, Bettman refuted the notion of relocation but said Houston could be seen as an expansion option if the correct situation presented itself.
While Fertitta has definite interest in bringing the NHL to Houston, it appears his interest is still in the very early stages, as he so noted on Twitter. With a hockey-ready arena in the Toyota Center -- as Wild fans would remember from the Aeros' days -- and a market big enough to support a major sports team, it's quite possible we have not heard the last from Houston in regards to getting a hockey team.
Quebec City is the other team on the outside looking in, as Bettman went as far as saying the only market being considered for expansion at this time is Seattle. After opening new Videotron Centre in 2015 -- to entice an NHL team to come back -- the Quebec capital has been left out of the expansion process now twice with the first coming in 2014 to Vegas.
The NHL has made zero promises to Quebec City on getting a team, so they will have to hope for the relocation route -- along with Houston -- should the NHL officially go the route of Seattle as its 32nd team.
With arena situations in Arizona, Calgary and Ottawa, the league will could use Houston and Quebec as leverage, in the hopes of securing public funds to help build new rinks in those respective markets (see: Calgary).
There's also a situation in Carolina, where attendance continues to come into question and now there is a new owner in town. Despite Bettman and the league saying the Hurricanes are going nowhere with the new ownership, relocation always hovers over Raleigh as the Canes struggles to fill the stands - and just to be relevant in the standings - continue.
So should the NHL truly go ahead -- and all indications are they will -- with placing the 32nd franchise in Seattle, there will be cities in waiting for a team who needs to relocate.
If you're Houston or Quebec, it is not the sexiest idea to place your hopes in a team to relocate, as Bettman and the league will exhaust every option in that market before finally pulling the plug (see: Atlanta).
But make no mistake, a 32nd team is right around the corner. Be ready for it at the beginning of the 2020-21 season, assuming there is no work stoppage (*hysterical laughter*).
Minnesota Wild Week Ahead
Sunday, Dec. 10 at San Jose - 8 p.m.
Tuesday, Dec. 12 vs. Calgary - 7 p.m.
Thursday, Dec. 14 vs. Toronto - 7 p.m.
Saturday, Dec. 16 vs. Edmonton - 7 p.m.
Notable NHL Games This Week
Monday, Dec. 11 -- Washington at NY Islanders - 6 p.m.
Tuesday, Dec. 12 -- Tampa Bay at St. Louis - 7 p.m.
Thursday, Dec. 14 -- Pittsburgh at Vegas - 9 p.m.
Saturday, Dec. 16 -- Montreal at Ottawa - 6 p.m.*
*Scotiabank NHL 100 Classic at Lansdowne Park in Ottawa
---
Never Miss an Episode of Giles & The Goalie!