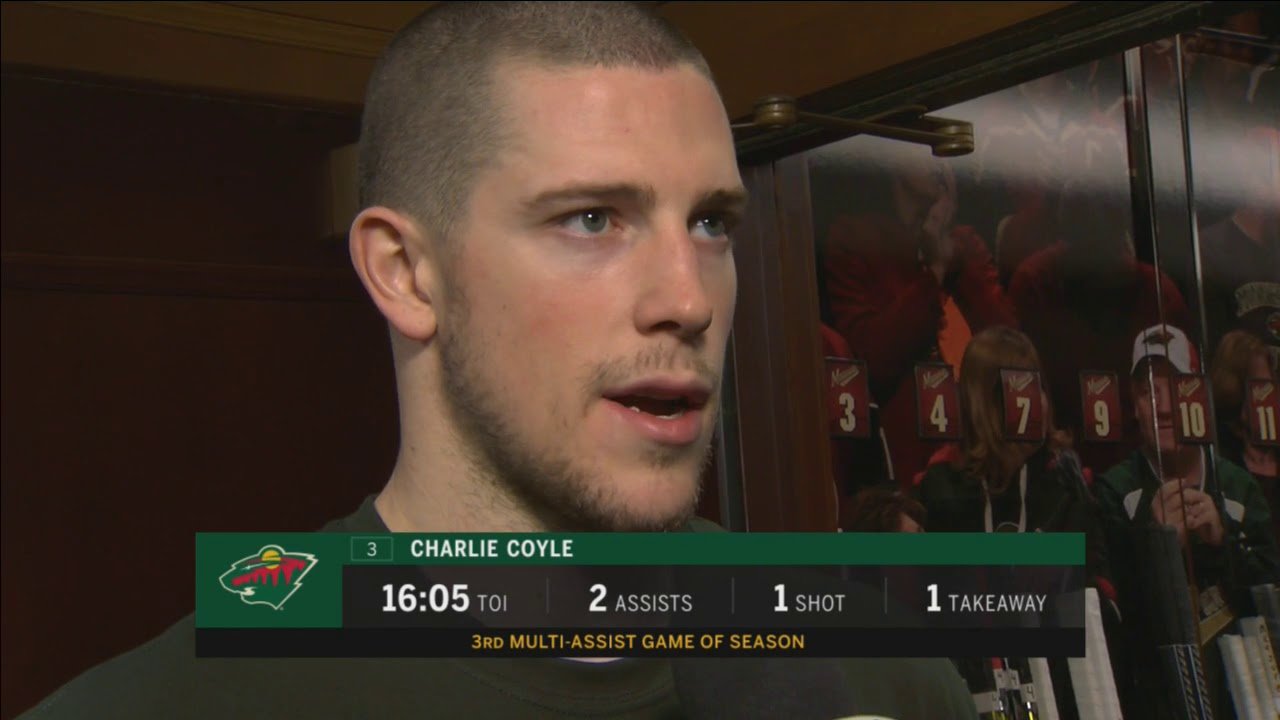 On Tuesday night, the Minnesota Wild kick off their post All-Star break schedule in Columbus. As teams open play Tuesday, the Wild find themselves in a four-way tie -- with Colorado, Los Angeles and Anaheim -- for the final playoff spot in the Western Conference.
With the Wild on the outside looking in to start the unofficial second half of the season, here are five players who need to improve their game to help bolster the team's chances down the stretch:
Charlie Coyle
If you listened to the Giles and the Goalie All-Star Podcast, you will find a common player mentioned in the 'disappointing' category. It's Coyle. After a career-high 56 points last year, Coyle has underwhelmed all season -- mainly since his return from injury in November that he suffered just three games into the season -- only tallying four goals and 15 assists.
Bruce Boudreau has moved Coyle around the lineup to try and get him jump-started, but nothing has yet to work. Plain and simple: the Wild need a much better Coyle for the final 33 games this season.
Tyler Ennis
The key piece for Minnesota in the summer trade with Buffalo -- that saw Jason Pominville and Marco Scandella depart -- was Ennis. So far this season, Ennis has tallied just 13 points in 47 games.
Let's repeat that again. Ennis, the key piece coming back for Minnesota in the summer trade with Buffalo, has tallied just 13 points in 47 games.
With Minnesota really hurting in the bottom six for scoring, Ennis is a key player who needs to get going to give Minnesota some more depth in the lineup. If he cannot turn it around in the final games, he will more than likely be a strong candidate for a buyout this offseason.
Joel Eriksson Ek
It seems silly to ask for more from a 20-year-old in his first full season, but that is where we are with Eriksson Ek.
No, this is not driven by the fact a player the Wild passed on in the 2015 Draft to draft J.E.E. had a moderately okay weekend in Tampa.
In 42 games this season, Eriksson Ek has amassed a whopping seven points. While he hasn't exactly been given great linemates, he has also flashed brilliance -- but has yet to find the scoresheet. Like Ennis, Eriksson Ek can be a key cog in getting the Wild's bottom six going.
Mikko Koivu
When Chris Stewart has more goals than you, it's a sure bet you will be on the list.
After coming off a resurgent year and a new two-year contract extension, Koivu has shown his age far more often than not this season -- and not in a good way. He has still been effective defensively, but offensively, Koivu has taken a step back. He has mainly been on a line with Mikael Granlund and Jason Zucker -- Minnesota's best line last year -- but the magic just has not been there yet. Give poor Eric Staal some relief as the only center in the lineup performing up to par right now.
Zach Parise
It's been just 10 games since his return from back surgery, but Parise has yet to get going. Perhaps with the league resetting at the All-Star break, he can come out of it firing on all cylinders again.
He's tallied just three points since his return, and has not been very visible on the ice. While it was going to take him some time to get back up to game speed, as he started his season when the league was at the halfway point, it should be at the point where Parise begins to make his mark, as the team needs him to do so badly.
Wild Goaltending on the Road
At home, Minnesota has received very solid goaltending this season. It's been a big reason why the Wild carry a 17-4-4 record - one of the Central Division's best -- at home. Devan Dubnyk has a .931 save percentage in St. Paul, while his backup - Alex Stalock - has posted a .935 save percentage at home.
But put on those white jerseys, and the Wild goaltending has gone from good to awful. Stalock carries a .906 save percentage on the road, which is still better than Dubnyk, who carries a .896 save percentage away from Xcel Energy Center. Neither of those numbers are anywhere close to good.
True, the team in front of them can play better on the road as well. But the Wild winning on the road will start with goaltending, which has always been front and center during their hot streaks in the Chuck Fletcher Era.
Comment below with your thoughts!
---
 Catch Giles talking Wild on the Giles & The Goalie Podcast!