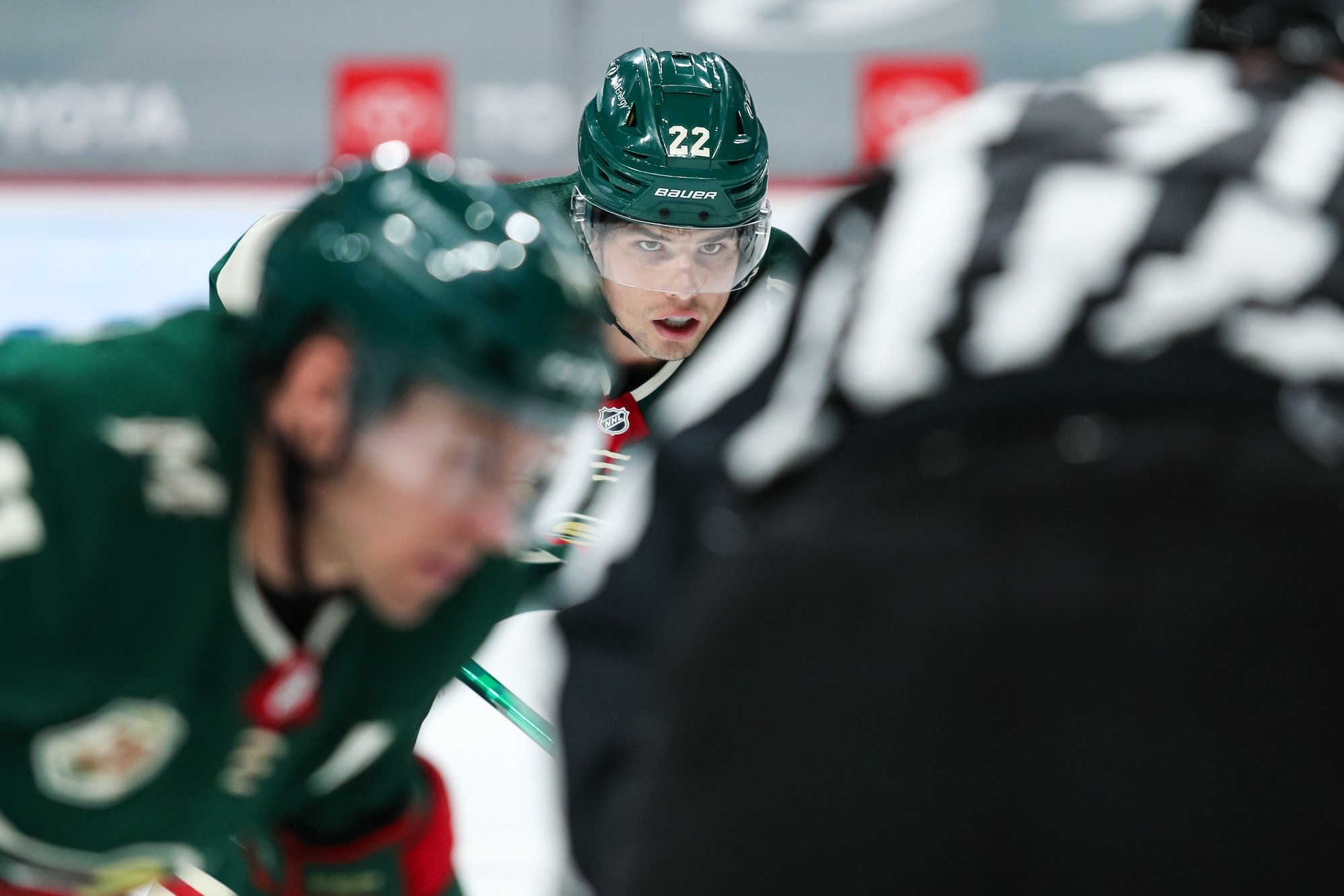 Two years ago, the Minnesota Wild and Kevin Fiala had a protracted contract negotiation lasting into September. The result was a 2-year, $6 million bridge contract that functioned as a "prove-it" deal. Fiala flashed skill after arriving in a trade with the Nashville Predators, but seven points in 19 games didn't make up for his deficiencies.
It's hard to say he didn't deliver on his "prove it" contract. Fiala led the Wild with 43 goals and 94 points in 114 games over two pandemic-shortened seasons. That's strong production, but it's even better when accounting for his time on ice. Using per-minute stats, we can see that he scored 1.41 goals and 3.08 points per hour in all situations. That's 21st and 22nd among NHLers with 1000-plus minutes in the past two seasons.
Such production for a player this close to free agency almost always yields a long-term deal. Evolving-Hockey's contract production put his odds at getting a deal lasting five or more years at 62%, with an average cap hit clocking in around $6.4 million. Such a deal would be a steal, given that The Athletic's Dom Luszczyszyn had Fiala's market value at $7.3 million.
Instead, the Wild are believed to have been light on both money and term, with offers likely not exceeding $5.5 million or four years. And so Round 2 of Minnesota vs. Fiala began. The team elected to take Fiala to arbitration, but the two sides settled on a 1-year, $5.1 million deal to avoid arbitration on Monday.
Round 2 is a decisive win for the Wild, as they get pretty much everything they want. They get Fiala at a cost below even Evolving Hockey's one-year contract projection of $5.36 million. The team didn't want to go long-term, and a one-year deal is as short as it gets. And if an angry and motivated Fiala piles up points next year, all that does is add value to what's already a bargain contract.
As for Fiala, all he can do at this point is gain himself some leverage for Round 3. Luckily for him, he has a few things going for him in that department.
Kirill Kaprizov's presence on the team could've easily been a catalyst for a breakout season. Had Fiala gotten to play with a bonafide star player, they may have each raised their game to another level. Alas, that wasn't meant to be, and Fiala was stuck with a mish-mash of mediocre forwards.
While Kaprizov got Mats Zuccarello as a running mate, Fiala was stuck with the hapless Marcus Johansson. Fiala also played 100-plus minutes with bottom-sixers like Ryan Hartman, Victor Rask, Nick Bonino, and a 36-year-old Zach Parise. It's no surprise that Fiala was dead last on the Wild in terms of Quality of Teammate.
Sure, he could once again be saddled with relatively unskilled players like Frederick Gaudreau, but odds are he should get to play with at least one quality offensive player. Might a center like Marco Rossi or Joel Eriksson Ek show chemistry with him in training camp? Could a playmaker like Matt Boldy crack the lineup and be a Zuccarello-like set-up man to the Wild's game-breaker? Or will Evason finally give Kaprizov and Fiala some run at 5-on-5?
The other thing that should bode well for him is that Minnesota's power play should bounce back next year. Fiala, a career 13.5% shooter on the power play entering the 2020-21 season, shot under 9% on the man advantage last year. And it wasn't just Fiala that was snakebitten. The Wild power play as a whole shot over 3.5% lower than league average when Fiala was on the ice. Considering both Fiala and Minnesota's offensive talents, those numbers should figure to rebound.
Any better luck with linemates or on the power play should raise Fiala's ceiling above what he did last year. And remember, what he did last season was pretty good! Despite all that going against him, Fiala still scored 20 goals in 50 games, an 82-game pace of 33. What's his upside in a year where things break right for him? Is 40 goals off the table for him? Considering he has 38 in his past 82 games (counting playoffs), probably not.
And if he does have another stellar season where he continues to be the goal-scoring game-breaker the Wild always are desperate for, he may price himself out of Minnesota in Round 3 of these negotiations.
If Fiala has a season where he'd be in a position to command $8-plus million per year, the Wild won't be able to afford him. Counting the Parise and Ryan Suter buyouts, Minnesota has $56 million committed to 11 players for the 2022-23 season. Assuming Kaprizov's deal comes in at around the $9 million mark, that leaves Minnesota with just $16 million to fill ten roster spots.
So to fit Fiala into that salary structure, the Wild would probably have to convince Fiala to take less. After an offseason getting aggressively low-balled by Minnesota, then watching Kaprizov sign a home-run contract, it's hard to imagine Fiala granting that kind of favor.
Obviously, a number of things could stop that scenario from happening. Injuries or bad shooting luck could prevent him from reaching 35-plus-goal heights. Fiala's contract is easily moveable should the Wild look to move him before he hits restricted free agency again. But you know who's banking on Fiala coming in and putting up a monster season this year? The Wild. General manager Bill Guerin told the media on Monday, "I do think Kevin's the type of guy that probably wants to prove me wrong and say, 'You screwed up.' That's what you want as a GM, too. ... I think Kevin's got the capabilities of doing that."
If Guerin's right here, then he did screw up. Fiala proved that he was a special and rare offensive weapon over his last contract. Guerin saw this with his own eyes. He also surely has access to the same projections the public has, ones that suggest Fiala is a good bet to remain a top-line or at least a top-six player over the next five seasons.
There's more than enough evidence to justify making a long-term investment in Fiala, but Guerin passed on the opportunity. It was probably the last chance to get Fiala on a deal that fit in the Wild's medium-term future. Even if this ugly negotiation didn't burn bridges between the parties, Fiala would likely price himself out of St. Paul by raising his stock further.
In all this effort to wrangle Fiala into a one-year, bargain-basement deal, the Wild have probably saved about $1-1.5 million dollars for this season, compared to the likely cap hit of a long-term pact. Those short-term savings are insignificant, as the Wild have $13 million in cap space with just Kaprizov left to sign. And if nickel-and-diming Fiala results in the Wild paying up for a much more expensive long-term deal, or losing one of their precious few game-breakers, then that extra million dollars becomes downright disastrous.