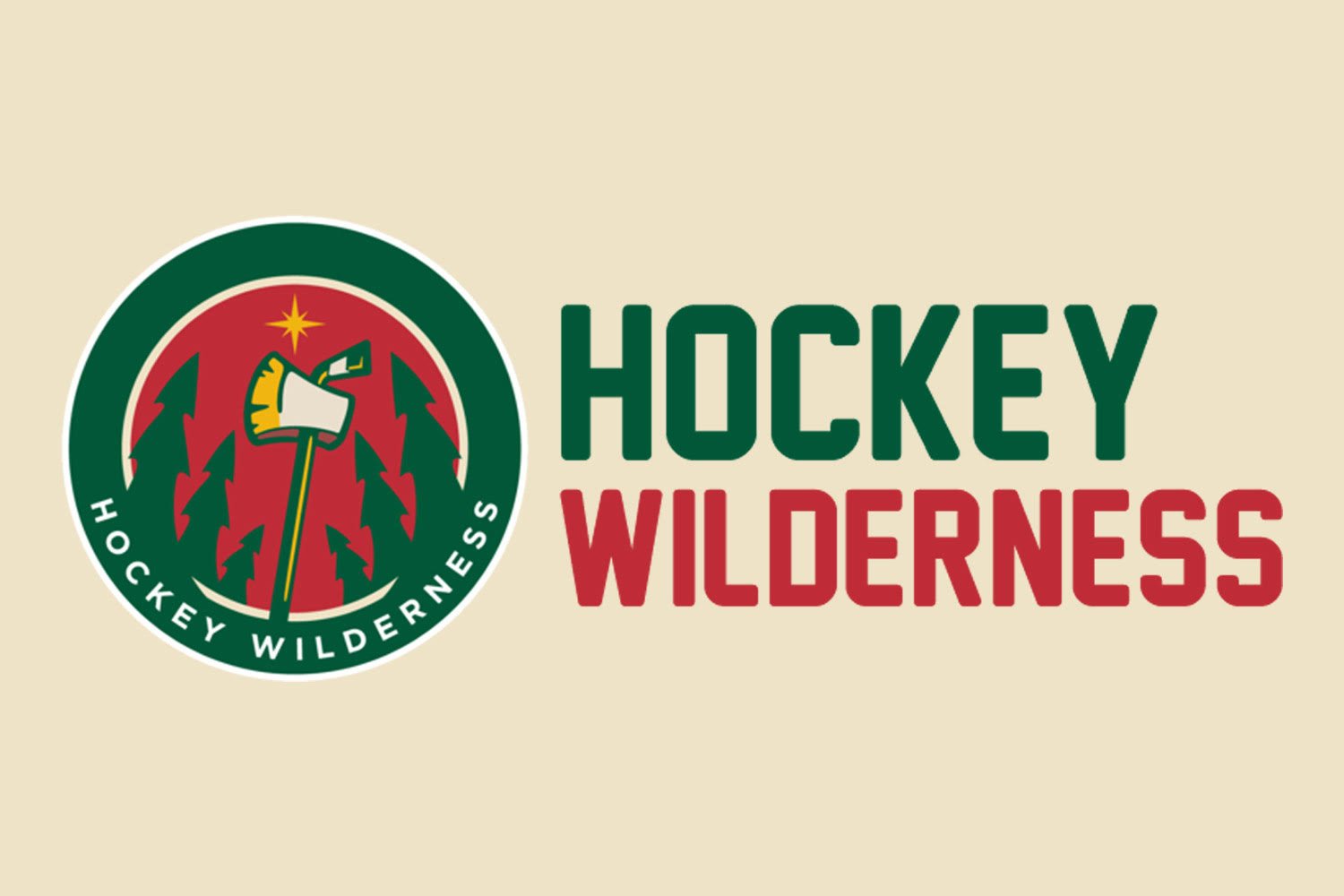 DES MOINES, Iowa - In game 72 of 76 in a season filled with plenty of ups and downs, the Iowa Wild were able to stomp with the first place Chicago Wolves (Vegas/St. Louis) visiting for the final time this season.
The Wild went 3 for 5 on the man advantage.
Steve Michalek (12-7-6; 3.13 GAA/.906 SV%) got the start for Iowa and kept pace with his goals against average conceding three on 29 shots from the Wolves. Maxime Lagacé (13-5-2; 2.79 GAA/.905 SV%) started for Rocky Thompson's Wolves side and was pulled after allowing 3 goals in the first ten minutes.
Oscar Dansk (10-2-4; 2.44 GAA/.918 SV%) came in for relief but didn't fare much better, allowing two goals on three shots before Lagacé returned to net to start the second period - he ended up stopping 16 of 21 shots against in the loss.
The Barrage
The Wild were in need of a hot start, and against an already struggling Lagacé in net for the Wolves, they got what they needed. Their first real opportunity came as Chicago's Stefan Matteau took a seat for a hooking penalty less than two minutes into the contest.
While David Cunniff's power play unit was unable to light the lamp during the man-advantage, Iowa was able to camp themselves comfortably in Chicago's end as Matteau came out of the box looking to help.
Still, it was a tic-tac-toe situation as Ryan White set the play up from behind Lagacé's cage, hitting Cal O'Reilly out near the half boards towards the goal-line and moved it immediately to Zack Mitchell who buried it from down low and gave Iowa the early lead (O'Reilly, White; 3:36).
However, shades of the last nine games started to loom as Matteau was able to make up for his skate of shame less than two minutes later (Bennett, Pulkkinen; 5:28).
Despite the timely response from the Wolves, the Wild remained unfazed and it was some solid neutral zone passing that led to Iowa's next big scoring opportunity. Vanya Lodnia had been using quick hands to make some incredibly passes, and the one he made to Pat Cannone to get things started.
As the puck moved around the OZ, it ended up on the stick of Alex Grant. The Antigonish, Nova Scotia native, normally known for his clappers, showed restraint and got Brett Sterling dead to right before being able to set up some better positioning. With a clear shooting lane, Grant let loose a wrister that beat Lagacé and Iowa regained their lead (Cannone, Gabriel; 7:40).
And the scoring wasn't done there. Another tremendous entry by the Wild was followed by some real quick passing between Sam Anas and Cal O'Reilly - both currently battling in the team's scoring race. The result was a quick release - as always - from Sammy and Iowa extended their lead to two and put Lagacé on the bench in the first ten minutes (O'Reilly, Rau; 9:48).
Dansk came on in relief, but it didn't appear to bother the home side.
The defensive pairing of the night to watch was that of Mark Auk and Gustav Bouramman, both making their AHL debuts. Following an ugly turnover in the NZ by Bouramman, Auk rectified his partner's mistake once Iowa was able to regain possession in the DZ and carried it all the way down the ice for an absolute snipe that popped Dansk's water bottle to the moon for his first professional goal (unassisted; 11:19).
Only Iowa wasn't done scoring in the period, as Philip Holm was whistled for a late tripping penalty with just over two minutes to play in the opening frame. Gerry Mayhew set up his own score by getting it to Kyle Rau who set himself up behind the cage. Mayhew then found a soft spot in the Wolves penalty kill and beat Dansk for Iowa's fifth goal of the period and a franchise record for goals scored in the first (Rau; PP - 18:50).
The period came to an end with Iowa scoring five goals on 12 shots and a much needed energy boost after being shutout by Cleveland (Columbus) their last time out.
More Milestones to be Crossed
While Iowa had a hot start to the game, there was some very familiar tones from games of late as former Wild member Teemu Pulkkinen netted a goal in the first ten second of the period to cut Iowa's lead back down to three (Sterling, Leslie; 0:10). Also, Thompson put Lagacé back in net for some redemption.
It didn't make much of a difference with the mental rest as Tyler Wong went to the box for holding the stick of Justin Kloos down in the corner.
The power play had a different look to it, as Cunniff decided to put Rau out in the circle as opposed to in front of the net as he often has. It paid off as a rebound from a Mayhew shot found it's way out to Rau with Lagacé struggling to make a play. A wide-open net allowed for Rau to earn his 20th of the season, though it was a close one (Mayhew, Kloos; PP - 8:05).
Another milestone for the Wild organization as Rau joined Anas in the 20-goal club; the first time Iowa has had two players to break through that plateau in a single season.
However, Chicago was able to bookend the scoring of the period as they struck again with 2:00 minutes to play. Michalek continued the trend of offering up three goals a night as Beau Bennett clapped a shot from the blueline that appeared to be an easy save for the goalie from Hartford, Conn. You could hear his pad make solid contact with the puck in the press-box, but there was just enough mustard on the shot from the veteran of 200 NHL games to cut the lead back to three (Sterling, Bischoff; 18:00).
The period came to an end with not a high volume of shots, but a combined nine goals between the two sides.
Tensions Boil Over
With a three goal lead, there could've been a lull in the action, but the intensity persisted and led to some very physical confrontations during the period. To match the physicality was some solid back and forth by both sides in terms of puck possession and scoring opportunities.
While Iowa didn;t need the goals, insurace is always a good thing and after a scrum at center ice between Zach Palmquist and Tyler Wong with Keegan Kolesar jumping Palmy from behind, Iowa got another advantage and converted their third goal in five opportunities on the power play.
With a puck sailing into the corner, O'Reilly went to retrieve it and saw Anas sitting in the slot with nobody around him. The Wild's leading goal scorer let loose a rip towards Lagacé and Rau looked to tip the puck, but the score sheet went back and forth (O'Reilly, Rau; PP - 9:21). Sammy gets his 25th of the season.
In a game that felt like a track race, Iowa was able to get the monkey off their back and buck the nine game losing streak to earn their first two point night since St. Patrick's Day.
Final Thoughts
With the playoff window all but closed, there were some positive takeaways as Iowa did well against some pretty tough opponents, even if these last ten days were ones that the squad would rather forget.
With Carson Soucy up in Minnesota, there was an opportunity for two young defensemen to come out of the press-box and get some much needed development minutes in Bouramman and Auk. The season is nearly finished, but Lalonde seemed optimistic when asked about where Auk would be headed.
Iowa will get a day off before heading to Milwaukee to take on the Admirals as just four games remain on the schedule.