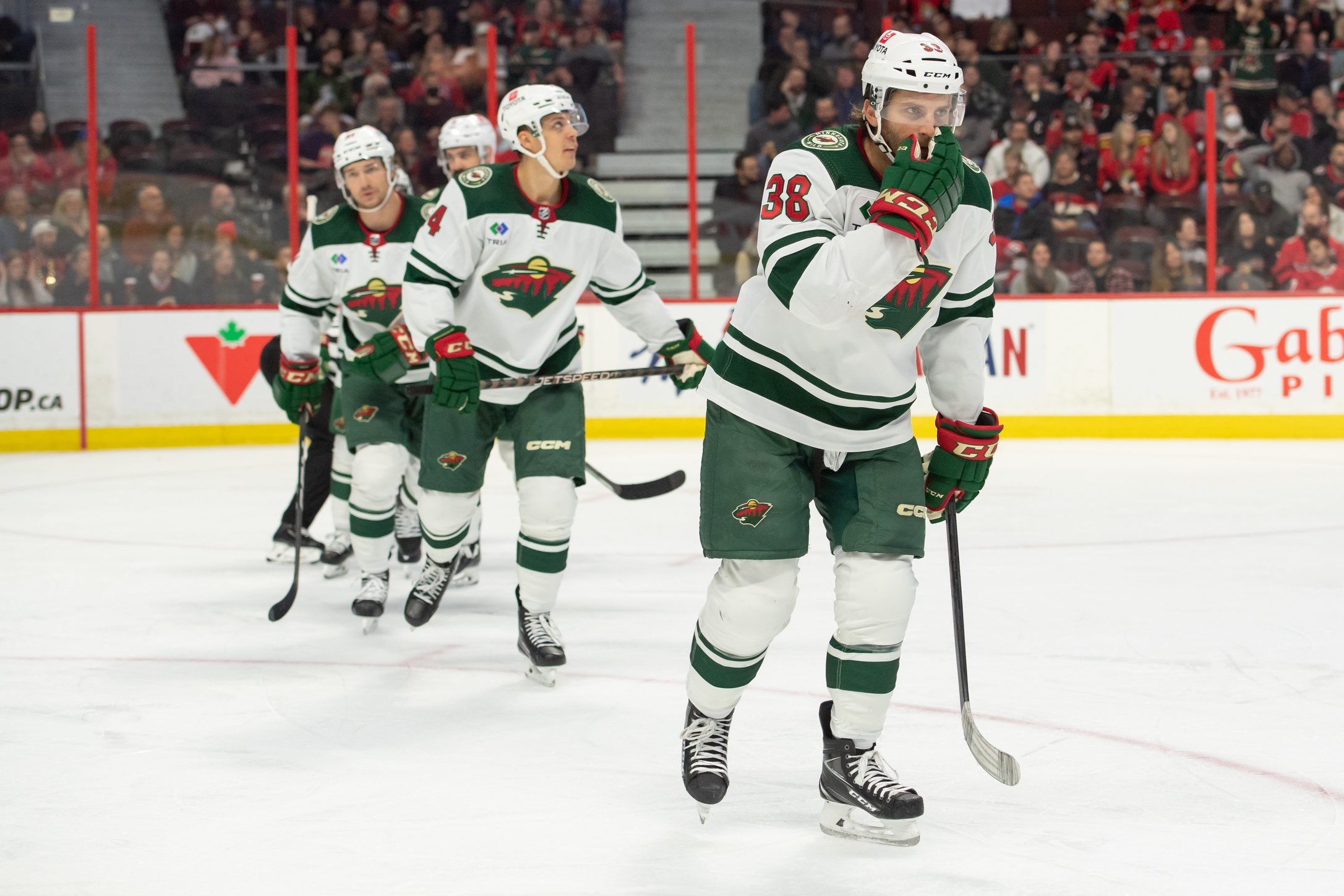 Part of the Minnesota Wild's success this season hinged on whether their secondary scoring was for real. The Wild powered the NHL last year with massive performances from Kirill Kaprizov, Kevin Fiala, Mats Zuccarello, and Matt Boldy. But many other players in key roles also had career years.
Ryan Hartman was the poster boy for this, breaking out at age 27 with career-highs in goals (34) and points (65). That's 15 more goals than he'd ever had in his career and more than double his previous career-high point total. He had advantages as Kaprizov's pivot, but even with those, observers speculated it couldn't continue.
So far this season, it hasn't. Hartman's early defensive lapses and bad goaltending moved him off his top-line spot in less than nine games. Then he injured his upper body in a fight and was sidelined for six weeks, and the Wild found their stride since then. Their Top-9 is relatively healthy and has been thriving. The team is on a 10-3-0 stretch entering Sunday when Hartman will re-enter the lineup.
You can look at all that and ask, who needs the guy, then? But the answer is pretty straightforward: The Wild do.
Right now, it may not seem like there's a spot for Hartman. Sam Steel has a respectable four goals and eight points in 13 games as Kaprizov's center, and Kaprizov and Zuccarello enjoyed long point streaks alongside him. Sammy Walker is filling in a Top-9 wing role Hartman would presumably fill. Mason Shaw, Connor Dewar, and Ryan Reaves are all contributing at the bottom of the lineup.
But how fast does everything change? We've seen it happen at the beginning of the season when Jordan Greenway was out, Tyson Jost was ineffective, Hartman got injured, and Marco Rossi didn't stick. Just because there isn't an ideal spot now doesn't mean there won't be one, even as soon as tomorrow.
If something arises, Wild fans will be glad Hartman is there. Remember, before he settled in as Kaprizov's center, Hartman thrived as Minnesota's most versatile player. Ten of his goals and 14 of his points came in his first 19 games, where he bounced from line to line and produced everywhere.
He got goals alongside Marcus Foligno and Greenway on the checking line. He produced on the fourth line, memorably assisting on Rem Pitlick's hat trick in Seattle. Was he playing center or wing? Playing a skilled style or a grinding, physical role? Who cared?
The reason is that no matter where Hartman is in the lineup, he pushes the pace of the offense at 5-on-5. From the 2019-20 season to last year, Evolving Hockey has him ranked 62nd among forwards in generating even-strength offense. He's ranked right around some brilliant offensive forces, like Mat Barzal, Sasha Barkov, and Taylor Hall.
Also, this sample doesn't just cherry-pick Hartman's breakout season. It includes two years where he played fourth-line minutes primarily.
Fans loathe the oft-repeated line that getting an injured player back is like making a trade. But in this case? It is like the Wild are acquiring a Top-6 forward, and he addresses their most significant need: pushing the pace at 5-on-5. Despite the winning streak, Minnesota is still 25th in scoring goals at 5-on-5 (2.23 goals per hour) and isn't exactly getting unlucky. They're 26th in expected goals with 2.37.
Even during this 10-3-0 stretch, Minnesota is still pretty unremarkable at 5-on-5. They're 16th in goals per hour (2.56) and 26th in expected goals (2.32). They've succeeded by clamping down on defense. Now it's time to start pushing the puck, too, and Hartman is perfect for doing exactly that.
And he'll do that no matter where he's at. If Steel's play starts to sag or the top line needs a boost, he can take that spot right back. If not, great. Boldy's spent most of the year looking for someone to play with, and Hartman and Boldy showed great chemistry playing for the US at the World Championships last year.
The latter seems more likely, especially with Steel's impressive two-assist night on Friday night. On Saturday, the Wild announced that they've sent Walker, who's impressed early, to Iowa due to the numbers game. That decision would strike many as unfair, but in the grand scheme of things, that's a good problem to have.
For the big club, this means that their lineup has enough depth to sustain an injury, knowing that Walker can play in case of injury. Hartman's versatility means that no matter who gets hurt, Walker can be the guy to come back to St. Paul. If they need a center, Hartman can slide into that role, opening up the need for a winger in Walker. If they need a gritty forward, Hartman can fill that role, letting Walker backfill in a skilled role.
Walker going to the AHL can even be good for them long-term. Rossi is scoring in Iowa, with nine points in nine games, but his results have been inconsistent. Having Walker back as a linemate gives him some major skill to produce alongside and push his game, knowing that he has to leap-frog Walker to get back to Minnesota.
Maybe there's not another magical season in the cards for Hartman. It certainly hasn't been so far. But that's not what Minnesota necessarily needs. They just need Hartman playing, and playing his versatile, up-tempo game. Luckily, the Wild are about to get that element back in the lineup, perhaps as soon as today.