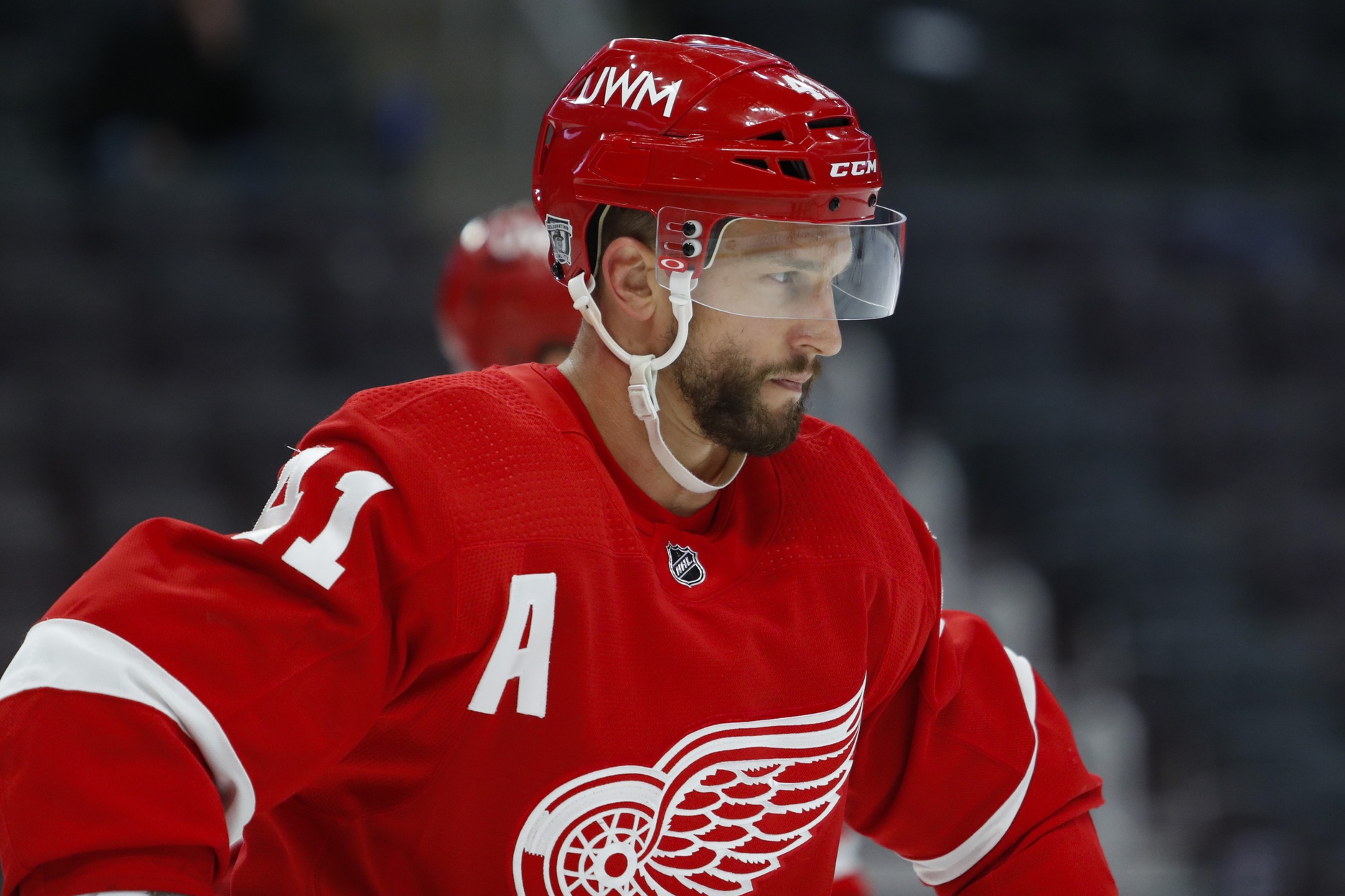 The Minnesota Wild are drawing a lot of ire for their lack of face-off prowess this season. After years of having face-off artists Mikko Koivu and Eric Staal, Bill Guerin's offseason house cleaning left their face-off cupboards bare. They currently sit 30th in the NHL, winning just 46.1% of their draws.
It's hard to argue it's held the Wild back much, given their 23-12-2 record and 98.2% playoff odds. When it has hurt the team, though, it's been ugly and frustrating to watch. On March 29, Minnesota lost a winnable game in the shootout after going 0-for-7 in the face-off circle. It may have just been a point left on the table, but what if it happens again?
Other than a lack of high-end centers, face-offs are the thing for Minnesota to fix at the deadline, according to pundits. Both national and local media have suggested that the Wild should go out and get face-off specialist Luke Glendening.
Glendening has spent his career as a bottom-six center for the Detroit Red Wings. He has just three goals and 11 points this season and a career-high of 23 in 2018-19. At 31, there's no hope of him growing into more than he is, and he's an impending free agent.
What he does have going for him is that he wins 63.8% of his draws, the best face-off percentage in the NHL. On paper, that should be able to help the Wild get their face-off percentage back towards 50%.
It must be asked whether this is a worthwhile endeavor or not. In a trade deadline with few players that are likely to be moved, Glendening is one of the hottest commodities. The Athletic's Big Board has him at the No. 4 player, with buzz around him growing. One NHL executive even threw out the possibility of Detroit recouping a second-round pick in a Glendening trade.
A second is a steep price to pay when Minnesota is a virtual lock for the postseason. So the only reason to make such a deal is if the Wild believe that face-offs will be the difference in a seven-game series. As you might conclude from the Wild sporting a .649 points percentage despite being 30th in face-offs, the odds of getting burned on that are slim.
Minnesota takes an average of 60 face-offs per game. Winning 46.1% of those face-offs means the Wild win an average of 27 of those 60 draws. Even if Glendening took every face-off and continued to win 63.8% of them, that brings that number up to 38 face-off wins per game.
If research is true, and the winning team has an advantage for 10 seconds after the face-off, that means the maximum possible advantage Glendening could give them is… less than two minutes. And again, this is if Glendening takes every single face-off.
In reality, it would be much less. Ryan O'Reilly leads the NHL in taking 39.7% of his team's draws, which would be about 24 per game if Glendening matched that in Minnesota (he currently takes 16 per game in Detroit). On average, Glendening wins 15 of 24 face-offs, the average Wild player wins 11. Is four extra face-off wins per night worth any pick at all, let alone a second-round pick?
Especially since Glendening isn't going to just be on the ice to take a draw. He's gotta play, too. He averages about 15 minutes per night in Detroit, in the Marcus Foligno/Nick Bonino/Ryan Hartman range. What does he do during those 15 minutes? Not much.
Admittedly, starting in the defensive zone a lot on one of the worst teams in hockey isn't a great situation. Even accounting for that, Glendening doesn't look very good. He controls 41.2% of the expected goal share at 5-on-5, which ranks 291st among 316 forwards with 300-plus minutes.
When you adjust for his role and his teammates, that doesn't make him look much better. Evolving Hockey's Goals Above Replacement model has his total defensive impact (even-strength + shorthanded) as below replacement, and his overall value as worth just 0.2 standings points.
That's maybe a small upgrade over a taxi squad guy like Kyle Rau or Luke Johnson, but what's that worth? Again, not much. They'd be paying a premium essentially to win a few extra face-offs.
Theoretically, this could be useful for particularly big draws or the power play, but Minnesota's already seeing that strategy fail. Bonino and Victor Rask have spent the last few games on the power play and empty net situations specifically to win face-offs.
It certainly didn't work Monday night. Bonino got walloped in the dot, losing 9 of 22 draws, and when they did win the puck back, the Wild didn't do much because Bonino and Rask are very bad power play options. How does Glendening, who is even less skilled, solve that? Even if his job is to win a power-play face-off and skate right to the bench, how much of that 10-second advantage is nullified by playing 4-on-4 until they can change out a player?
Minnesota has already messed up a decent-looking power play and put non-factors in must-score situations to win more draws. It hasn't worked, and probably cost them more points than their bad face-off percentage. Getting in a bidding war for Glendening would be yet another bad decision in the name of chasing face-off wins. The Wild are much better off having their coaches say, "Try to win a few more draws, boys." They'll get mostly the same results, and it won't cost them a pick.
Face-off data is from the NHL. All other data is from Evolving Hockey unless otherwise stated.