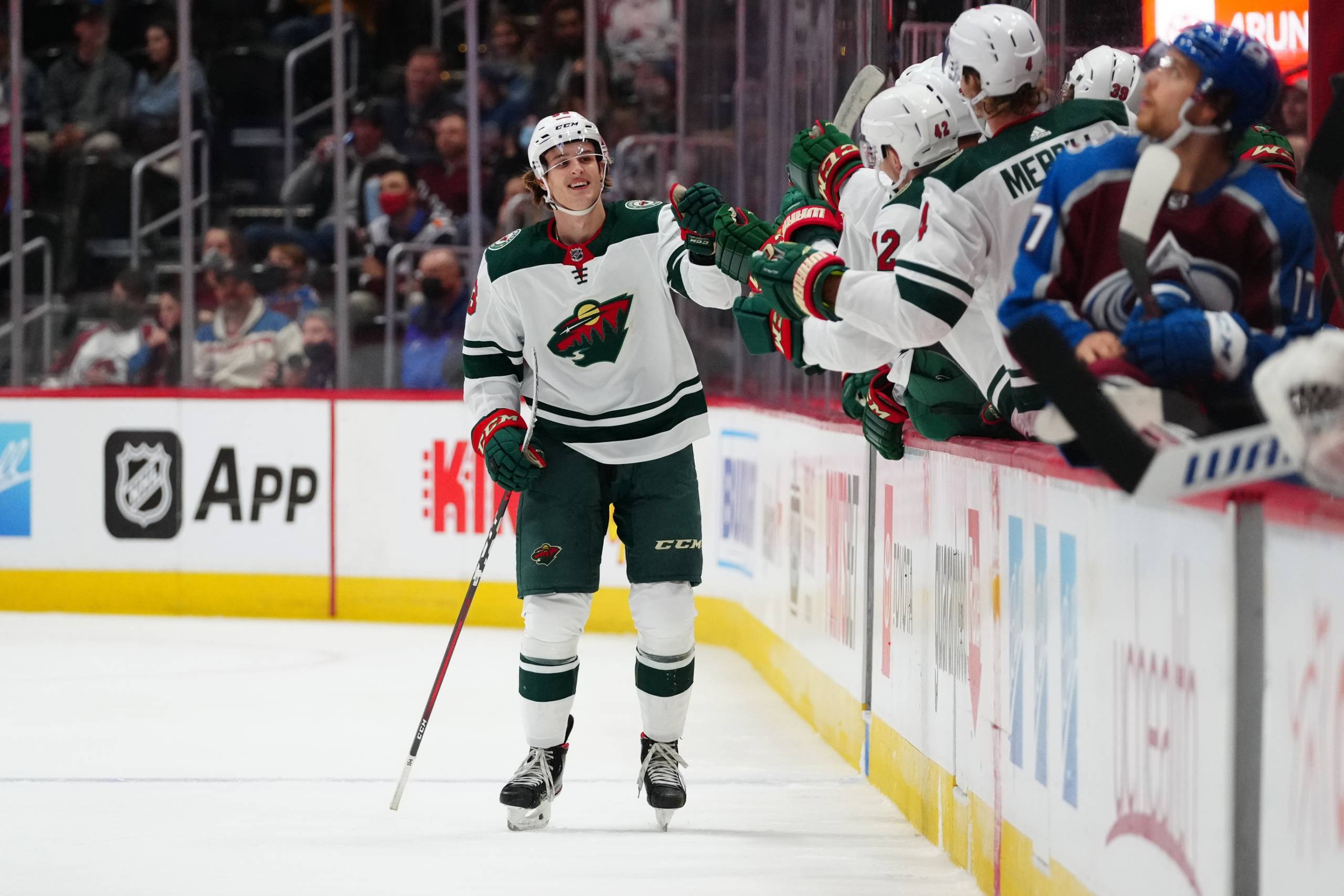 The Minnesota Wild couldn't keep Adam Beckman away for long.
Beckman' could have started the season in St. Paul after his preseason performance. But given his age (20), he was one of the last cuts made to the final roster for development purposes. Beckman had a strong start in the AHL, with one goal and two assists over four games with the Iowa Wild.
However, injuries and COVID ravaged Minnesota seven games into the season, and Beckman earned an early call-up to the big leagues. But while Dean Evason has been forced into putting Beckman in the lineup, he's starting him out on fourth-line duty. So the question is, when will Beckman be given a proper chance to make an impact for the Minnesota Wild?
Beckman played only ten minutes and registered three shots in his NHL debut, then followed up with one shot in under seven minutes Tuesday. The left winger played on the fourth line along with fellow rookie Connor Dewar and veteran Kyle Rau.
But the fourth-line style isn't Beckman's game. His pedigree as a solid prospect grew as he dominated the WHL. He scored 48 goals and had 59 assists (107 points) with the Spokane Chiefs in the 2019-20 season. He showed out in the preseason, leading the Wild four goals in four games. He's a shooter who ideally would be paired with someone to set him up, a role Dewar and Rau haven't proved they can fill yet.
While it certainly is frustrating to see a promising prospect be stuck on the fourth line, he's not the first Wild rookie to start his career at the bottom of the lineup. Former fan-favorite Mikael Granlund played with veterans in Pierre-Marc Bouchard, Matt Cullen, and Dany Heatley as a rookie. While they were all good or great players in their prime, they were all on the back end of the NHL tenures. Unsurprisingly, Granlund struggled to get traction beside them.
The same goes for Jason Zucker. As a young NHL player, he often found himself on a line with Heatley, who was 33 at the time and ended that season with a disastrous minus-18 rating.
Joel Eriksson Ek played most of his first full season with the Wild on a line with Daniel Winnik, 33, who was a year away from playing in Europe. Eriksson Ek struggled offensively, but his production grew as he moved up the lineup. After a breakout season last year, he earned himself a spot on the top line with Kirill Kaprizov and Mats Zuccarello.
Although it is disappointing to see Adam Beckman start his NHL career as a fourth-liner, remember that many successful players began their careers the same way. Sometimes they need time in the lineup before they can really establish themselves. At the same time, most players find it tough to be productive when given only ten minutes of ice time, and Beckman is no different.
So while they have him in St. Paul, why not put him in the best position to succeed -- perhaps alongside Kirill Kaprizov or Kevin Fiala? Beckman may benefit from playing beside one of them, and they certainly won't know until they've tried.
Or perhaps the better question is: Will Kaprizov or Fiala benefit from playing with Beckman? Despite a breakthrough on Tuesday against the Ottawa Senators, Kaprizov and Fiala are currently plagued by a lack of production, at least in the goals department.
There's a financial reason to try this out beyond trying to bust the two stars out of a slump. Given Minnesota's lack of cap space in the coming years, it might be worth it to find out if Beckman has chemistry with either Fiala or Kaprizov. The Wild will not be able to sign any notable NHL player, and Beckman is currently on his entry-level contract through the 2023-24 season. So why not try the experiment now?
Consider Fiala. He has been unable to find consistent linemates who complement his play. He's mainly played on a line with Frederick Gaudreau and Ryan Hartman, two guys who aren't necessarily known for their playmaking abilities. Fiala would benefit from is someone who can dish passes and be creative with the puck, something that Beckman has shown he can do.
Or if the Wild want to give the Fiala with Eriksson Ek and Marcus Foligno experiment a more extended look, why not pair Beckman and Kaprizov? Zuccarello is currently on the COVID-19 protocol list and will miss a few more games. That seems like a perfect spot for a temporary, but skilled, call-up to be in.
So far, the Wild have been unable to find someone to fill the right wing spot on the top line. Hartman saw the bulk of the minutes there Tuesday. It was the latest experiment to not quite work out. Evason moved Foligno up to that line, but he wasn't a fit. He also tried Fiala on the top line in Seattle, but it was a disaster. Beckman may be able to fill Zuccarello's spot, and would possibly benefit from playing with two highly skilled forwards in Kaprizov and Eriksson Ek.
But so far they've been unwilling to try it.
The Wild staff should have more faith in the young winger. After Tuesday's win, it appears he will be playing at least one more game on the fourth line with Dewar and Rau. Perhaps he'll be more likely to move up as he gets acclimated to the NHL. But as for now, it's odd that a player who showed so well in training camp and for whom the Wild want to get minutes for development is stuck on the fourth line.