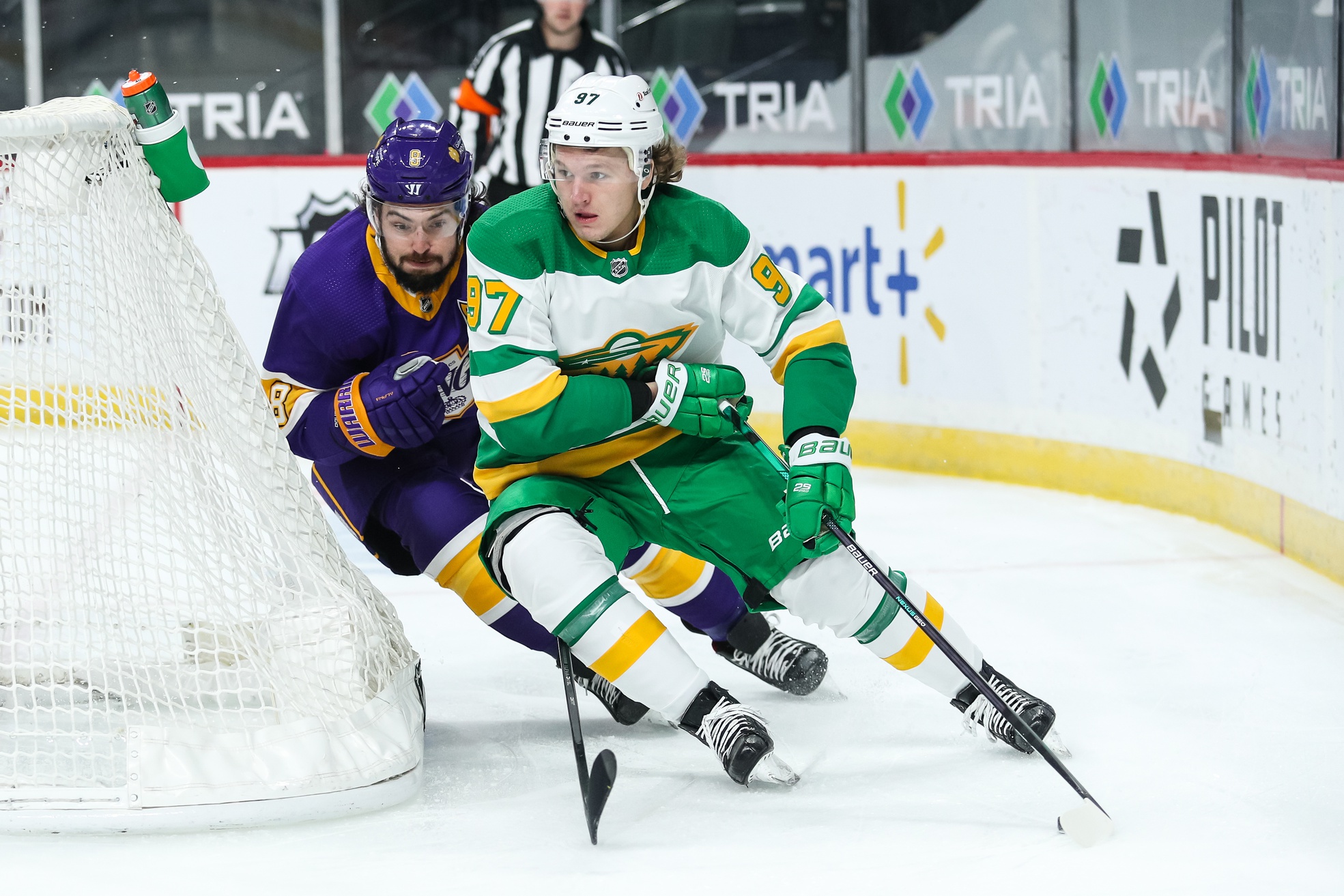 What one word sums up the root of the Minnesota Wild's Zach Parise-Ryan Suter Era failures? Timing. They brought their two marquee signings into Minnesota with little talent surrounding them. Minnesota had prospects, but the age gap between them and the veterans on the team caused issues. Their best season, 2016-17, ended when they faced St. Louis Blues goalie Jake Allen at the wrong time.
And, of course, there was the fact that the Western Conference was an absolute juggernaut. Just look at the teams that roamed the West back then! Jonathan Toews' Chicago Blackhawks dispatched Minnesota with ease every postseason and won three Stanley Cups. If they ever got past Chicago, there were the two-time Cup-winning Los Angeles Kings, the Sedin-powered Vancouver Canucks, Ryan Getzlaf and Corey Perry's Anaheim Ducks, or Joe Thornton's San Jose Sharks. Even also-rans like the Nashville Predators or St. Louis were tough outs.
Minnesota racked up 98 points in the 2013-14 season. Their reward was the No. 7 seed. They hit the century mark the next year, only to face the 109-point St. Louis Blues as a Wild Card team. Sure, the Wild never pulled off two big upsets in a row or won when they had targets on them in 2017. That's on them. But that Western Conference was brutal.
Now, look upon the West, ye mighty, and despair. Time has decayed these colossal teams to the point where they're barely recognizable. L.A., Vancouver, Anaheim, San Jose, and Chicago failed to make the playoffs last season. The California teams didn't make a 24-team playoff two seasons ago, while Chicago snuck in as the 23rd seed.
Remarkably few teams stepped up in the wreckage to dominate the West now. The Colorado Avalanche is undeniably a juggernaut, a team as deep as any in that long-forgotten Early-'10s West. The Vegas Golden Knights have had their scoring dry up in the postseason, but they're money in the regular season.
Other than that? No one. The Edmonton Oilers have Connor McDavid, Leon Draisaitl, and five other dudes who are noticeably better than waiver wire fodder. The Winnipeg Jets are relying on a revamped defense, a bounce-back year from Pierre-Luc Dubois, and young talent like Cole Perfetti to re-attain relevance. The Seattle Kraken's ragtag group of expansion castoffs are hoping to catch some of that Vegas magic. Everyone else is old, lacking depth, or both.
All of this is good news for the competitive hopes of Minnesota. They're a team that's not without flaws. The Wild are older on the blue line than anyone in the West, and they rely on an aging goalie. They have more goal-scoring talent than the Wild teams of old, but extended absences from Kevin Fiala, Joel Eriksson Ek, or Kirill Kaprizov probably negates that. They're also playing Rookie Roulette, hoping two or three under-22 players work out for them.
That said, Minnesota certainly has things going for them as well. There's the aforementioned star talent and the fact that they can reliably play structured hockey. Their new additions should all be competent on defense at the very least, making life easy for Cam Talbot. Some better luck on the power play — they shot just 11.9% last year, 24th in the league — and they're probably a playoff team.
Don't take our word for it. On the latest Evolving Hockey podcast, Josh and Luke Younggren noted that Minnesota has a 68% chance of making the playoffs in their early playoff projection models. That's second in the Central Division. In the old days of the West, this team would be one bad break from missing the playoffs. Now they're the odds-on favorite for home-ice advantage in Round 1 of the playoffs.
The Wild were able to take advantage of a heavy diet of California teams and the Arizona Coyotes last year. They racked up 50 standings points in 32 games against them — a 128-point pace over 82 games. Minnesota will have a more balanced schedule this time around, but they'll retain one key advantage from last year: thin competition in the standings.
St. Louis made savvy moves in acquiring Brandon Saad and Pavel Buchnevich to rebound from a mediocre season, but they'll have to deal with Vladimir Tarasenko wanting out. Winnipeg still needs to prove they aren't merely a product of Connor Hellebuyck. Nashville is the new Minnesota — an aging team that's too bad to do anything in the postseason but too good to bottom out — and the Dallas Stars may not be far behind. Chicago is praying Marc-Andre Fleury and Seth Jones can drag them to relevance. And Arizona is engaged in a tank that would make Jeff Luhnow and Sam Hinkie blush.
It's great news for Minnesota, especially if it can last a few more years. With the Wild about to go from Salary Cap Purgatory to the Seventh Circle of Salary Cap Hell, they'll need all the help they can get. Will this weak West dynamic last over the next three seasons?
Winning and losing can be cyclical in the NHL. Losing enough will allow teams to acquire high-end draft picks, which will allow them to win. It doesn't always work — otherwise, the Buffalo Sabres and Arizona would dominate the NHL — but losing can build a deep prospect pool.
This is to say that the California teams are amassing lots of young talent. L.A. has the top prospect pool in the NHL, according to Byron Bader of Hockey Prospecting. Anaheim ranks second, San Jose fifth, and the Calgary Flames sixth. It's hard to see all four of them become contenders, prospects remain a risky foundation to build hopes and dreams on, but one or two of them may challenge to join the Colorado/Vegas tier.
There are two spots of good news for the Wild here. The first is that Minnesota's prospect pool ranks third in the league, thanks largely to Matt Boldy and Marco Rossi. The next bright spot is that all four of those other Western Conference teams reside in the Pacific Division. Nashville is the only other Central Division team with a top-10 pool (10th), while everyone else is ranked 15th or lower.
Timing still may thwart the Wild's competitive hopes. The Parise/Suter contracts struck one final, devastating blow to Minnesota's cap situation, just as they appeared ascendant. However, it appears that they may benefit from fortuitous timing for once, at least in one area. A soft Western Conference gives them ample opportunity to make the playoffs, and if things break right with the young players, they'll have a chance to be one of the few true contenders on this side of the continent.