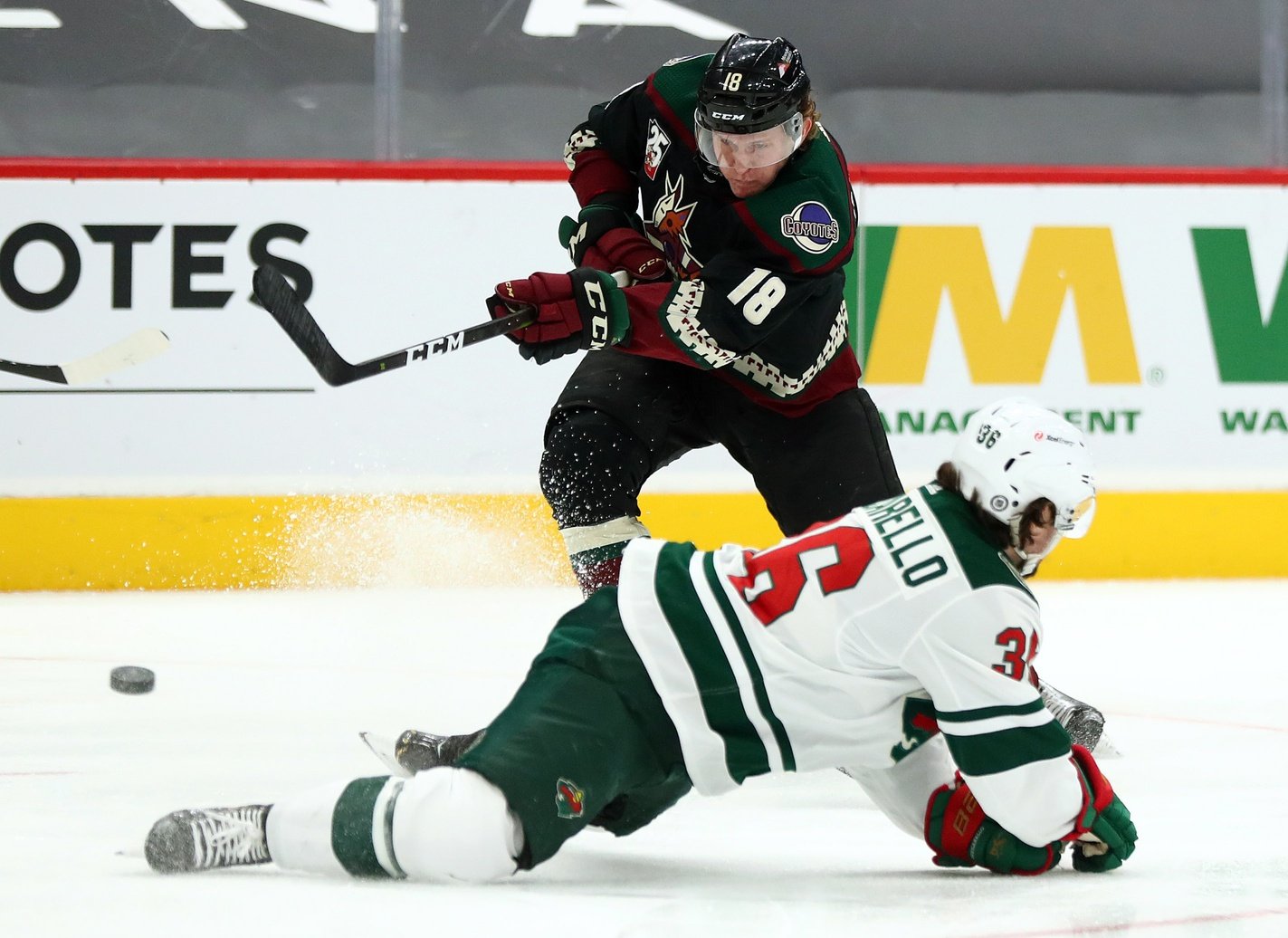 Everyone knows two things about the Minnesota Wild: They need centers and are a year away from Salary Cap Hell. Their pursuit of Jack Eichel is well-known at this point, and his talent makes him a clear first choice. But what if they aren't able to close that deal? Where does the Wild's quest for a center go from there?
It might wander towards the desert. The Athletic's Michael Russo reported earlier this month that general manager Bill Guerin has talked to the Arizona Coyotes about Christian Dvorak.
It's easy to see the appeal of Dvorak in Minnesota. He scored 17 goals in 56 games last season, a 25-goal pace over 82 games. Unlike the Sam Reinharts of the world, there's no doubt that he can play the center position full-time. But the most enticing thing about him is his contract, specifically how it fits into the Wild's future.
Dvorak's current deal hardly breaks the bank, clocking in at $4.45 million per season. But the term is even better. With four more years remaining, Dvorak would be locked in at that price until July 2025. That gives Minnesota a reasonably cheap, cost-controlled center until the exact moment Zach Parise and Ryan Suter's dead cap hits go from nearly $15 million to less than $2 million.
Sure, going from pursuing an elite talent in Eichel to Dvorak is a huge drop-off in skill and production. But it would cost a lot less in prospect capital, and taking on $4.5 million is easier than $10.5 million.
The only problem? Dvorak's not particularly good, and doesn't appear primed for a breakout.
Dvorak experienced career-highs in goals per game (0.30) and points per game (0.55) that paper over massive struggles. Dvorak feasted on special teams, scoring just five of his 17 goals at five-on-five play. The rest came via the power play (eight goals), empty net situations (two), four-on-four play, and penalty shots (one each).
He was one of the most ineffectual scorers in the league at five-on-five. Of the 280 forwards who played 500-plus minutes last year, he ranked 240th in goals per hour (0.40) and 228th in points per hour (1.19). Those figures would've ranked 10th and 11th on the Wild last season.
Dvorak was no better at driving play. He offered neutral value at driving offense and did terribly at defending the net on defense. All in all, his poor play at both ends of the ice cost his team -0.7 points, according to Evolving Hockey.

The Wild struggled to generate dangerous chances last season, particularly in the playoffs. They also just lost two of their five best defensemen, putting their perennially elite defense in flux. Dvorak's not helping with either problem.
Perhaps it's unfair to look at just last year, a down season for Dvorak. In 2019-20, he looked like he was on the rise. Sure, his counting stats (18 goals, 38 points in 70 games) were still a touch underwhelming, but his underlying numbers were solid. Arizona generated 3.1 goals per hour and 2.6 expected goals per hour at five-on-five with him on the ice, first and second on the team, respectively.
But Dvorak was helped out greatly from playing with Taylor Hall. When Hall was traded to Arizona, he was no longer the MVP-level scorer, but he still was one of the best offense drivers in the league. Looking at Dvorak's heat maps with and without Hall is illuminating.

With Hall, Dvorak generated opportunities by the net — an actual ocean of red extending to the slot. Without him? There's some red on the left side of the crease, but the overall picture is more than underwhelming. And given that it's a near-exact match with his offensive impact from this year, it's likely a better indication of his talent.
So Dvorak might be a mediocre player when left to fend for himself, but when you prop him up with some elite talent, you maybe have something there. Maybe pairing him with a Kirill Kaprizov or Kevin Fiala can elevate him to a top-six center.
Gee, where have we heard that one before?
If that sounds a bit like Victor Rask to you, bad news: They've got more similarities than you might think.
There was once a time where Rask was considered an up-and-coming center. His 6-year, $24 million deal didn't come out of nowhere. After Rask's age-24 season, he had a 20-goal season and two 45-point seasons under his belt. Look how Rask and Dvorak stacked up against each other through age-24.

In terms of scoring and impact on standings points, they're nearly identical. So were their circumstances. Neither player put up spectacular results, but for teams struggling to find top-six centers, they worked for the time being. Both did adequately in the role, giving about the bare minimum amount of production you'd expect from a second-line center.
But once better options pushed Rask down the depth chart, that production dwindled. Could Dvorak be destined for the same fate?
If the Wild don't have better options than Dvorak now, they should very soon. Marco Rossi is an elite prospect who will debut in the next year, and Joel Eriksson Ek is a superior player to Dvorak in every way. Dvorak will either push Eriksson Ek into a role beneath his talents or be relegated to third-line duty very soon.
Either way, the Wild could, once again, find themselves paying $4-plus million in precious cap space to a center who neither scores nor drives play particularly well. That's the exact situation the State of Hockey is desperate to get out of now with Rask.
Guerin's not wrong to try to upgrade at center, but the key is any center acquired should be an actual upgrade. Maybe Dvorak fits that bill next year, with Rossi working his way back from myocarditis. But once Rossi's healthy, is Dvorak noticeably better than, say, Ryan Hartman or Nico Sturm for a third-line role? Probably not.
With scarce cap space, the Wild need to rely on a pipeline of cheap, young prospects to compete these next four years. Acquiring a center will not just take away from both resources, there's an opportunity cost as well. Making a move now likely takes the team out of the running the next time a center is available.
For Eichel, a top-10 center in the league, forgoing that opportunity cost is fine. You aren't gonna do much better. But taking a bite out of your prospect pool and sacrificing your precious flexibility and cap space simply isn't worth it for a fringe top-six center like Dvorak. Guerin is better off biding his time and waiting for better options to come around.
All data from Evolving Hockey unless otherwise stated.