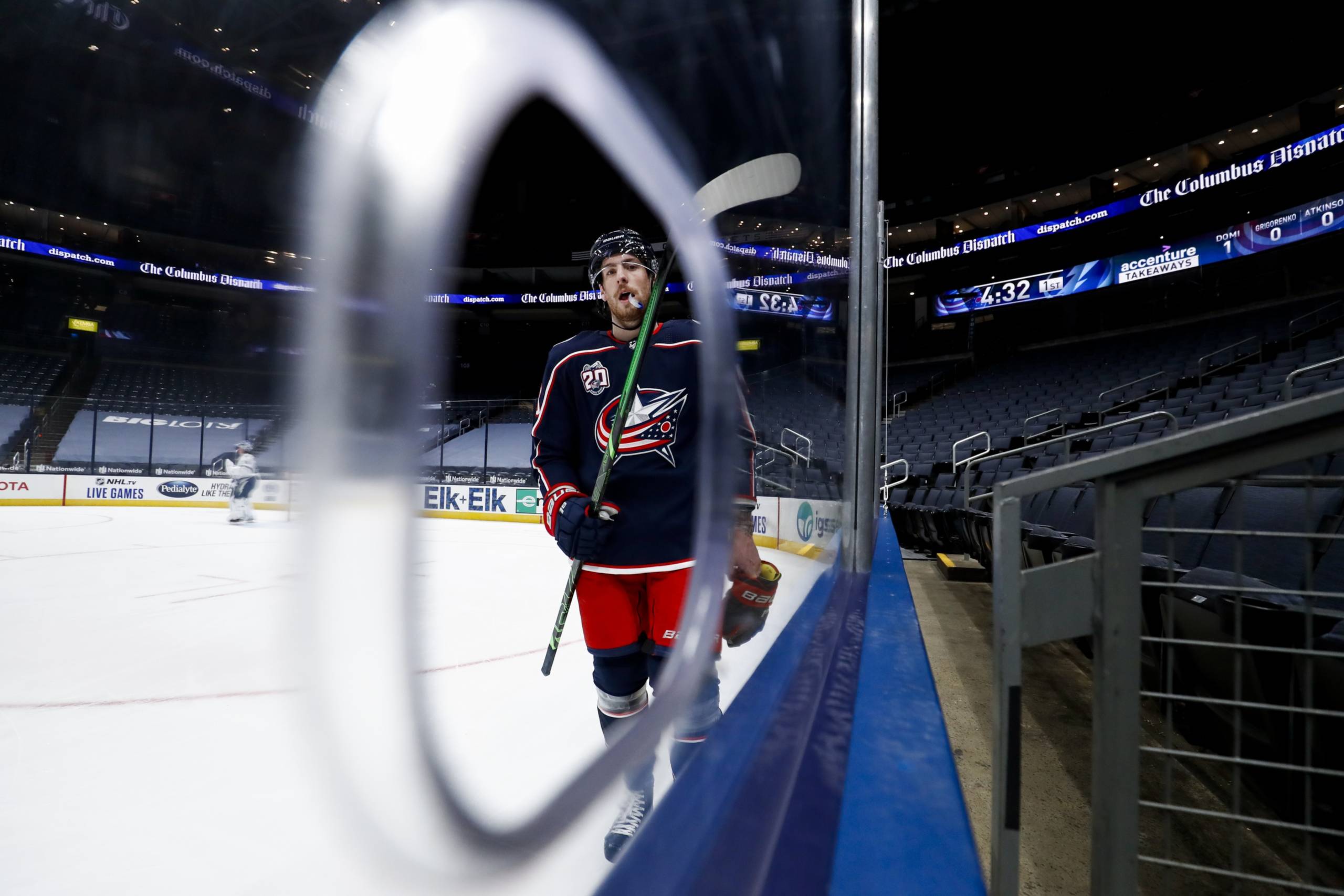 Time to go for it? Or stay the course?
It's a question every rebuilding (or re-tooling, rebuilding-on-the-fly, or whatever general managers call it now) must face at some point. They all start by loading up on assets and accumulating prospect capital in hopes of building a contender.
But that's a long process with no guarantee of success. For every team like the Pittsburgh Penguins or Chicago Blackhawks or Washington Capitals, there's are teams like the Buffalo Sabres, Edmonton Oilers, or Arizona Coyotes. So when a shortcut to a rebuild arises, it's worth a look.
The Minnesota Wild stood on that crossroads in 2012, when Zach Parise and Ryan Suter were free agents. They took the plunge, hoping that the duo would propel a deep prospect pool to contention. Fans in the State of Hockey can (and will) argue all day about where things went wrong, or if the whole experiment was a fool's errand. Whatever the cause, this swing at contention ultimately failed, and the Wild have yet to advance past the second round since signing them.
Since Chuck Fletcher's dismissal in 2018, the Wild have embarked on unconventional and bizarre rebuild. But somehow, despite two changes in management and no draft lottery luck whatsoever, it seems to be working. Minnesota has stars Kevin Fiala and Kirill Kaprizov on the roster, and a wealth of incoming prospects behind them.
Soon GM Bill Guerin is going to stand at that same crossroads Fletcher once stood. He'll have the choice between patiently seeing a rebuild through, or pushing his chips all-in.
He might even be standing there now.
22-year-old center Pierre-Luc Dubois requested a trade out of Columbus, and that relationship is rapidly deteriorating. It looks like a matter of when, not if, he'll be on the move.
Should Minnesota pounce? Or is it yet another splash destined to fail?
PLD = Pretty likely to dogoodstuff
On the surface, Dubois checks every box the Wild need. He's a 6'3" center who's skilled, physical, and gifted in transition. Mitch Brown has a brilliant article at EliteProspects on how Dubois uses a power game to create offensive opportunities.
It turns out, the deeper you look at him, the more of a fit he would be in Minnesota.
Dubois' numbers may not initially grab you, 0.67 points per game in his career (or 55 per 82 games). Accounting for his age, however, that's fantastic. Centers with similar point-per-game production from ages 19 to 21 according to stathead.com include Leon Draisaitl (0.72), Brayden Point (0.71), Ryan Getzlaf (0.70) and Nathan MacKinnon (0.66). Nice company to be in.
His offensive impact goes beyond point totals. The dude just tilts the ice into the offensive zone. Over his first three years, Dubois's generated 2.83 expected goals per hour at 5-on-5, which ranks 30th among the 334 forwards with 1500-plus minutes during that span. When he was off the ice, the Columbus Blue Jackets only generated 2.33 expected goals per hour.
It's a big part of why he accumulated 6.2 Wins Above Replacement during that time. Centers who've had similar numbers at that age include Draisaitl (6.9), Jack Eichel (6.2), Sasha Barkov (6.1) and John Tavares (5.8). Again, good names to show up in such comparisons.
He also does something that few Wild players have managed in the Parise/Suter Era: Show up in the playoffs. Dubois has 19 points in 26 playoff games, including 10 points in 10 games last year. Those 19 points are the 16th-most through age-21 since the 2004-05 lockout, per Stathead.
So can Dubois really be elite, and should Minnesota want him? The answer is "Yes" and "Yes," respectively. Case closed.
What's the Cost?
Of course, anyone can want Dubois. The question Guerin must face is how much he's willing to give up for the center. A young center on a bargain contract through summer 2022 will surely draw interest from many teams and Columbus would command a haul for him.
Let's start with this question: What doesn't make sense to trade for Dubois? Right off the bat, it would make sense for Dubois to come in as a running mate for Kaprizov or Fiala, so those two should probably be untouchable. Same with 2020 first-rounder Marco Rossi, as it doesn't make too much sense for a center-starved team to surrender a terrific, NHL-ready center prospect.
Other than that? Nothing should be off the table.
Assuming Fiala, Kaprizov and Rossi are untouchable, Matt Boldy would be the Wild's most valuable trade asset available. Boldy's star rose in the World Junior Championships where he showed off a terrific power forward game. Still, as great as Boldy is, he's a winger and for a Number One Center, he's painful to lose but ultimately expendable.
An oft-cited formula GMs want in return for a star player is a player, a prospect and a pick. Minnesota's got Boldy, and could offer up one of two 2021 first-rounders. Could Joel Eriksson Ek, the defensive ace of a center who's flashing newfound offense, round out that deal?
For everyone surely asking "Why not trade Matt Dumba?"
Columbus has star defensemen Zach Werenski and Seth Jones on their blueline.

It's hard to imagine John Tortorella embracing Dumba, for some reason.
Swinging that deal — or even adding another pick or prospect to that package — would hurt badly. But how much is too much for a young star who fills your biggest need? Guerin has to decide.
The Timing's Right This Time
It's understandable if the State of Hockey's takeaway from the Parise/Suter signings is that there are no shortcuts. That splashy attempt to shave years off a rebuild failed, and it stuck Minnesota in a decade of mediocrity. It's a fair point.
Still, the 2012 Wild is a very different team from the 2020 Wild.
In this writer's eyes, the sin of those signings wasn't that the Wild spent big money on free agents. It's that they went for it at an awkward time for the franchise. Minnesota had a pretty lousy NHL roster, meaning the addition of Parise and Suter only raised their ceiling so much. The prospects they were banking on to raise that level were unknown, and eventually fell short of expectations.
Today's Wild is much better situated to take advantage of a gift like Dubois. They've got a stellar blue line and team defense. Fiala and Kaprizov each have more star power than the 2011 Wild had combined. Rossi hasn't played an NHL game, but appears destined for great things and Dubois' presence would lessen the pressure for Rossi to be a top center right away.
In fact, given the construction of the team, it might make more sense to take a swing than to be patient. Fiala and Kaprizov are in their primes. Their blueline is good, but getting older. Veterans like Parise, Mats Zuccarello and Marcus Foligno are likelier to be productive next year than they are in three years. Waiting for prospects to develop might age this team out of a competitive window.
Spending assets on Dubois weakens the prospect pool, no doubt. The reward may still be greater than the risk. Minnesota's got a solid team now. Imagine how they'd look next year with Dubois (age-23) flanking Kaprizov (24) on the first line, then Fiala (25) and Rossi (20) teamed up on the second.
That's the temptation Guerin will face if and when he makes that call to Columbus. He'll stand on that crossroad and decide whether to keep with his plan, or to go all-in on Dubois. It'll be hard to blame him for not wanting to take that risk at this moment, with the Wild's system looking so promising.
But holding tight to prospects is a risk on its own, and with Minnesota's inability to bottom out, the likelihood of drafting another elite center to compliment Rossi is slim. Last time the Wild stood here, their aggressiveness did them in. It's possible that this time around, passivity could wind up being the decision that locks the State of Hockey into mediocrity.
All data is from Evolving Hockey unless otherwise stated.