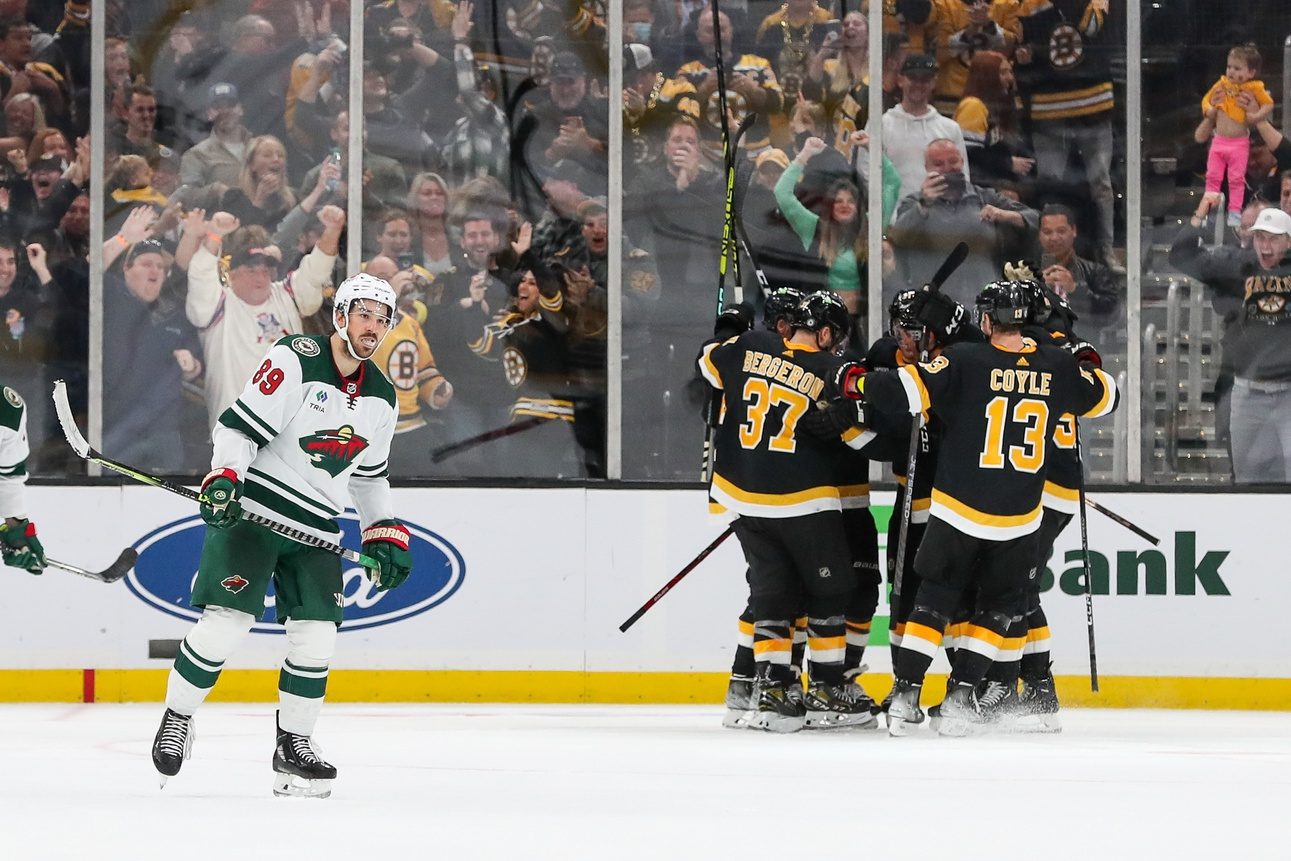 The Minnesota Wild put themselves in a predicament by losing their first three games at home. They not only squandered the opportunity to get off to a good start in St. Paul, albeit against two good teams and last year's Stanley Cup Champions. They also put a lot of pressure on themselves to win on the road. Beating the Vancouver Canucks, who are winless in regulation through seven games, was hardly a salve.

Minnesota got an overtime point in Boston. Now they're on a stretch where they are facing teams that they were 9-1-0 against last year on the road. They beat the Montreal Canadiens and Ottawa Senators and should easily pick up points against the Chicago Blackhawks and Detroit Red Wings. They will likely return home around .500 after a poor start. But therein lies the problem. .500 is mediocre, and the Wild have been mediocre for most of their history.
The NHL is filled with good but not great teams. Few become perennial contenders, and creating one takes a concerted effort. Many teams can sell hope, even if it's unfounded. The tight salary cap, high variance of any random game, and a league full of talented players from around the world allow most clubs to hover around .500. The league awards teams a point for making it to overtime. The prevailing wisdom is that a good team just needs to make the playoffs and go on a run. There's no fault in playing for the seventh or eighth seed because a hot goalie and timely scoring will allow any team to advance.
That's all good and well, but the Wild's history will tell you that being good but not great hasn't worked out. They've had 100-point teams, but most of them have lost in the first round of the playoffs. It's hard to see this year's team going anywhere. Marc-Andre Fleury doesn't look like the same player he once was. Filip Gustavsson is an unknown, and it's unwise to rely on him to be the starter at age 24. Minnesota's defensive corps isn't what it once was.
The Wild don't look like a team that will make the playoffs. They aren't a trade away from correcting their biggest shortcoming, as they were in 2015. Even if they sneak into the playoffs this year, it's hard to see them getting past the first round.
If that sounds familiar, it's because it is.
The 2002-03 team won Game 7s against the Colorado Avalanche and the Vancouver Canucks before the Anaheim Mighty Ducks beat them in the Western Conference Finals. That's the farthest the franchise has ever gone. The Wild missed the playoffs in the two years after that, and Jacques Lemaire's teams only won three more playoff games before he stepped down following the 2008-09 season.
Zach Parise and Ryan Suter brought a lot of excitement to the State of Hockey after the Wild signed them on July 4, 2012. But the farthest those teams got was the second round of the playoffs. You'd be hard-pressed to find anyone who believes that iteration of the team stood a chance against the Chicago Blackhawks dynasty. Minnesota strangely never went all-in. They retained the incumbent head coach long after it was clear he was overwhelmed by the job and failed to take a big swing on a trade to get a true scoring forward.
Now they're hampered by those contracts, despite Bill Guerin's decision to buy Parise and Suter out. The Wild were justified in signing them at the time because the organization needed a breath of life. But the 2013 collective bargaining agreement outlawed contracts longer than eight years and enforced a cap-recapture penalty. Guerin rightfully removed two players who were past their prime and had become locker-room pariahs. But now he needs to act like a GM of a team that has $70 million to spend on their roster in the next two seasons when the rest of the league adheres to an $82 million cap.
The Wild need to focus on player development this year. That doesn't mean tanking for Connor Bedard. Only one team gets the No. 1 pick, the Wild already have Kirill Kaprizov and Matt Boldy. Besides, I have a hunch that the league won't allow Minnesota to draft first anyway. Truly tanking will ruin any team's culture. Instead, they should focus on what's best for their young players.
That means trading or cutting players who aren't part of the future but may make the team marginally better. Last year the Wild blocked Calen Addison with Jamie Benn because of Addison's defensive shortcomings. This year, they've put Marco Rossi at the end of the bench or in the press box at times. Going forward, they must prioritize ice time for talented but flawed prospects.
Under this new philosophy, they no longer will retain veterans like Benn. Experienced players like him make the team marginally better in the short term and are probably easier for the coach to trust. But they block prospects who can learn in the NHL. There's a gap between the NHL and every other league that is difficult to cross. That's why Jason Zucker passed Diamond Joe's regularly on the "I-35 shuttle" early in his career. At some point, the player needs to adapt to a game filled with bigger, faster players. More pertinently, Minnesota needs to start figuring out what they have for the future and how much draft capital they need to fill out a competitive roster.
My proposal is the "Judd Brackett plan." It's not a full-on tank. It's about taking a year, maybe two, to load up on assets. Get Brackett as many picks as possible. Ideally, he gets one pick in the single digits next year, where he can take a swing on a player. Start building a young core. Eventually, they may have to move some of those players for a veteran star, and not every prospect works out. But play the numbers. Let Bracket fill an already strong prospect pipeline full of guys competing for spots on the NHL team.
Perhaps a team full of young, exciting prospects sneaks into the playoffs. Maybe they even go on a run. But there's a good chance that they don't. There are games where they will look brilliant and others where they look flummoxed. There's no guarantee of 100-point seasons. But the Wild have to trust that they have smart fans in this hockey-mad market. That they can see the upside in the players who make the NHL roster. They can envision a future where the team is good enough to go on multiple bona fide playoff runs instead of getting stuck in the first round.