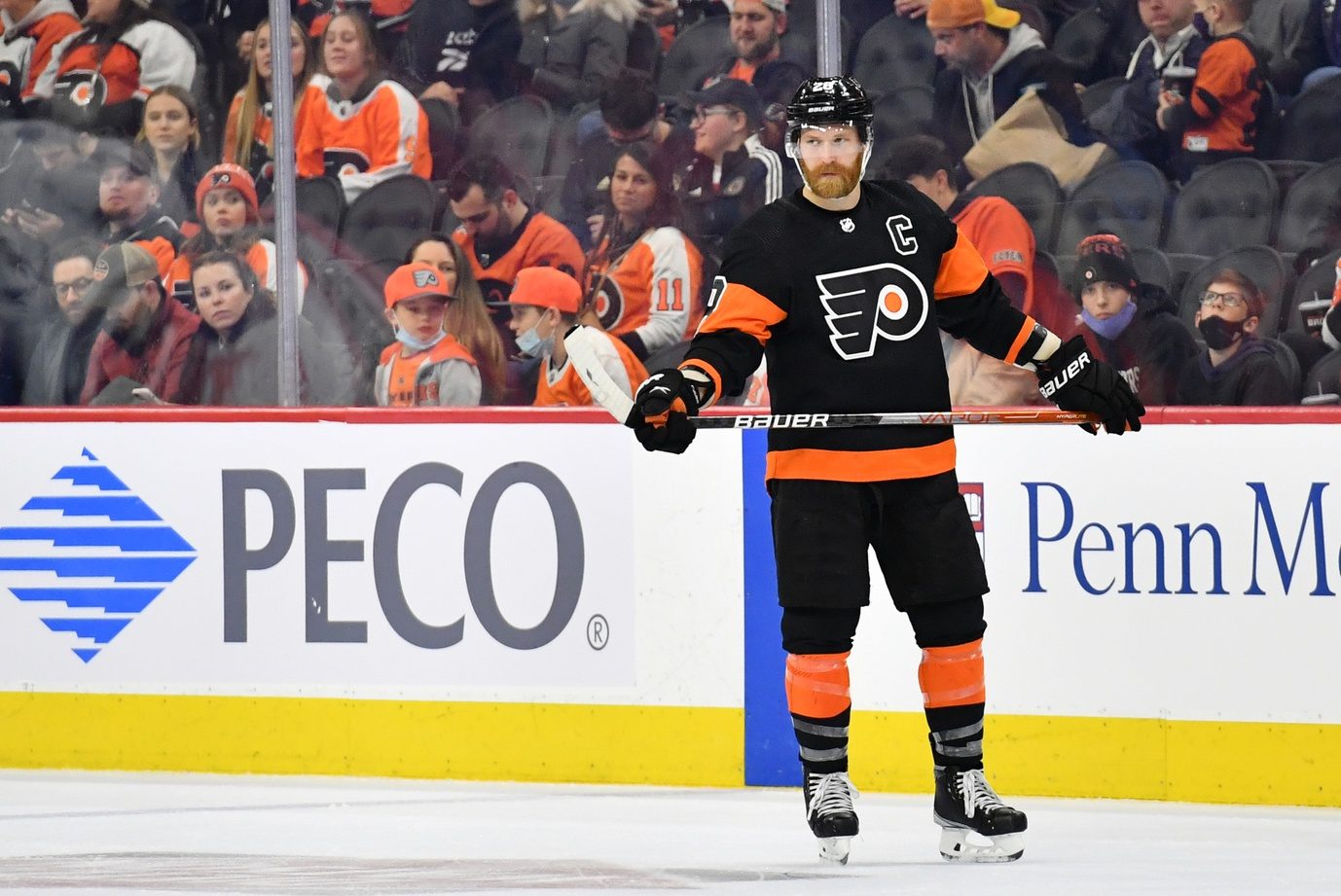 Stop me if you have heard this one before, The Minnesota Wild are a center away from making a deep playoff run. Not sure about you, but that's anxiety-inducing, knowing what happened the last time they were in the situation. Yup, the world-famous Martin Hanzal trade. What did that get the Wild? 13 points in 20 games and a quick five-game exit in the first round. The Wild find themselves in a position to make a splash again this year. But this time, there are rumblings that Actual Superstar Claude Giroux could be up for grabs at the trade deadline.
Giroux has been with the Philadelphia Flyers since they drafted him 22nd overall in 2006. While it took a couple of years for Giroux to find his footing in the NHL, he has been a constant contributor every year with the Flyers. Since his name's out there, it's hard not to wonder what he'd bring to the Wild.
Giroux's leadership has grown over his years in Philadelphia, and he eventually became team captain in 2013. Giroux had the pleasure of playing with Mike Richards and Chris Pronger, who are Cup Winners, with Pronger being a Hall of Famer. That experience had to impact his ability to get through to teammates.
Some fans may be hesitant to bring on a high-status veteran after what transpired with the previous leadership group. But the leaders of this Wild team have a different mentality than those of the recent past. Giroux coming into this locker room would bring an additional, valuable voice that brings playoff experience. And perhaps more importantly, playoff production. He's got 73 points in 85 career postseason games. Jason Pominville could never.
Giroux brings another thing the Wild have badly missed since Mikko Koivu and Eric Staal departed: someone who can win critical faceoffs. Since the 2017-18 season, Giroux has won at least 58% of the faceoffs he has taken. The only regular Wild center above 50% is Nico Sturm. That tenacity in the faceoff circle could help the Wild's power play, making it even more of a threat as the playoffs near.
His pass-first mentality would fit in with the current makeup of the Wild roster. Theoretically, Giroux would slot in right between Kirill Kaprizov and Mats Zuccarello. Ask Jakub Voracek, Wayne Simmonds, James van Riemsdyk, and Travis Konecny what Giroux can do with skilled wingers. Kaprizov has scored 40 points through 32 games this year with a revolving door of centers playing with him. Bringing Giroux into the fold would give Kaprizov a true top-line center who could potentially take some of the pressure off of Kirill to create plays and focus a little more on scoring.
So, Giroux would help. But what would it cost to bring him to Minnesota? Giroux has a No Movement Clause and would have to be on board with coming to the Wild. The Wild have the makings of a team that can go on a deep run in the playoffs and make some noise on the way to the Cup Finals. Why wouldn't Giroux see this as a great opportunity? The Wild have a solid defensive group when healthy. They have skilled goal scorers in Kaprizov, Kevin Fiala, and Marcus Foligno, who surprisingly is tied with Kaprizov for second on the team with 14 goals. And Minnesota has a better goalie tandem Giroux played in front of in Philly.
What would the Wild be willing to give up when it comes to compensation? Trading for Giroux would be purely a rental move for the Wild. With the cap position the team faces after this year, Minnesota likely would be unable to afford Giroux in the future. But this is their opportunity to make their run to the Cup right now, and they can prove that by going all-in on Giroux.
However, I don't think I see the Wild giving up much more than a 1st round pick and a B-level prospect for Giroux. Prices were down at last year's deadline, and as great as Giroux is, teams aren't as willing to give up big prices for two months.
Giroux is the ultimate win-now move the Wild should look into making this year. Making this move shows the locker room and fans that the front office is serious about making a run at the Stanley Cup while it can. We're not talking about a Hanzal situation. If Giroux comes to Minnesota, you're going to want to think twice about booking tickets anywhere but the parade down Kellogg Boulevard in June.