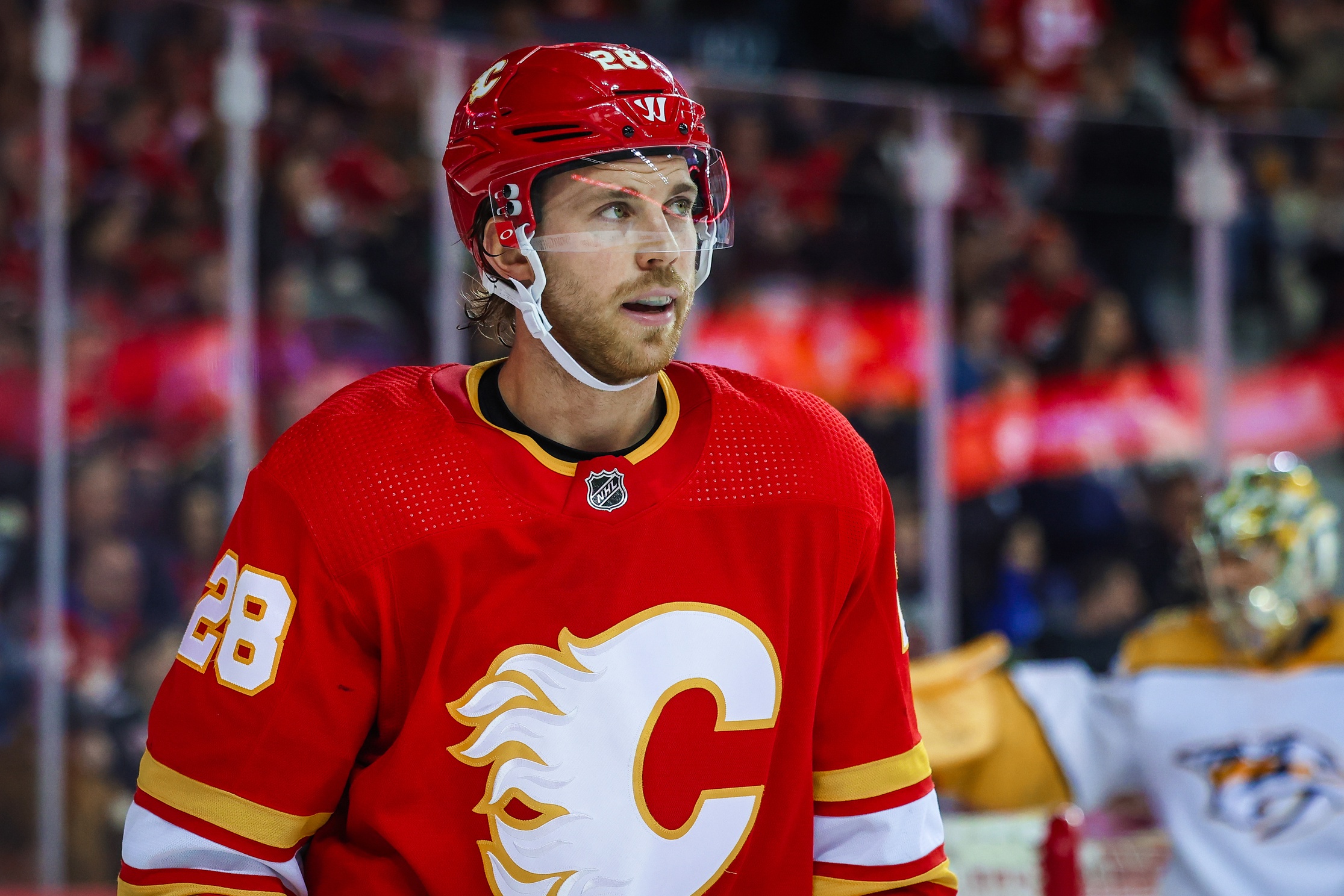 Image courtesy of © Sergei Belski - USA TODAY Sports
Any competent poker player will tell you it's probably best to not allow your opponent to know what cards you're holding. Even keeled is the name of the game. Deception is your friend, while surrendering any helpful information to your adversaries can doom you in a hurry.
They must not play much poker in Calgary, because their newly anointed general manager has laid his cards out for all to see before we've even seen the flop. And one of those cards should be of particular interest to the Minnesota Wild between now and this upcoming season's trade deadline.
Elias Lindholm, the Calgary Flames' 28-year-old center, is entering the final year of his contract. And players entering the final year of their contract in Calgary provide the fan base and front office with a little more angst than most other markets. It's hard not to blame them, as just a year ago the sudden departure of Johnny Gaudreau in free agency and subsequent trade of superstar Matthew Tkachuk rocked the foundations of the franchise.
New GM Craig Conroy was there to witness it all as the Assistant GM last Summer. After being hired this offseason, Conroy was immediately asked how losing Gaudreau for nothing would impact his decision on whether to allow some of his current pending UFA's to play out the final year of their contracts without extensions. In particular Lindholm, who has anchored their top line for half a decade and recorded 82 points a year ago.
"As far as Johnny leaving, it was a learning thing for me," he said. "I was hoping Johnny was going to come back, I thought Johnny was going to come back, but I don't think I would let that happen again.
"Then you think, 'Uh-oh, you just lost an asset, one of your best players of all time and you didn't get anything for him.' That was a real eye-opener for me."
Conroy is holding a few aces and has all but declared them sold for whatever he can get if not re-signed this season. Not exactly the negotiating position you want your new GM putting himself in. And Bill Guerin should be monitoring Lindholm's contract situation very, very closely as a result.
Why? Because Lindholm is a center. A really good one at that. And the Wild once again find themselves lacking any sort of threat down the middle as they enter this season, and quite frankly, beyond. Because while the likes of Marco Rossi, Marat Khustnidinov, and Danila Yurov are tantalizingly close to making an impact at the NHL level, none of them are sure things.
Lindholm is.
Over his five seasons in Calgary, Lindholm has produced at a 0.88 points per game rate. That includes this last season without Tkachuk stapled to his line, where he still churned out 64 points in 80 games despite never gaining any chemistry with his former teammates' replacement in Jonathan Huberdeau. His ability to drive play from the middle of the ice and finish at an elite level is tantalizing. (Oh, and did we mention he is right-handed?)
On top of his offensive production, Lindholm has received Selke votes in four of those five seasons. Three times he received top-10 votes and another time was a finalist. And while the Selke voting process remains somewhat unreliable, there is no doubting his claim as a top two-way impact at the most important skater position on the ice.
His ability to play a multitude of styles also lends to Lindholm being somewhat of a "safe" trade. While we all clamored for the Wild to swing for the fences for Jack Eichel, Lindolm provides a higher floor and lower asset requirements than Eichel did at the time of his trade. While he may not provide the superstar impact Eichel has in Las Vegas, there is little doubt Lindholm wouldn't gel with one of Kirill Kaprizov or Matt Boldy. Such a marriage would finally give the Wild a true top-6 center to play with one of their young, dynamic wingers.
And here lies the true need for such a trade. While the Wild are indeed handicapped by the Zach Parise and Ryan Suter buyouts the next two years, Kaprizov's contract only spans one year beyond those cap constraints coming off the books. Sitting pat and hoping that one or more of their center prospects hits is risky business if their goal is to convince their Russian star to sign a long-term extension and keep that Stanley Cup contention window open as long as possible.
Furthermore, the ceiling of their top center prospect, Rossi, probably resides somewhere in an average season for a center such as Lindholm: scoring 60 points while being reliable in his own zone. Not to mention, Lindholm has shown himself to be an elite center with talent on his wing in Tkachuk. It's not a stretch to imagine the former first round pick returning to his point-per-game production alongside a skilled winger such as Kaprizov.
Trading from their plethora of top prospects for a surefire top center should be a no-brainer for the Wild at this stage of their development into a true contender.
As for the financials, Lindholm would be due a large extension next summer, but it's a contract the Wild could absorb. This year would be tricky, but Calgary plans to hold on to their Swedish center into the season with the hopes of signing an extension. However, as the potential for an extension lags on, the more cap space the Wild accrues. As each day passes, the trade becomes increasingly more possible for Minnesota. So it's possible.
With Conroy's announcement that he will trade Lindholm if they can't agree to a new deal, the timing couldn't be better for the Wild to acquire a No. 1 center at a potential bargain. They simply can't afford to keep missing out on every potential top center to hit the trade market.
At some point, they will need to shove their chips to the middle of the table. And there's no better time to do so when you know the cards the other guy is holding.
1

1