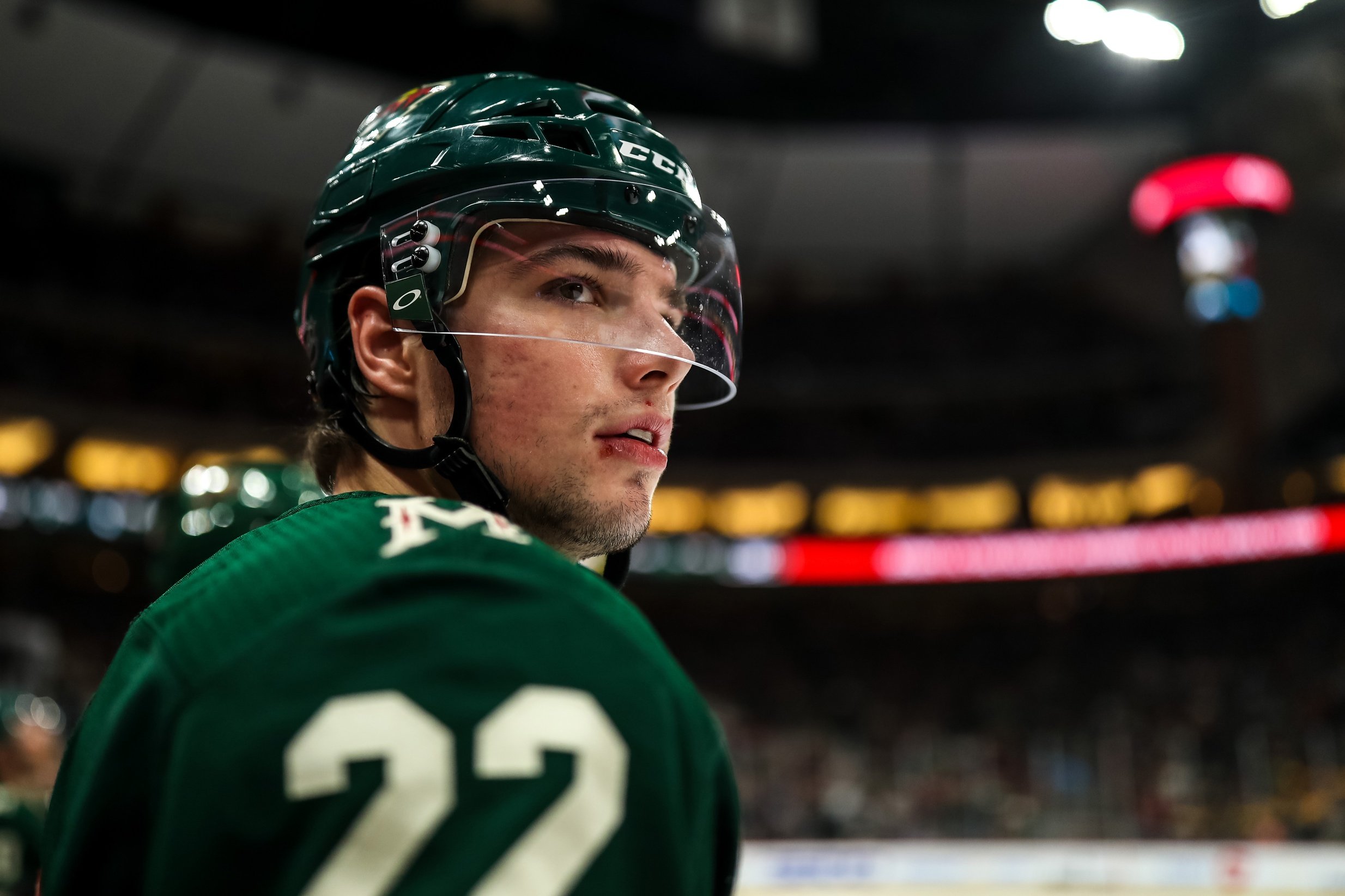 Bill Guerin continued his aggressive makeover of the Minnesota Wild on Wednesday. He traded Eric Staal, who is sixth all-time with 111 goals in Minnesota, for Buffalo's Marcus Johansson. In doing so, Guerin may just have executed his first Paul Fenton Trade™.
To be fair, Staal and Johansson both have contracts that expire this year, so this trade won't have the long-term ramifications of the infamous Victor Rask trade. But aside from that, it looks very similar: Guerin is abandoning a fine player for questionable reasons. It's a one-for-one swap where the Wild get the demonstrably worse player with little upside. He's taking on a player who seems to be, at best, an awkward fit on the depth chart.
Most bizarrely of all, this deal took a huge chunk out of Minnesota's already paper-thin center depth. Staal may have been on the downswing and about to enter his age-36 season, but he was still productive. Even with some slumps last year, he was still able to put up 19 goals and 47 points in 66 games (23 and 58 over an 82-game pace).
Left in the wake of the trade is The Island of Misfit Centers. There's Joel Eriksson Ek, a terrific defensive center for whom time is running out to show offensive upside. Then you have Johansson, a left wing who flopped when Buffalo tried playing him at center last year. Nick Bjugstad could be a fit, but is coming off back surgery, Rask is just A Guy at this point and Nico Sturm projects as an Eriksson Ek Lite.
While there's plenty of offseason left, it's getting harder to imagine Minnesota pulling off a big trade for a center. Around the trade deadline, most reports seemed to indicate that top trade chips Jonas Brodin or Matt Dumba wouldn't move for anything other than a center. Reading between the lines on reports, that stance might be wavering.
If the insider round-ups of the NHL's trade block are correct, few centers are being shopped. Guerin's top-6 options, for now, look like Max Domi and… Max Domi. More names could be available later in the summer, but Guerin has admitted that top centers are tough to come by.
The teams associated with Dumba, whose name single-handedly heated up the hot stove since Tuesday's Brodin extension, are generally full of wingers. The Athletic's Michael Russo reported Vancouver and Winnipeg as teams believed to have interest in Dumba. Vancouver's obvious trade chip is winger Brock Boeser, and Winnipeg has Patrik Laine and Nikolaj Ehlers to offer.
All three of those players would provide an offensive dimension that the Wild don't have. Boeser is a player who scores easy goals and drives play exceptionally well. Laine is a one-dimensional player, but that one dimension is being (arguably) a top-5 goal scorer in the league. Ehlers loves to shoot, is brilliant in transition and insanely productive at 5-on-5.
The problem is, again, that they're wingers. In trading for them, Minnesota would undoubtedly have to give up trade capital (whether that's Dumba or anyone else) that could be used to acquire help down the middle.
But in the Wild's endless pursuit of a Number One Center, it never seems like we take a moment to ask a very important question: Is all of this necessary?
At first glance, you'd look at the last decade of Stanley Cup Champions and say "Yes, it is." Those teams include St. Louis (who had Ryan O'Reilly), Washington (Evgeny Kuznetsov), Pittsburgh (Sidney Crosby, Evgeni Malkin), Chicago (Jonathan Toews), Los Angeles (Anze Kopitar) and Boston (Patrice Bergeron). It's compelling evidence.
To counter that, however, consider the fact that there are winger-driven teams that have found success recently.
The best example of a winger-driven team right now is Vegas. The Golden Knights' two best players this year were Mark Stone and Max Pacioretty. They destroyed the league when they played together, out-scoring opponents 44-26 at 5-on-5. Despite no Number One Center, Vegas got to the Conference Final this year before a five-game shooting slump sent them home.
Particularly instructive is what happened when Stone and Pacioretty played with Chandler Stephenson. Stephenson was the definition of A Guy. He had a career-high 18 points that Vegas acquired mid-season in exchange for a fifth-round pick from Washington. They all played together for 225 5-on-5 minutes and outscored opponents by an absurd 20-5. Stephenson collected 22 points in 41 games.
It's an extreme example, but it shows something an elite winger can do: Elevate the play of his center, no matter what. Two fantastic examples are Artemi Panarin and Elias Pettersson, who both were among the NHL's best while playing the wing. Neither enjoyed the team success Vegas had, but both dragged teams into the playoffs that had no business being there.
Panarin scored 59 even-strength points in 69 games, despite playing half his minutes with Jesper Fast centering him. Fast is a fine player, but he isn't the reason the Rangers out-scored opponents two-to-one when he was with Panarin. On the occasions Panarin got to play with Mika Zibanejad, magic happened. Zibanejad went from a career-high of 30 goals to 41 in 57 games, with Panarin assisting on 16.
Pettersson had similar results playing with J.T. Miller. Miller was a very good, underrated center/winger tweener when he got traded to Vancouver. Alongside Pettersson, Miller looked like a superstar, increasing his career-high from 58 points to 72 in 69 games. Like Zibanejad, few considered Miller to be a true Number One Center, but he sure looked like one last year.
Then there's the team that's perhaps constructed most similarly to Minnesota: The Nashville Predators. Nashville made a Stanley Cup Final in 2017 with an elite defense and top wingers Filip Forsberg and Viktor Arvidsson driving the bus.
That formula didn't work when the main wingers on the team were Mikael Granlund, Jason Zucker and Zach Parise, but who's to say it can't work in Minnesota? Let's say Guerin pulls off a trade that brings in Ehlers. Here's the top-9:
Ehlers - Bjugstad/Johansson - Kevin Fiala
Kirill Kaprizov - Eriksson Ek - Mats Zuccarello
Parise - Johansson/Bjugstad - Luke Kunin
The center depth is nowhere near where you'd want it to be, but otherwise? It looks dangerous. There's three wingers that could drive the bus. Fiala looked spectacular down the stretch, taking over games and scoring nearly a point-per-game from Nov. 1 to the end of the year.
Ehlers ranks 25th among NHLers with 2.27 points per hour at 5-on-5 over the past four years. He's one of very few people in Winnipeg's system who can consistently drive play. We don't know what Kaprizov will be in the NHL, but he showed some Panarin/Pettersson ability in the KHL. Mikhail Grigorenko took off centering Kaprizov, going from a 23-point guy in the KHL to a near-point-per-game pace.
Provided the Wild get a bounce-back or better chemistry from Zuccarello, and the Wild could really have something going here. Sure, they'd probably want to bring in somebody to hold down the center spot above Eriksson Ek, but if those wingers play to their potential, it might not matter.
To be clear, if the Wild have an opportunity to land a legitimate top-line center, they absolutely should. There's no doubt that having a bona fide star up the middle would cure a lot of ills for Minnesota.
But what happens if that opportunity never knocks? Like it or not, the Wild have committed themselves to winning now or in the near future. There's no rebuild coming. So should Minnesota stay in a holding pattern, waiting for a Crosby that will never arrive? Or is it better to add talent, regardless of position?
Plenty could change this offseason, but it looks like that center savior may not be coming. It may just be time for the Wild to accept their lot in life, take the value the trade market presents and figure out the details later.