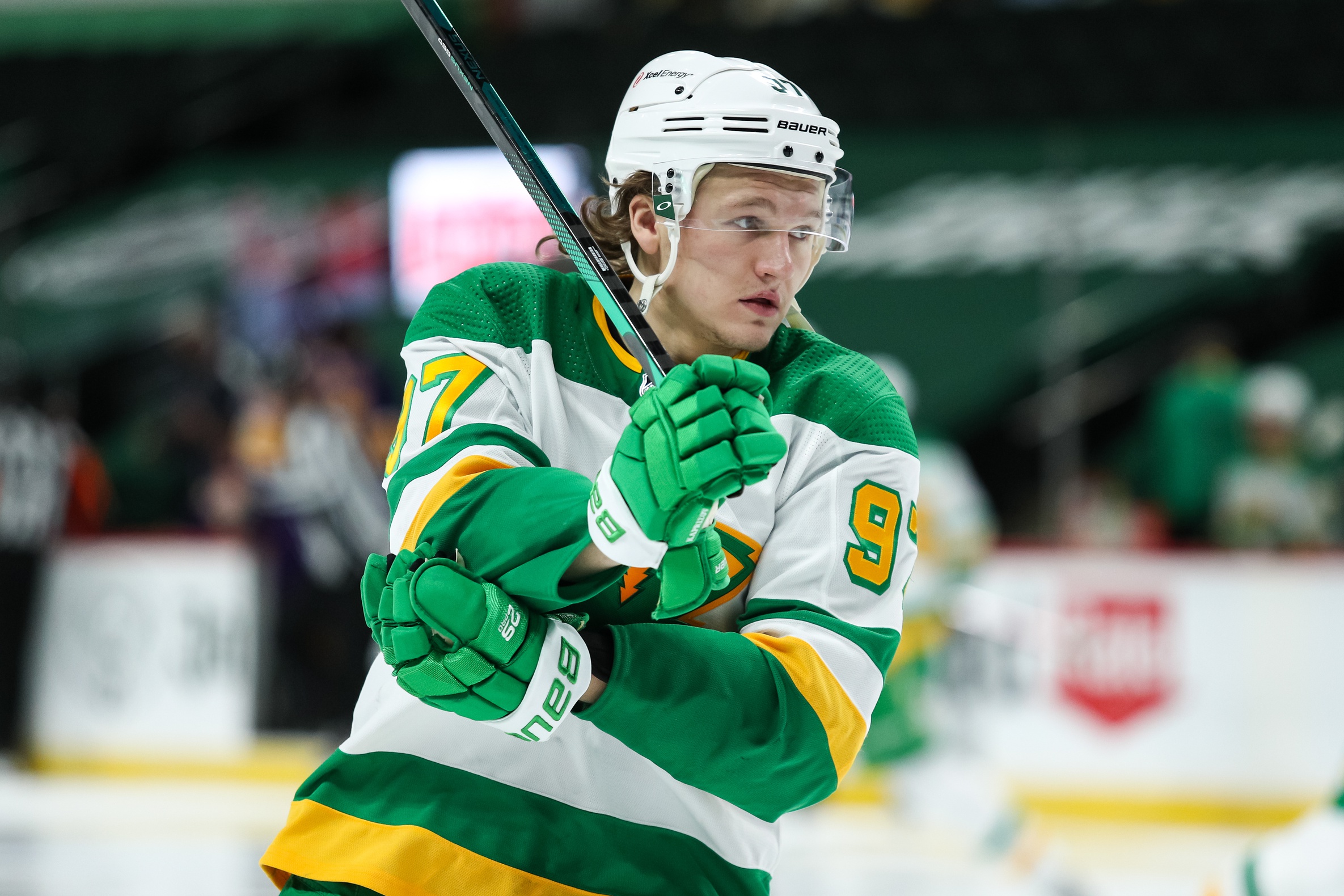 Now that the Minnesota Wild and Kirill Kaprizov have agreed to a 5-year $45 million deal, the Wild can focus on the real work. Namely, keeping Kaprizov in St. Paul for five years.
No one will blame you if you breathed a sigh of relief when Kaprizov arrived in time for training camp. He's crucial to Minnesota's success, and it shouldn't have taken a lengthy absence to get ink on paper. However, to finalize the deal, Minnesota put itself on the clock. The contract details suggest that they have less time than a "five-year contract" would indicate.
According to The Athletic's Michael Russo, the final snag in these negotiations was over signing bonuses. Kaprizov wanted them, and the Wild didn't want to give them out. To resolve this, Minnesota granted Kaprizov no-trade protection in Years 4 and 5 in exchange for a bonus-free deal.
Whether Minnesota realizes it or not, that decision gave Kaprizov the two things he wanted most: big money and options. While he'll have to wait five years to reach UFA status, he'll have control of his destiny in three.
While some will read this as a sign Kaprizov has one foot out the door, this is just the latest in what's becoming a league-wide trend. Fellow young stars Auston Matthews and Sebastian Aho also prioritized flexibility and earning potential over long-term security. No one wants to be Connor McDavid or Jack Eichel, locked into ironclad eight-year contracts with miserable franchises.
Whether his no-trade clause inspires a shrug, mild concern, or panic is up to you. It is true, though, that if things went sideways and Kaprizov wanted out in those final two years, he could control what teams he'd accept a trade to. That's a tremendous amount of power to wield. Minnesota's job now is to make sure he never wants to use it.
How do the Wild go about that? The best, most foolproof way to keep star talent is to be a contending team. How many times have elite players abandoned teams that were in the mix for a Cup? Not many! But players aren't so quick to stick around with teams on the downswing (in the case of Artemi Panarin) or those stuck in the mushy middle (also in the case of Panarin).
In theory, convincing Kaprizov to stay shouldn't be so difficult. The Wild made the playoffs and took the contending Vegas Golden Knights to seven games. They have a solid supporting cast, headlined by the dynamic Kevin Fiala and Joel Eriksson Ek fresh off a breakout year. And they have a high-end prospect pool, with studs Marco Rossi and Matt Boldy looking NHL-ready.
Minnesota can also throw all the money in the world at him if they want to. By the time Kaprizov's eligible for an extension, the $13 million dead cap hit from Zach Parise and Ryan Suter's buyouts will come off the books. That's a hell of a carrot to dangle in front of someone.
However, it's going to be difficult in practice, even with a ton of talent heading to St. Paul. Having that money free up in the future is nice, but right now, it's the single biggest obstacle to building a contender in the next three years.
We already saw how difficult it was for Minnesota to attract their free-agent targets this summer, and that was with just $4.75 million in dead cap. Going forward, when that figure bumps up to $12.75 million, then $14.75 million, Minnesota's flexibility will be non-existent. If they couldn't afford to sign Nick Foligno this summer, they sure aren't going to land an Eichel or Tomas Hertl. They might even find themselves priced out of Fiala as soon as next summer.
This was always going to put pressure on the Wild's prospects and development team to deliver. With Kaprizov controlling his destiny in three years, now there's even more. Rossi, Boldy, Calen Addison, and Adam Beckman can't just become good players eventually. They have to make an impact in the next three years. Eighteen-year-old Jesper Wallstedt has to be ready to play when Cam Talbot's contract expires in two years. This list will grow as more cap casualties happen.
That's a lot of prospects that need to hit their stride quickly. But with little ability to improve from without, the Wild need to roll enough 20s to not only be a playoff team but a legitimate threat in the Western Conference.
And if not? Well, could you blame someone in that situation for going somewhere they can win?
If the day comes when Kaprizov does engineer his way out of Minnesota, fans will undoubtedly give him the Marian Gaborik treatment. But it must be pointed out that the Wild didn't need to put that hammer in Kaprizov's hands. If they opted to give him large signing bonuses instead, they'd have more control over the final years of his contract without adding to his salary or cap hit.
Minnesota reduced the clock to convince Kaprizov to stay from five years to three, without saving a single penny in return. Given the limitations imposed on the Wild by the Parise and Suter contracts, that's a lot of additional risk for almost no reward. Minnesota's betting they can keep him around. They might be able to, but they've got a lot of work ahead of them and perhaps much less time than they think.