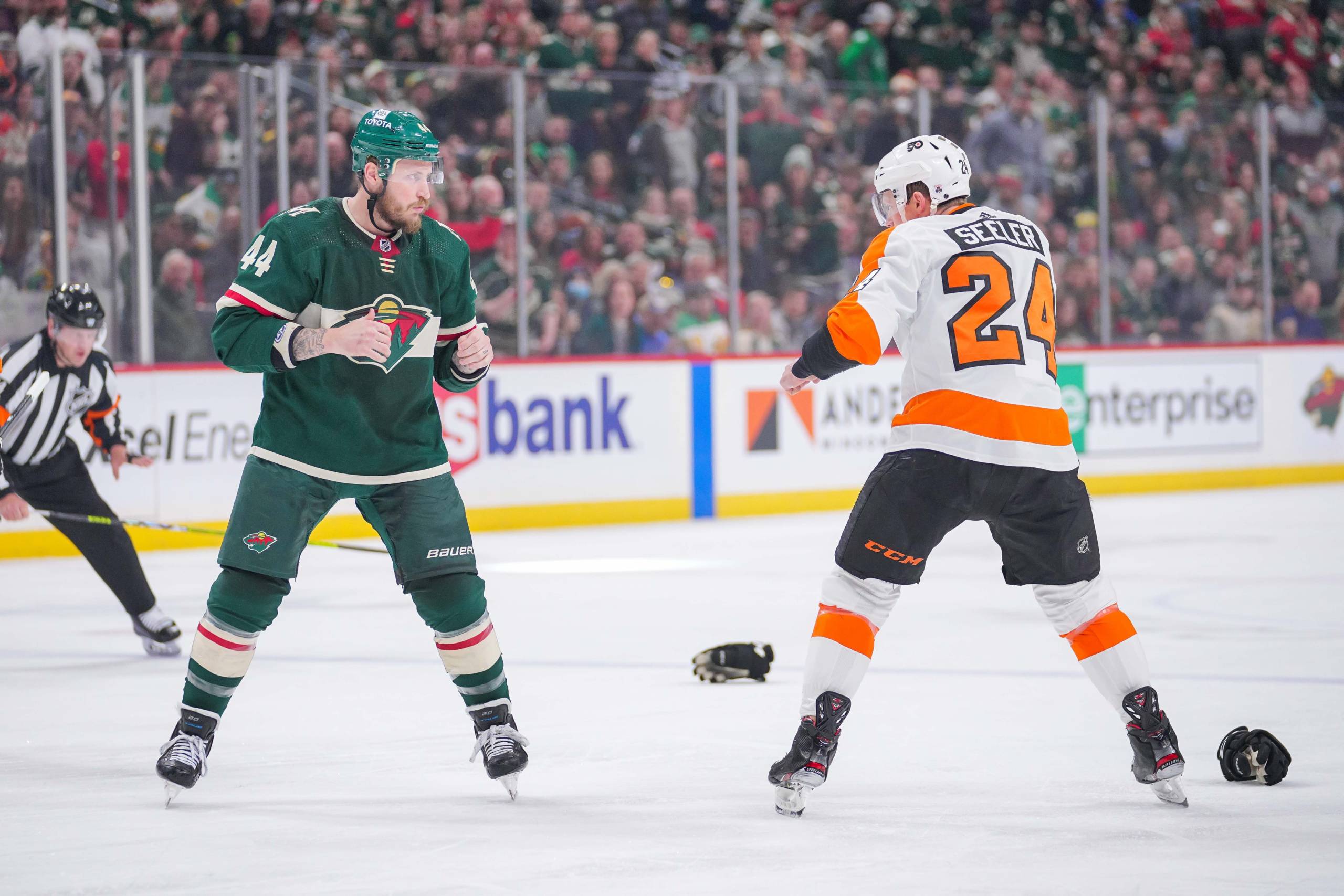 General manager Bill Guerin re-shaped the Minnesota Wild roster at the deadline. With a strong run since then, those decisions helped position his team for a deep playoff run. One of those additions, enforcer Nicolas Deslauriers, immediately scored a goal in his first game with the Wild and appealed to the crowd with his board-cracking hits.
However, it's fair to question whether Guerin's decision to add him has truly made a positive impact on the team.
When the Wild acquired Deslauriers for a third-round pick in the 2021 Draft, the term "sandpaper" was used more than once to describe his game. However, many were quick to note the man dubbed "D-Lo" brought more than just a physical presence to the Wild, including Deslauriers himself.
"I think that's what I bring: energy, being a safe player defensively," he said following his first game after the trade. "I want to be reliable. I played on the PK a lot this year and tried to form myself into that kind of defensive player, and I bring some grit, so that's what I want to bring here. Let those young bucks roll and have a free head."
The fights have been well documented, and the evidence bears out in the numerous bruises and scars on his face. Yet, the promise was Deslauriers would bring so much more to the Minnesota Wild and their push to the playoffs. The problem is Deslauriers' impact so far has been far below that of the player he replaced, Connor Dewar, who the Wild sent down to Iowa following the trade deadline.
For instance, Deslauriers' lack of playing time on the penalty kill has been puzzling. It's a unit that has underperformed all year, and both the Wild and Deslauriers touted his PK prowess. In his 61 games in Anaheim, Deslauriers was used extensively on the penalty kill, logging 84 minutes with the Ducks. At just over 1.37 penalty kill minutes per game, Deslauriers sure was being used more than Dewar was in Minnesota for the season.
However, Deslauriers only has two shorthanded minutes in his first 10 games with the Wild. Furthermore, Minnesota's penalty kill has been leaking oil again lately. Still, coach Dean Evason has not made a call to the bullpen for Deslauriers' help. For a team whose lackluster special teams could be their downfall in the playoffs, trading for a supposed penalty-killing specialist and not using him as such seems odd.
What about his play at even-strength? It's concerning, to say the least. Deslauriers and his teammates control a paltry 36% of shot attempts while on the ice since his arrival in Minnesota. It's not pretty, as the fourth line seemed to be regularly caved in after their trade deadline shake-up. Conversely, Dewar's CF rate at even strength was at an impressive 52.5% in his 30 games with the Wild this season. That's a rather large jump. It's even more evident if you analyze the fourth line's performance the past two games with Deslauriers out due to injury.
The fourth line stood out in Minnesota's comeback victory over the Los Angeles Kings. Armed with strong possession numbers and offensive creativity, they got more chances for than they allowed. The same held true the following game in their romp of the Edmonton Oilers. The Tyson Jost, Brandon Duhaime, and Nick Bjugstad line again created chances and possessed the puck over 50% of the time. It's a threshold Deslauriers has failed to reach for most of his career.
For those who prefer not to base all player assessments on the numbers, the eye test hasn't fared much better for Deslauriers. In his 10 games with the Wild, Deslauriers is where breakouts have gone to die. His lack of skill with the puck in tight spaces has made it especially difficult for him to manage a breakout from the half wall.
If the Wild are looking to ice their best possible team in the playoffs, they're much better off playing Dewar or Nick Bjugstad over Deslauriers on the fourth line. Yes, Deslauriers brings more than just box score results and fancy numbers to a team. His physical style and high energy have some value. However, fights all but disappear in the playoffs, meaning that if Deslauriers wants to be a net-positive, he'll have to contribute in other areas. If those other areas don't include making an impact at 5-on-5 or killing penalties, it will be challenging to argue he's the right player for a roster spot.