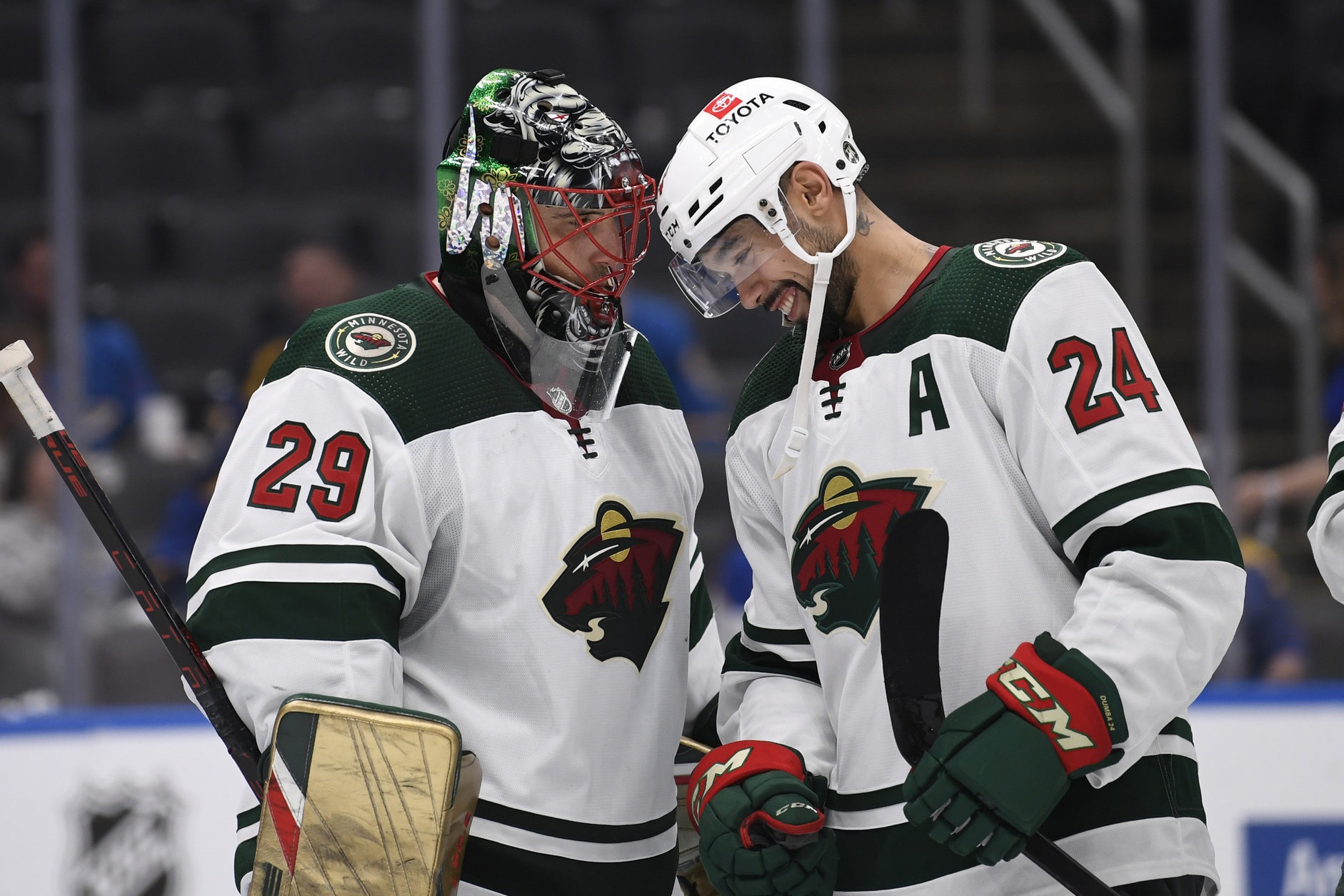 The Minnesota Wild should have a relatively quiet offseason now that they've traded Kevin Fiala to the Los Angeles Kings. Next year's roster is almost set, and they have limited financial flexibility this summer because of the Zach Parise/Ryan Suter buyouts. There are only two major things left on the agenda. They need to re-sign pending RFA and trade-deadline pickup Jake Middleton and find a goalie to pair with Cam Talbot.
There's still uncertainty regarding whether or not Marc-Andre Fleury will re-sign with the Wild or test the market and sign with a contending team. Jesper Wallstedt is still a few years out from his NHL debut and becoming the starter in Minnesota, so the Wild's goaltending situation is in flux right now.
The Wild either need to roll with their current Talbot-Fleury tandem or find a replacement for Fleury in free agency this summer. If the latter happens, it would be ideal for the Wild to find a stopgap goalie that can become the starter when Talbot's contract expires after next season.
Fleury will be in his age-38 season next year, so he probably shouldn't be the guy, but the Wild might need him to be. The 37-year-old had a .909 save percentage and allowed 2.84 goals above expected in a combined 16 regular season and playoff games with Minnesota.
When the Wild gave up a conditional first-round pick for Fleury at the trade deadline, they were hoping he would produce elite numbers — something Talbot wasn't doing. Fleury wasn't bad in the playoffs by any means, but the Wild definitely desired more from the future Hall of Fame goaltender and 18-year NHL veteran. Ultimately, the Wild only had to send the Chicago Blackhawks a second-round pick in this year's draft. And even though adding Fleury didn't help the Wild as much as they'd hoped, it was still worth making an investment at the trade deadline.
History suggests goaltenders don't produce strong numbers in their age-38 seasons, which shouldn't be a surprise. It's why re-signing the veteran netminder comes with risk. Five goalies in NHL history had a higher save percentage than .913 at that age — only Mike Smith (2020-21, .923 SV%) and Roberto Luongo (2017-18, .929 SV%) have done it in the past 10 years. If there's a goalie to join this list, though, it's the athletic Fleury.
The Wild's alternative is a poor UFA goalie market this summer. Darcy Kuemper and Jack Campbell are attractive options, but neither are in Minnesota's price range. A solid target would've been Casey DeSmith, but the Pittsburgh Penguins just re-signed him for two more years.
That leaves the Wild with two options if Fleury decides to leave. They can ink Braden Holtby or James Reimer to a multi-year deal or wait until next summer to find a stopgap and a goalie willing to sign a cheap one-year deal to replace Fleury.
The goalie front next summer is much better. Tristan Jarry, Alex Nedeljkovic, Mackenzie Blackwood, Joonas Korpisalo, and Anthony Stolarz should be available — all of whom will be under 30 years old. That's a much better group, and the Wild would not feel forced to make an ill-advised multi-year signing.
However, Holtby remains unsigned with the Dallas Stars ahead of this year's free agency. He could provide stability in the crease for the Wild next season. Holtby won a Stanley Cup and Vezina Trophy with the Washington Capitals and is a two-time All-Star. The 32-year-old seems to be past his prime, but Holtby is still a serviceable option in goal.
He bounced back last season, posting a .913 save percentage and nearly breaking even in GSAx, after two straight underwhelming seasons. And Holtby has been a backup the past two seasons, meaning a deal shouldn't be too much. If the Wild hand out a multi-year deal to a goalie this summer, it should be Holtby. Still, the price needs to be right. 
The Wild must ensure they have insurance in goal heading into next season. Talbot didn't have a great 2021-22 campaign and was inconsistent during stretches of play, so they should avoid banking on a strong season from him. The 35-year-old finished the season with a .911 save percentage in 49 games. Worse, Talbot allowed 17.23 goals above expected — the fourth-worst total in the league. Only Karel Vejmelka, Kevin Lankinen, and Philipp Grubauer performed worse. 
It potentially could be the healthy competition both goalies need, and perhaps Holtby could rejuvenate his career.
Another candidate is James Reimer, who has been fantastic over the past three years with stints in Carolina and San Jose. Reimer has a .911 save percentage and saved 10.72 goals above expected over the past three seasons and might still have a few more good years in him at age 34.
If Fleury doesn't re-sign with the Wild, there will be limited options to replace him. Minnesota will need to look at Holtby and Reimer, the two best options in their price range. Otherwise, the Wild might be forced to check the trade market. The reality is that their goaltending situation next season might be questionable.
All Data Via Evolving-Hockey, Natural Stat Trick and Hockey-Reference