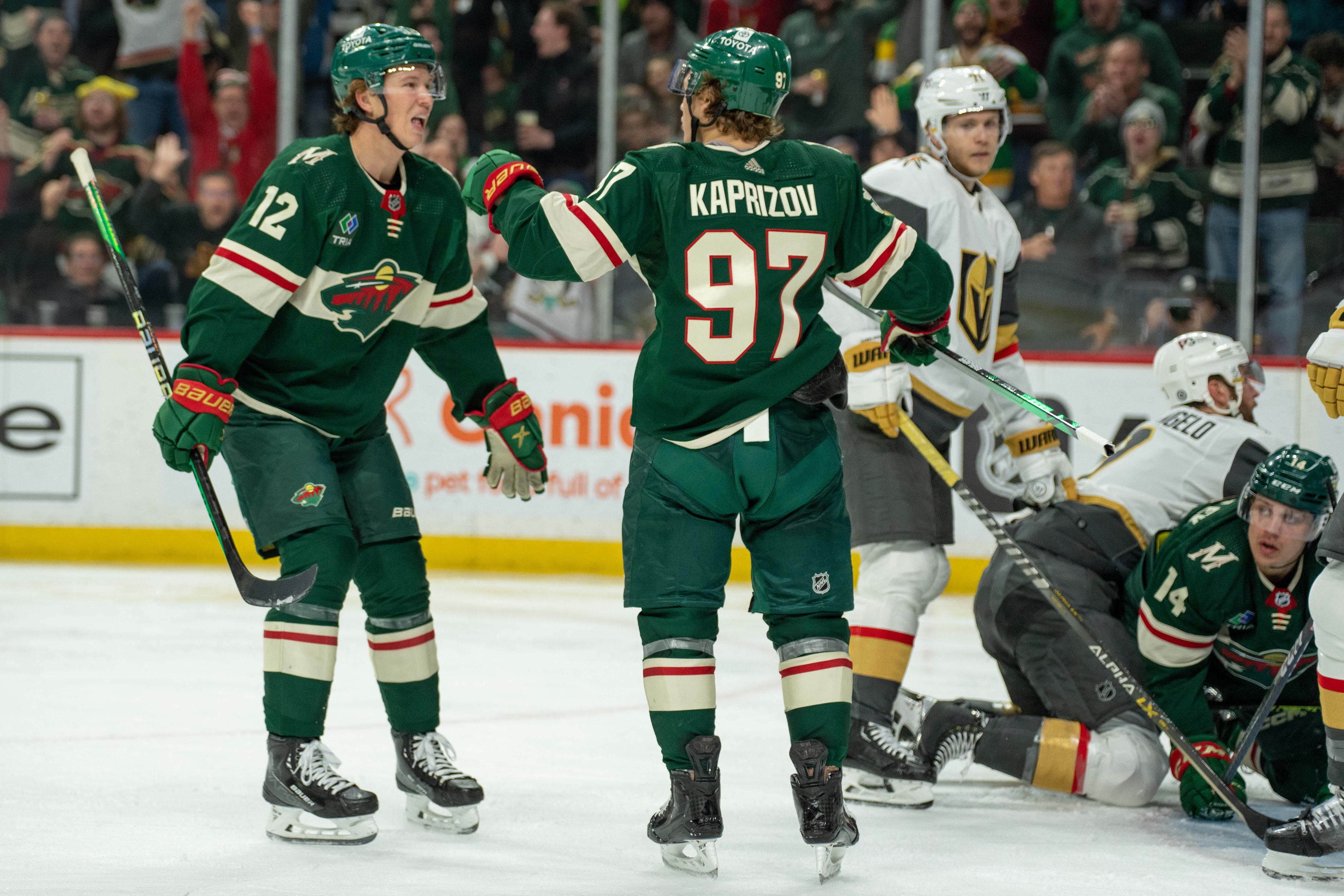 Image courtesy of © Matt Blewett - USA TODAY Sports
Next season will be the first of consecutive years that the Minnesota Wild will suffer $14 million cap hits after the Zach Parise and Ryan Suter buyouts. For this reason, Minnesota will be attempting to maximize its season with a roster full of young pieces from recent drafts, like Marco Rossi and Brock Faber. However, they still have a few key grizzled veterans, like free-agent signing Pat Maroon and the returning Marcus Foligno. They will rely on Maroon and Foligno to give the team an edge in the playoffs.
The Wild have made it clear that they will not be waiting for these tough financial years to pass to compete. They will attempt to win regardless of the proverbial handcuffs. But what exactly do the Wild need from their roster to return to the playoffs and go on a run?
Kirill Kaprizov Needs To Be Kirill Kaprizov
This goes without saying. However, a full year of Kirill Kaprizov will always come with a reasonable possibility of 100 points from the Russian superstar. Kaprizov being Kaprizov is one of the safer bets on what this team needs, as many already regard him as the best professional hockey player to represent a Minnesotan club. Kaprizov elevates everyone he plays with, providing Mats Zuccarello a resurgence in points as soon as he touched the ice, and was instrumental in Ryan Hartman's scoring explosion in 2021. Being one of the best passers in the NHL, Kaprizov will be sure to boost anyone's scoring that is fortunate enough to share ice time with him.
Continued Goaltending Prowess
Filip Gustavsson was a brick wall in the net last season. Only Linus Ullmark, the Vezina Trophy-winning Boston Bruins goalie, outperformed him in core metrics such as SV% and GAA. The Wild rewarded Gus for his efforts, inking him to a three-year, $11.75 million deal. 
Without any setbacks, Gustavsson should have no issue with another quiet but fantastic campaign. However, some fans and pundits have less confidence in Marc-Andre Fleuryh, the second option. He had a seemingly rough outing last season by his standards. He will look to rebound (no pun intended) this upcoming season, where he will more than likely be taking on less of a workload behind Gustavsson. 
That will hopefully translate to a fresher Flower, allowing him to rest more and recover at a better rate than he has been able to the last couple of years as he pushes 40 years old.
Defensive Consistency On All Levels
Jacob Middleton and Jared Spurgeon are already one of the most reliable work-horse defensive pairings in the NHL, and there is no sign of that changing anytime soon. The second unit is home to Jonas Brodin, another one of the most underrated defensemen in hockey. The Wild will probably pair him with Brock Faber, the young stud out of the University of Minnesota, to replace Matt Dumba. 
In a very small sample size, Faber showed that he belonged in the big leagues. He had a solid and reliable playstyle that the Wild brass and fanbase could rely on to almost always be in position when they needed him the most. That's also exactly what Jonas Brodin provides. 
But there will be a lot of attention on the third unit. Calen Addison, Jon Merrill, and Alex Goligoski will fight for their spots in the lineup nightly. If this season is anything like the last, there will likely be a lot of rotating in and out with this unit, creating a what have you done for me lately situation. If the Wild can find consistency on the third line to support the top two, they could have a reliable defensive unit.
Another Scorer (or Two) Need To Emerge
It's safe to say that the Wild will get a substantial amount of points from Kirill Kaprizov, Matt Boldy, and Mats Zuccarello. However, there needs to be another big-time scoring contributor (or two) for the Wild to have a serious chance of making the playoffs and advancing beyond the first round. 
Ryan Hartman provided that during the 2021-22 season when the Wild paired him with Kevin Fiala before they traded him in the following offseason. Of course, they didn't end up winning a playoff series. Still, opponents had to account for Hartman and Fiala, Kaprizov's line, and Matt Boldy. Whether it's Marco Rossi living up to his draft hype when the Wild took him 9th overall in 2020 or a veteran like Freddy Gaudreau or Marcus Johansson suddenly adding more scoring, someone needs to step up if this team will contend.
All of these points naturally go hand-in-hand with getting lucky and avoiding injuries all year. Bill Guerin has also made it clear recently that he's willing to offload draft capital to acquire available assets at the deadline. 
The Wild are going to face their fair share of adversity over the next couple of years, everyone knows that. With how the front office has handled things over the past couple of seasons, they are not afraid to continue to try and acquire players who won't be around long-term but will aid them in their quest for the Cup. 
Minnesota still should make the playoffs, but getting eliminated in the first round stops being fun after the first seven times in a row. But just because they don't have as much cap space as other teams doesn't mean he's not going to attempt to try and hit it big.
2