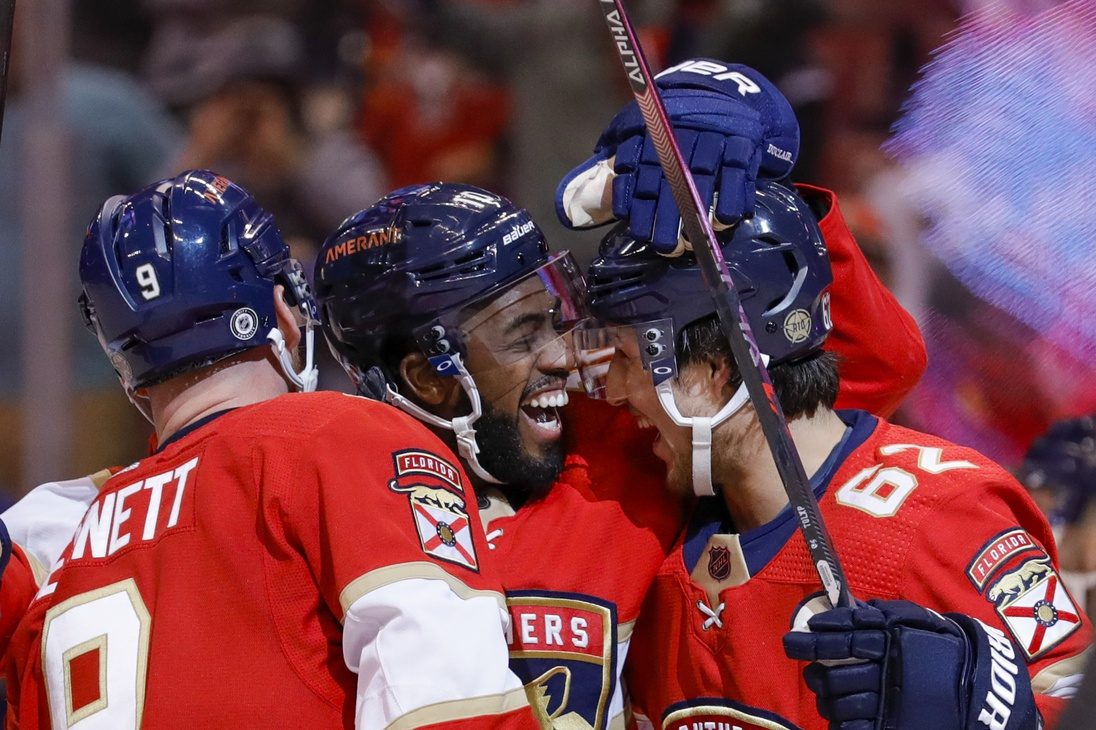 You need two high-powered scoring lines to be a legitimate Stanley Cup contender. The Minnesota Wild only have one right now, and Matt Boldy deserves a new running mate. Sammy Walker is getting a look in that spot, and he certainly deserves that. But will Walker thrive in a playoff atmosphere? Walker might not win many puck battles in that sort of physical environment.
So why not reduce that risk and get someone who plays similarly to Walker but is more established and dynamic? Someone who's proven himself against NHL competition? Say hello to Anthony Duclair. The Florida Panthers are in a tight spot where they'll need to shed money to be cap compliant once they get healthy. They will have to make a trade.
Duclair can help Boldy thrive. Boldy has been solid in his sophomore season, as he's still on pace for 30 goals and 33 assists. However, you can tell Boldy misses Kevin Fiala as a shooter on his other wing. Players like Frederick Gaudreau, Joel Eriksson Ek, and Marcus Foligno have been trying to replace the type of offense Fiala brought, but they just aren't talented as Fiala.
This is where Duclair comes into play. He is capable of replacing the game-breaking presence Fiala brought.
On his best days, Duclair is incredibly skilled and capable of putting on superstar performances. However, there are stretches where he's struggled to contribute offensively, leading coaches not to trust him. Sound familiar?
Getting a center might be the most important need, but the Wild should also want more offensive flair, especially if that means getting Fiala-lite hockey at a discounted price. Duclair may never be on the level of the current NHL greats like Kirill Kaprizov, but he will give you superstar stints. Duclair, 27, is entering his prime years and is looking for a team to stay with long-term.
Skating alongside a 30-goal scorer will see Boldy spike in production. If he can elevate to being a Kaprizov-type threat with a legit scorer, wouldn't that make the Wild much better? Maybe even a Cup favorite?
Their special teams would also improve. Minnesota will likely run a power play through Kaprizov and Mats Zuccarello on their first unit. With Duclair in the mix, the Wild can have an effective second power play built around him and Boldy.
Minnesota will be in a position to have elite special teams. Connor Dewar highlights the penalty-killing unit, and he's delivered nothing but shorthanded goals. Plus, Duclair's low cap hit means the Wild can still add a clutch, rugged defenseman like Vladislav Gavrikov to the penalty-killing mix, making it a fearsome unit. Minnesota's special teams wouldn't have a weakness.
The Panthers are looking for cap flexibility. They don't want to move Duclair for free, though. Ryan Hartman has a perfect contract ($1.7 million through next year) for Florida to take on now that he's healthy. The Panthers could use him in many different roles. While Hartman isn't dynamic like Duclair, he's no slouch when it comes to chipping in offensively.
Guerin can also trade out-of-favor forward prospect Vladislav Firstov somewhere he can get a fresh start. It's unknown what role Firstov will play in the near future since the Wild loaned him to the KHL this year. Still, Firstov would give the Panthers another skilled prospect to its system, and Firstov should get opportunities there.
Meanwhile, Minnesota would get that second scoring line that is necessary for a Cup favorite. That's the last piece for a strong Wild team to have no weaknesses as long as Marc-Andre Fleury and Filip Gustavsson continue to be the team's backbone. If they can add a Gavrikov-type on defense, they can make a strong defense even more structured than before — a group that rarely makes mistakes and sacrifices their bodies.
They have structure, but if the offense finally gets firepower, the Wild can be even better than last year's version. Kaprizov and Zuccarello would keep their high-flying ways, and Boldy can put up massive numbers with Duclair, even with Gaudreau continuing to play a safety net role perfectly. It'd be a tough offense to play against. A good mixture of power, speed, and skill. The best mixture.
It's almost easy, even for Wild fans, to picture watching this group of players celebrating the Stanley Cup on Kellogg Boulevard, led by Ryan Reaves. Fleury winning his fourth Cup, Zuccarello getting his first, hometown kid Brock Faber stepping into a playoff run celebrating with Kaprizov and the team as he did last year, just on the other side of the glass. And that's just some of the storylines that would make the celebration a bang. They're just a couple of moves away, and it's time to win.