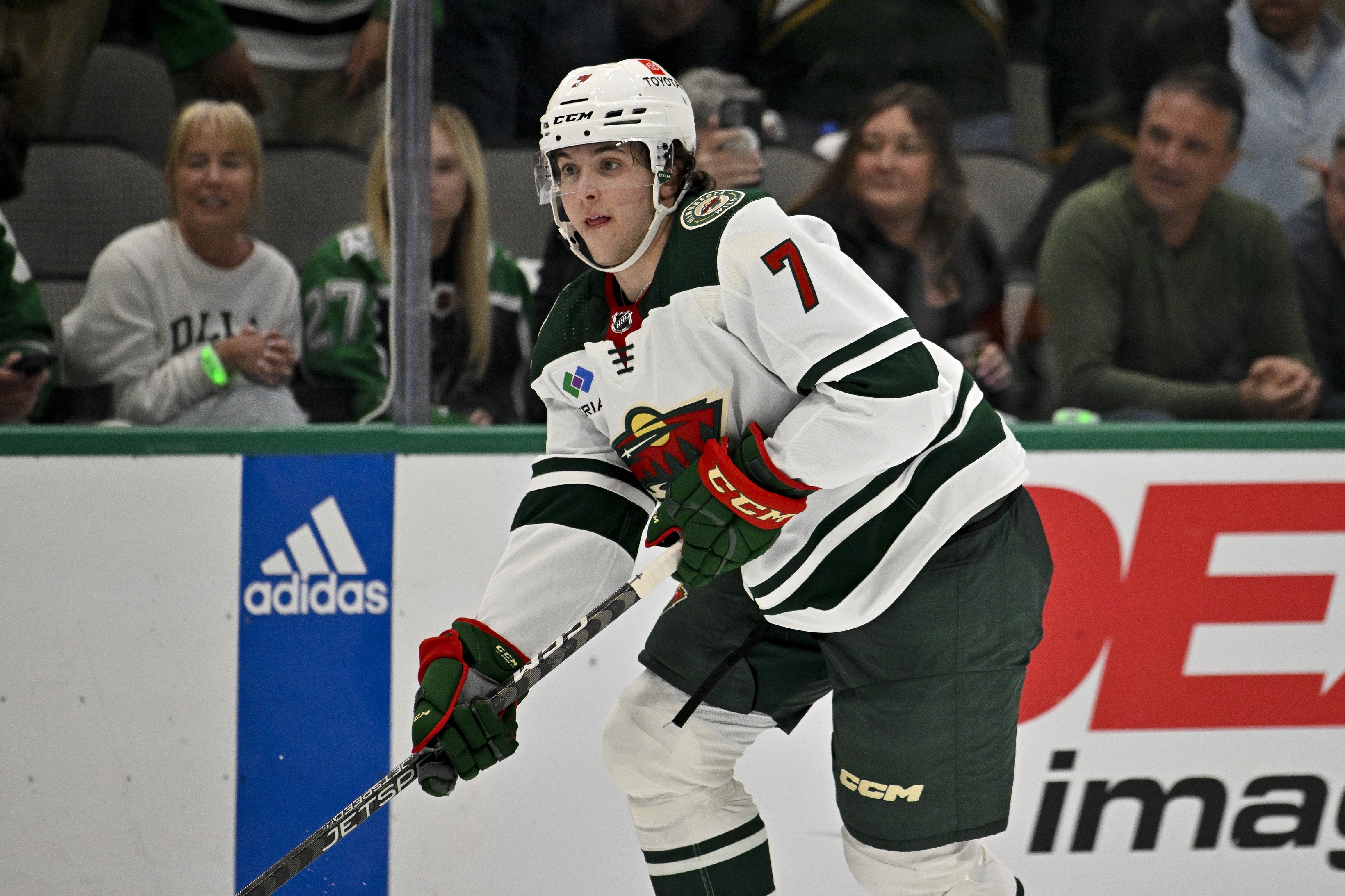 Image courtesy of © Jerome Miron-USA TODAY Sports
The 2022-23 hockey season ended in disappointment for the Minnesota Wild and all of their fans. A lot of negativity came out of their poor showing in the playoffs. However, there are several reasons for positivity heading into next year.
Let's start with something obvious: Minnesota is the State of Hockey. People outside Minnesota can't possibly know what that means until they experience it. But it's a deep and abiding love from Mini Mites to the NHL. Fans should support the Wild, despite the games and playoff series they lose dramatically. Players and coaches talk about how the atmosphere at the Xcel Center is electric. Minnesota fans know how to show up and fill up the rink, physically and with their off-the-charts energy. Let's keep that feeling year-round and not just when things go the Wild's way.
Minnesota has made a few moves and re-signings this off-season. But it has been mostly quiet, and that's a good thing. Going through the worst of the salary cap restrictions in the next two seasons means that Bill Guerin can't make any big, splashy moves. But the Wild already have a strong core. With several key players signed for three or more seasons, Minnesota can depend on them to carry the team until there is more money to add to the roster.
In the past few years, Minnesota's front office has started signing more prospects from Minnesota to the team. Fans love to cheer on players like Brock Faber and Sammy Walker, who they've watched play in high school and college. Picking more players from the Minnesota prospect pool, like three prospects in the 2023 draft, doubles or triples the pride that Minnesotans feel toward the Wild. It might even help younger Minnesotan players work harder as they see familiar faces on the NHL ice.
Besides the hometown boys, most experts have the Wild's prospect pool ranked as one of the best in the league. They've also filled the Iowa Wild, their AHL affiliate, with highly-ranked talent up and down the roster. Jesper Wallstedt is the top-ranked goalie prospect. After Marco Rossi's slow start with the Wild last year, he spent the season developing his confidence and could show up big this season for the big club. Add in Sammy Walker, Daemon Hunt, Adam Beckman, Nick Swaney, etc. The picture gets even better.
Additionally, several talented European and Russian players will make their way stateside in the next few years. Hopefully, they'll be able to make as big of a splash as Kirill Kaprizov did when he made his first appearance. Danila Yurov, Liam Ohgren, and Marat Khusnutdinov should come over to Minnesota together during the next off-season. 
Most native Minnesotans tend to be overly proud of their home state. That means that when players move here to join the Wild, it's always nice to see them embrace the state as much as we do. Jake Middleton is a recent example. Since re-signing here in July 2022 after arriving via trade with the San Jose Sharks, Middleton has settled into Minnesota life. During both off-seasons, Middleton and his wife have stayed in Minnesota. Middleton has been a regular player in Da Beauty League, making him a familiar face around summer hockey.
Even players who might leave in the off-season are committed to the club while they're here. The Wild have a definite identity as a team that requires players to buy in. The long-term players all have. If players can stand by the team through good and bad, fans should also.
All of these elements are growing stronger, giving fans a reason to also get on board. Their compete level is growing each and every year. This offseason, fans should be happy with the level the Wild will be starting the season on and the depth they have to depend on in the future. Hometown boys, prospects, and hockey players who have adopted the Twin Cities as their second home are all reasons to put more faith in the Wild. 
The title "The State of Hockey" should be seen as a badge of pride for Minnesotans. It should also come with a requirement to be a ride-or-die fan. That doesn't mean undying, loyal positivity. It means that criticism should be warranted and constructive. It also means giving credit where it's due. As the 2023-24 season creeps up on us slowly, let's remember what it means to live in The State of Hockey.
3