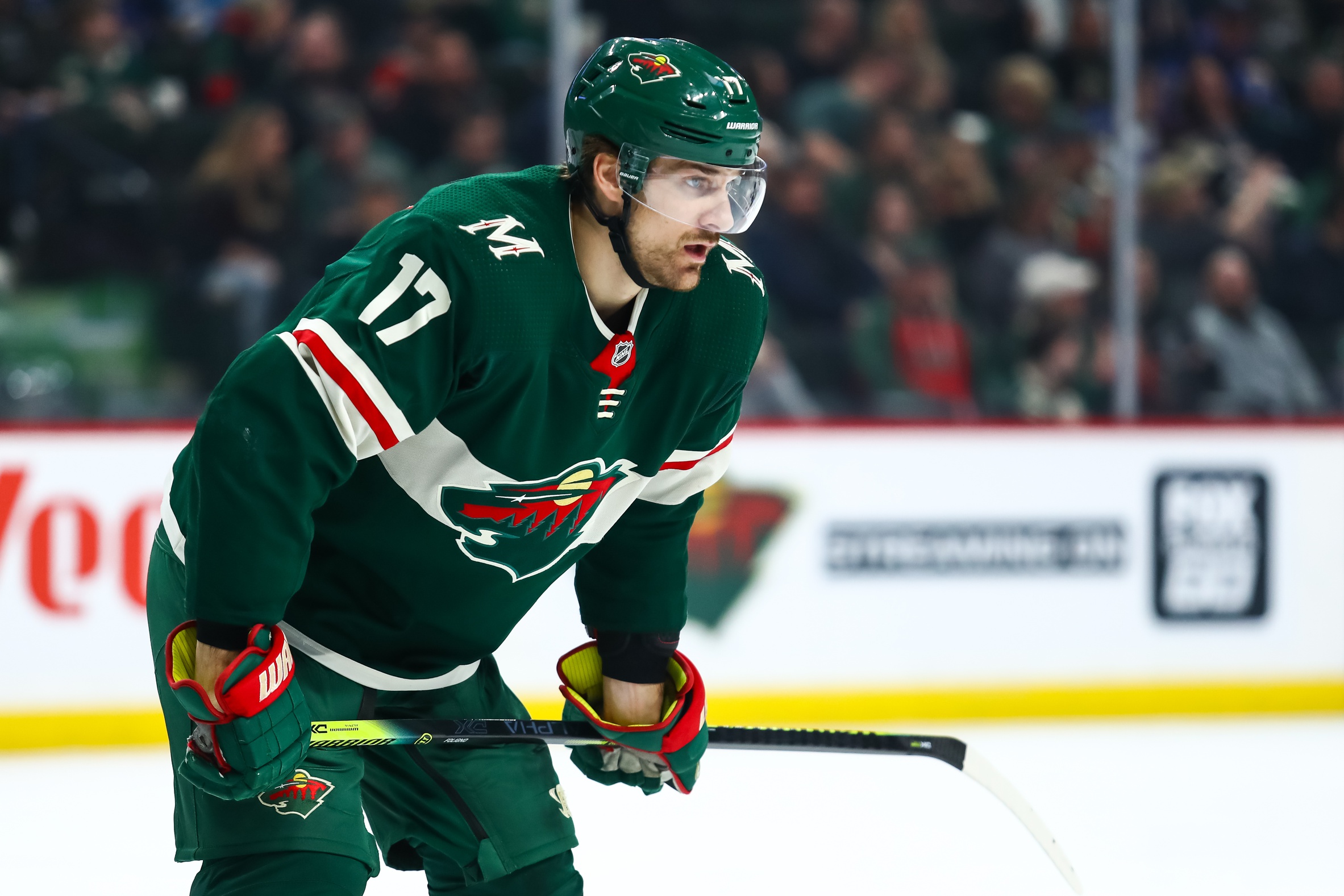 The Trade Deadline came and went on Monday, with the Minnesota Wild making no moves. No buying, no selling, no making a splash on a center, nothing whatsoever.
In today's NHL, teams should either be trying to get better or get worse in a rebuilding effort. Oftentimes, the worst thing a team can do is stay the same, particularly if they're in the "mushy middle." The Wild's future has brightened thanks to Kirill Kaprizov emerging as a superstar, but on the whole, they are a mediocre team.
Divisional play obscures that fact somewhat. Thanks to playing a steady diet of cupcake teams that are also their only playoff competition, the Wild are comfortably in third place in the West. Despite two losses to the St. Louis Blues this weekend, they remain seven points ahead of fourth-place St. Louis and eight ahead of the fifth-place Arizona Coyotes, with games in hand on both.
They also have no shot at the West Division crown, sitting 11 and seven points behind the Colorado Avalanche and Vegas Golden Knights, respectively. No trade, buying or selling, would affect their playoff positioning.
Theoretically, this could have been an opportunity for general manager Bill Guerin to stockpile more future value. A potential buyer's market turned out to be tilted towards sellers. Nick Foligno, who Minnesota was reportedly interested in, netted a first-round pick and more for the Columbus Blue Jackets. Anthony Mantha was flipped for young potential star Jakub Vrana, a first- and second-round pick. Even relative scrubs like Sam Bennett and Mattias Janmark returned multiple assets.
With those prices, what would 24-year-old breakout forward Jordan Greenway have fetched had Guerin marketed him? If Foligno was worth a first-round pick, what would his brother -- the better, cheaper Marcus Foligno -- be worth?
The State of Hockey won't know because Guerin steered others away from inquiring. He told reporters at Monday's press conference, "You just shoot straight with guys and give them the situation you're in. 'Hey, look, if we're in a playoff spot, we're going to hang tight. I'm going to keep my guys.'… I think everybody just kind of knew where we were, so nobody was really calling to pry guys away from us."
This may go down as a mistake for a front office very vocal about hoarding draft and prospect capital.
But hey, the Wild have two elite prospects in Marco Rossi and Matt Boldy, a stable of B-level prospects and five of the first 90 picks in the 2021 Draft. Maybe they didn't feel they had to beef up the prospect pool.
So let's look at it the other way: If they weren't furthering their rebuild, why didn't they try getting better?
Indeed, the Wild are essentially locked into third place, but it doesn't mean they don't need help. The playoffs are coming, and Minnesota is likely to face either Colorado or Vegas, both Cup contenders. They've got a losing record against the Avs, and four of their six games against the Golden Knights were decided by a goal*. Minnesota surely could use a boost against either of them.
Help was there for the taking, too. Some prices -- Foligno, Bennett, Kyle Palmieri -- were quite expensive, but a notable exception was Taylor Hall. Hall has had a tough year in the worst situation imaginable, given that he was playing for the Buffalo Sabres. But he's managed to be a positive expected goal player at 5-on-5 and, according to The Athletic's Dom Luszczyszyn and completes high-danger passes with Kaprizov-like regularity. He went for a second-round pick and a bottom-six player.
Why couldn't Minnesota pull off that trade? Hall isn't the Hart Trophy player he was four years ago, but he could certainly help the Wild at both 5-on-5 and on the power play. Why wouldn't they get him to load up for showdowns with Colorado and Vegas?
Guerin publicly says that he's not willing to jeopardize draft capital for rentals. Perhaps that's true, even if they have plenty of assets to spare. It's also possible the team wasn't high on someone like Hall. One thing is for sure, however: The Wild didn't deserve help at the deadline.
A month ago, this was a different story. Minnesota was climbing towards first place and was playing very good hockey. Their peak was on March 17, after a 12-2-1 stretch backed up by some incredible underlying numbers. Other than a weak power play, they looked unstoppable.
Then Colorado demolished them 11-1 over two games, and they've had their tails tucked between their legs since.

They went from being a top-five team in virtually every category -- both involving real goals and expected -- to being one of the worst in hockey. Minnesota can't score (ironically, unless they're on the power play), can't generate shots, and can't even protect its goaltenders particularly well.
It's baffling a team could fall off so hard, so quickly. Some might believe Minnesota to be unlucky. They're not. Their PDO is above 100 in all situations, and just 99.4 at 5-on-5, both indicators of average luck. The increased difficulty of the schedule is another suspect. Perhaps it explains some of it, but they've looked bad against middling teams like the Anaheim Ducks, San Jose Sharks, and St. Louis. Others point to Marcus Foligno's injury. If that's true, what does it say about a team that losing a third-liner sends them into a death spiral?
The reason doesn't matter. Ultimately, the Wild had a chance these last three weeks to show they were a contender. Great play may have prompted Guerin to bet on this team and load up for a postseason run. Instead, they fell flat on their faces, all but directly telling Guerin that a deadline pickup was a terrible investment.
So this is who the Wild are, with the only pseudo-addition being Boldy's upcoming debut. They're exactly who they thought they were: Good enough to get in the playoffs, but not so good as to advance far when there.
Given a choice to get better now or better in the future, Guerin chose neither. Being in a holding pattern doesn't doom them to mediocrity for good, but it does mean they reside in the mushy middle for another few months, at least.
*A fifth was decided by two goals, thanks to a goal Jonas Brodin scored with an empty net. Basically, five of six games were decided by a goal.
Goals per game data from the NHL. All other data from Evolving Hockey unless otherwise noted.