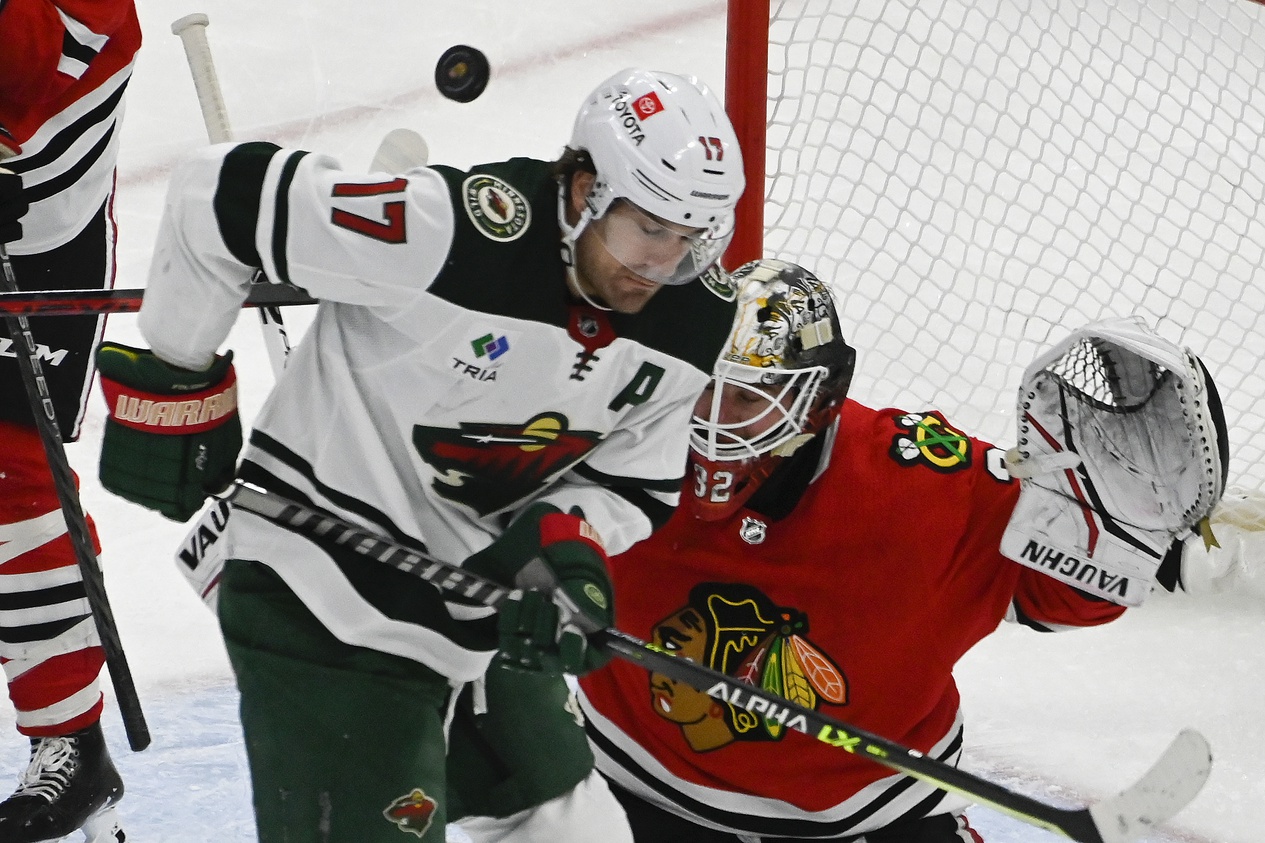 Image courtesy of Photo Credit: Matt Marton-USA Today
Foligno's brought the defense and leadership to the Wild this year. But if Minnesota wants a deep run, they'll need him scoring again, too. 
Pop Quiz: Who was the Minnesota Wild's most valuable player from the 2020-21 season through 2021-22?
You probably guessed Kirill Kaprizov, right? Well... yeah, you're right. But guess who was second? Oh, you guessed Joel Eriksson Ek? Right again. What about third, bet you can't guess — what? Jared Spurgeon. Yeah, good job.
OK, but now we're at fourth, and you actually might not know that it's Marcus Foligno. Injuries and the shortened COVID season limited "Moose" to just 113 games, but he made as big of an impact on Minnesota as almost anyone. 
Kaprizov, of course, earned Minnesota 10.4 points in the standings over those two seasons. He was the runaway leader in Evolving Hockey's Standings Points Above Replacement (SPAR). But Foligno wasn't far behind Eriksson Ek (6.9 SPAR) and Spurgeon (6.2), contributing 6.0 SPAR to the Wild in those two years.
If you're keeping score, that's more impact than Kevin Fiala, Mats Zuccarello, Ryan Hartman, Jonas Brodin, and any other Wild player you could think of.
Definitely more than he is giving Minnesota this season. Foligno is an alternate captain and a looked-to leader in the locker room. He fills that role capably, is willing to stand up for teammates, and delivers a physical, hard-nosed game every night.
It just hasn't led to any success on the ice. Foligno's struggled mightily this year, posting just seven goals and 20 points on the season. This includes a stretch where he's scored just three goals and six points in the 32 games since January 12.

The 31-year-old winger still brings it defensively, but the offense is gone, especially since Jordan Greenway's trade and Eriksson Ek's promotion to being Matt Boldy's running mate broke up his usual line.
That line, as well as Foligno, simply played out of his mind in the two seasons before this year. Simply put, they were the best shutdown line in the league. Part of that involved using their relentless forecheck to score. Foligno was a gigantic part of both aspects of the line.
In the 2021-22 season, Foligno scored 26 points, beating his previous season-high of 25. That doesn't sound that impressive, except he accomplished that in 39 games. But he shot 27.5% in that time, so that success was unsustainable.
So we thought, anyway. The next year, he scored 23 goals and 42 points in 74 games. This upped his career highs in both figures by 10 and 16, respectively. He shot 23.5%, his second-straight year over 20. Crashing the net and getting to rebounds does a lot to boost your odds of scoring. 
And while the scoring appeared out of nowhere, the tough, rugged Foligno was a surprise analytics darling. Since his last season with the Buffalo Sabres, Foligno averaged about 3.2 SPAR per season. He was consistent, too, hovering between 2.4 and 3.7 during that whole time.
Those unforeseen point totals? They were foreseeable, at least in the right role. Even without scoring a good chunk of points, Foligno also rocked arguably the best defensive numbers in the game.

So, while it wasn't likely he'd shoot over 20% forever, it's hard to imagine him cratering quite like this. Foligno's given Minnesota just 0.1 SPAR this year, his first-ever season as a replacement-level player. The numbers had Greenway, a player the entire state was clamoring to trade by the deadline, as a better player.
It's significant. Perhaps if the Wild got a normal Foligno season this year, they'd have an extra three points and be in a position to claim a Central Division title on Thursday.
Instead, they're going to be in a tough first-round battle against either the Colorado Avalanche or Dallas Stars. It doesn't really matter who they play. To win, they're going to need the old Moose making his presence felt in all areas of the ice.
Their best hope is that this is some kind of Bizarro Foligno year. 
You see, people look at Foligno and think to themselves, That's a guy who's built for the playoffs. He's big, he's tough, he plays the kind of hard game that's associated with playoff hockey. The only problem is, it's never exactly worked out that way for the Wild.
No one questions his effort. He takes the body, with 116 hits in just 22 career playoff games. But physicality isn't enough if you're not scoring. He has just six points in those 22 games, including just four in the past 13 playoff games, after his increase in role and ensuing breakout.
In his Wild career prior to this season, he out-scored opponents by an incredible 166-119 margin. In the playoffs though, he's just broken even, scoring 12 goals and conceding 12.
So if he can have great regular seasons, then go relatively quiet in the playoffs, who's to say the opposite can't happen?
Yes, Foligno is fighting against aging curves at this point. He's only 31 years old, which isn't especially old for an NHLer, but the track record of players who play as tough a game as Foligno aging gracefully isn't exactly robust. Those miles add up. Just ask someone like Milan Lucic. Or maybe even Foligno, for whom injuries always seem to be a factor come playoff time.
One bad season doesn't mean that Foligno doesn't have any gas left in the tank, though. If the Wild indeed play the Stars, Foligno will line up against someone who proves that in Jamie Benn.
Benn was a better scorer at his peak than Foligno, of course, but had three disappointing seasons in a row before this season. A high shooting percentage is fueling his success to an extent, but there's no doubt that we're seeing vintage Benn with 33 goals and 77 points through 81 games. Now that he's not playing 20 minutes a game on the first line, he's really leaned into embracing the agitation side of his game, as well. 
Foligno is every bit as part of the Wild's identity as Kaprizov, Boldy, and Spurgeon. Maybe even more. At his best, he's the prototype of what Bill Guerin and Dean Evason want from their hockey club. It's hard to predict the Wild will win many track meets in the first round, so in order to make a push, Foligno will have to put a bad season behind him and tap into his usual self come playoff time.