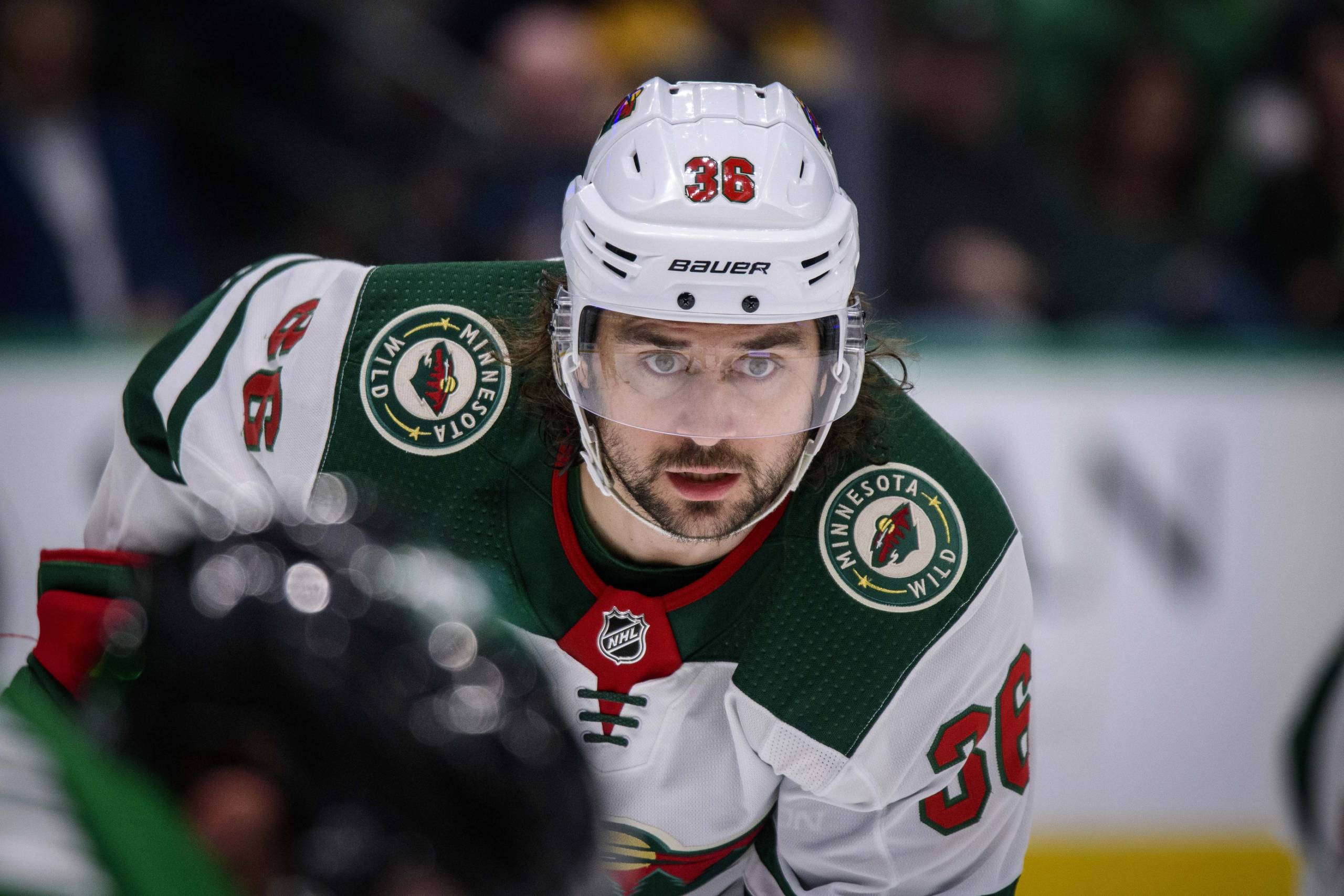 Mats Zuccarello and Minnesota Wild fans got off on the wrong foot through his first 18 months in Minnesota. Being an aging, big-money veteran on a team with a history of underachieving with aging, big-money veterans puts him under immediate scrutiny with the State of Hockey. And former GM Paul Fenton's infamous "lizard" quote didn't help matters.
Then there's the on-ice component. Zuccarello disappointed in the regular season, producing just 37 points in 65 games. Then he disappeared entirely in the playoffs, notching just one assist and three shots in four games. Now hand surgery has kept him out of the Wild lineup, with no imminent return in sight.
If the Hockey Gods heard Minnesota fans' pleas from this summer to remove him from the roster, wish granted. Such deals with them always carry a price. In this case, it's "Fine, but now you gotta watch Minnesota play without him."
And we can't believe we're saying this, wow, we actually miss Mats Zuccarello.
Second-Rate Line
The hope for the Wild was that Kevin Fiala building off last year's superstar stretch and the arrival of Kirill Kaprizov would be enough to carry the Wild through Zuccarello's absence. To some extent, it has. Kaprizov's heroics have helped the team to a 4-2 start, and the Wild's bottom-6 has stepped up.
The issue is that over the past year, the Wild have lost so much wing depth at the NHL level. In the last year, Jason Zucker, Luke Kunin and Ryan Donato all departed the organization. Individually, those moves made sense in adding pieces for the future, but those are all decent-to-good scoring options that the Wild doesn't have at their disposal anymore once injuries hit.
That, a separate trade of Eric Staal and coach Dean Evason's refusal to promote third-liners are snowballing this problem. The Wild's top line with Zach Parise and Kaprizov have been passable, but their second line is being exposed.
Marcus Johansson, Nick Bonino and Fiala have played 47 minutes together at 5-on-5 and have been complete non-factors. They've yet to score a goal together, and moreover, don't look dangerous at all. The line has been out-shot, and they've only generated a paltry 1.28 expected goals, which doesn't suggest they're playing well and have been unlucky.
Bonino and Johansson are two fine third-line type guys, but they're clearly playing above their depth right now. The result is Fiala has to do everything himself at 5-on-5, with opponents able to key in on him. It's worth noting that both of Fiala's goals have come on special teams.
Zuccarello's getting older, but his 5-on-5 production was strong last year, with 2.01 points per hour. One has to imagine that'll help the second line.
Who's Getting the Stars the Puck?
Until Zuccarello's return, Evason has few options to fix the second line. He's responding tonight by flipping Fiala to the top line with Parise and Nick Bjugstad, with Kaprizov dropping down to play with Bonino and Johansson.
It's something that'll raise a question surrounding Kaprizov since before his arrival: Who's going to give him the puck?
That's somewhat less of a worry after six dazzling games from Kaprizov. He's shown that he can carry the puck and catalyze offense in a way few Wild players ever could. It's early, but his 3.41 points per hour at 5-on-5 ranks 21st of the 306 forwards with 40-plus minutes. Expectations were sky-high, but he came as advertised.
Even with all that, the one element missing to his game is a dual threat. Kaprizov was a brilliant playmaker in the KHL, but he also led the league in goals twice. Currently, he has one goal, which is perfectly reasonable for a player's first six NHL games, but he hasn't been a consistent scoring threat.
Kaprizov has shot just 4.3 times per hour at 5-on-5, with a particularly low 0.55 expected goals per hours. That ranks ninth and seventh among Wild forwards, and should that continue, Kaprizov is unlikely to emerge as a sniper in Year 1.
Part of this could be a matter of not wanting to overstep boundaries as a rookie — he's certainly been a tad deferential on the power play — but this likely goes deeper than that. The fact is, there's just not any playmakers on Minnesota, or rather, just two: Kaprizov and Fiala.
His most common linemates are Parise, Bjugstad and Victor Rask. The first two are more "get to the net" types than skilled playmakers at this point in their careers, and Rask's lack of speed hasn't allowed his passing skill to shine through. It's hard to see Johansson and Bonino succeeding with Kaprizov when they failed with Fiala. Even if Evason were to move Jordan Greenway or Joel Eriksson Ek up in the lineup, they aren't exactly playmakers, either.
You may not like his contract, or have been impressed with his first year in Minnesota. Both of those are valid criticisms, but adding Zuccarello to the lineup feels like exactly what it needs right now. His ability to puck-handle and occasionally put a pass on someone's tape would give one of the Wild's stars a player they desperately need to play off of.
The State of Hockey is sorry Mats. Please come back soon.