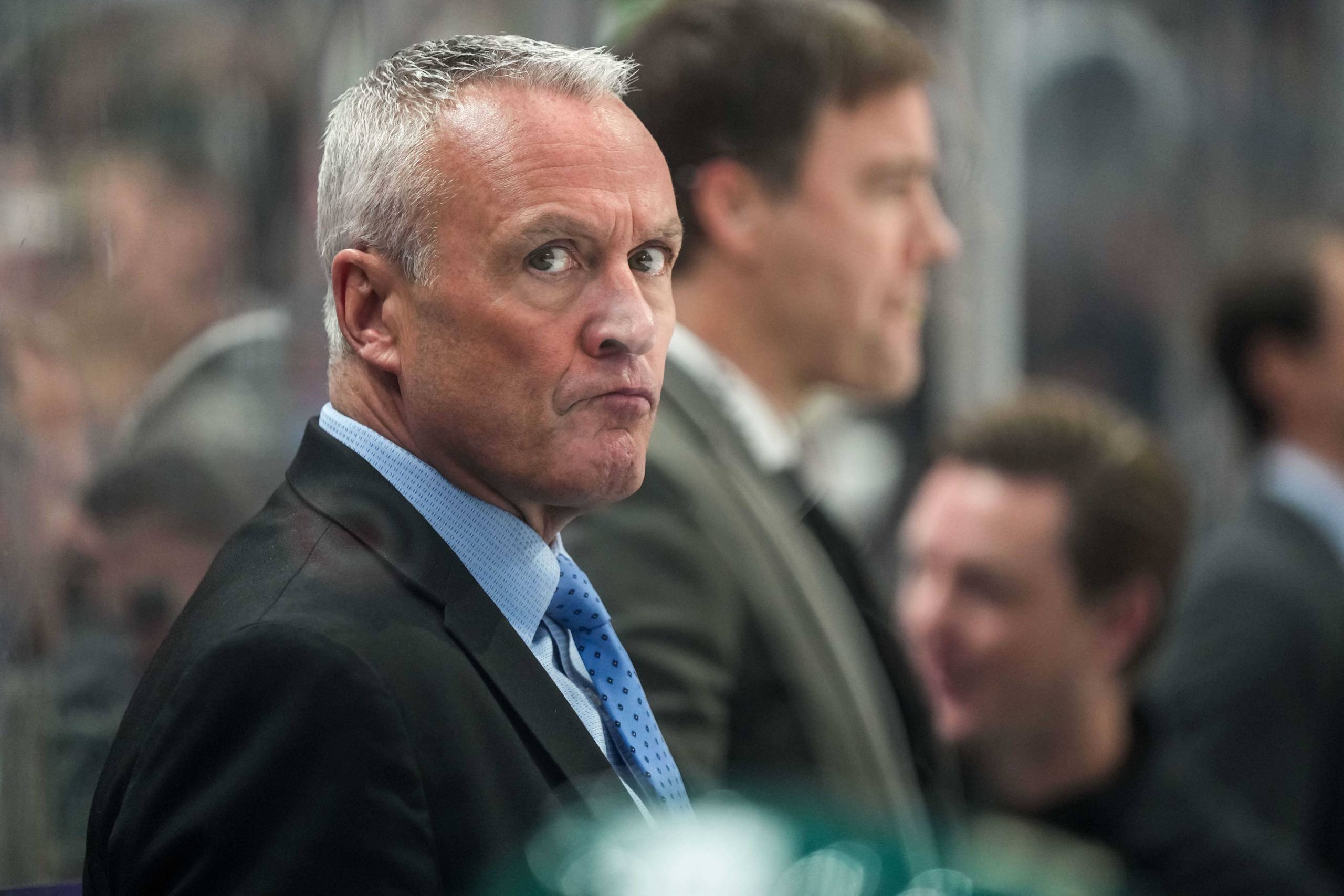 The Minnesota Wild traded Kevin Fiala to the Los Angeles Kings on June 29. From June 30 to today, the water cooler talk in the State of Hockey often starts with one question. How on Earth are the Wild going to replace Fiala's offense?
With a massive cap crunch, the Wild have to replace Fiala's career-high 33 goals and 85 points internally. Could incoming rookie Marco Rossi fill that void? Perhaps a mix of Tyson Jost and Freddy Gaudreau can combine on a line next to Boldy and Rossi to help bridge the gap?
Nope. If you're looking at the players, you've been looking at this all wrong. Any of those three, and perhaps others, will play a role in replacing Fiala, but it's unfair to expect Rossi, Jost, or Gaudreau to reach the heights Fiala did last season. None of them possess the talent Fiala has, or at least not yet, in the case of Rossi.
No, for the Wild to find as much success as they did last year, their coaching staff will have to do most of the work.
Finishing with a franchise-record 53 wins and 113 points, the 2021-22 campaign was a fantastic one for Minnesota. It's just too bad there was no postseason for the Wild to prove, and no, we are not looking into this further! Perhaps for the first time in history, they were appointment television for hockey fans across the league, not just in Minnesota.
It was easy to see why, as they finished fifth in the NHL in scoring. That's just two goals behind the eventual Stanley Cup-winning Colorado Avalanche. Along with Hart Trophy nominee teammate Kirill Kaprizov, Fiala played a massive role in those results. Now that he's gone, it's almost impossible to expect the Wild to reach that goal total again. That is, barring a record-breaking rookie season from Rossi.
But just because the Wild scored almost at will last season doesn't mean all facets of their game clicked. It seemed their ability to score at 5-on-5 and with the goalie pulled late in games were the only elite parts of their game. When you dive further into the numbers, three areas could use some heavy improvement.
And if those improve, that will help offset Fiala's lost production.
For this exercise, we will drill down more on the goals directly impacted by Fiala last season. He recorded 85 points, but he recorded a goal or the primary assist on only 64 of them. We'll remove those secondary assists from the equation, as the goal scorer or primary assister often provides the impact. With that in mind, the Wild are essentially looking to replace the 64 primary points Fiala gave them.
Penalty Kill
But wait, if we're looking to replace 64 goals, why is the penalty kill on top of this list? Who says the Wild need to replace all 64 vacated goals by scoring them all? It would be just as easy to replace part of them with goal suppression. For this reason, we start with the penalty kill.
The Wild's ability to kill penalties last year was… atrocious. It's impossible to use a more delicate term for it. This should have been a bigger red flag for a team entering the playoffs with Stanley Cup aspirations. A shorthanded unit ranking 25th in the NHL at a 76.1% kill rate is bound to doom you sooner than later.
General manager Bill Guerin publicly tasked Evason and his staff with improving the penalty kill this offseason. Let's hope they found the right medicine because it's the most obvious way to utilize goal suppression as a replacement for Fiala's 64 primary points.
Expecting Evason to turn the unit around from 25th in 2021-22 to top-5 this year is probably far-fetched. But it's not too much to ask the unit to finish in the top third of the league, right? Let's say they could accomplish this. Last year, the Anaheim Ducks finished with the 10th-best penalty kill in the league at 80.8%. Had the Wild reached that conversion rate, they would have given up 13 fewer goals throughout the season.
Alright, just 51 more goals to go.
Power Play
While it was much better than their penalty kill, the power play still finished 18th in the NHL last year at 20.5%. With the amount of offensive skill at their disposal, there is no reason it can't improve to be in the top third of the league this year. Like the penalty kill, we will use the Calgary Flames, the 10th-best power play team, as an example.
Darryl Sutter's teams are usually known for their defense and discipline, but the 2021-22 Flames were a firewagon. Their powerplay converted on 22.9% of their chances. While just 2.4% higher than Minnesota, the difference is more than you think when you account for how many penalties the Wild drew.
Minnesota's 258 man-advantages ranked fourth in the NHL, yet they ranked 18th in conversion rate. Had they scored on 22.9% of their chances as Calgary did, it would have resulted in six more goals scored for the Wild.
That's a running total of 19 goals for those keeping track at home. We've already replaced about 30% of Fiala's production.
Improved Goaltending
Yes, I'm cheating a bit here. When you first started reading this, I said most of the work relies on the coaching staff, and here I go including players into the equation. However, it's just an impossible statistic to ignore when looking for ways to improve a team that lost a point-per-game player, then couldn't replace him with anyone even close to his pedigree. Even though it's a player issue, the coaching staff still has their part to play.
In 2021-22, the Wild won 53 games despite their goaltending. The combined trio of Cam Talbot, Kaapo Kahkonen, and Marc-Andre Fleury's short stint combined for Goals Saved Above Expected (GSAx) of -21.35 goals. Yikes.
Considering 25 other goaltenders in the league who played at least 20 games finished with a GSAx above zero, just imagine if the Wild could get back to league-average goaltending this season. That would essentially wipe out 21 goals against from last season.
Is it a lot to ask Fleury, who turns 38 in November, and newcomer Filip Gustavsson to simply be league average this season? Hopefully not, considering the former is just 15 months removed from winning the Vezina trophy with the Vegas Golden Knights. The Wild's coaching staff can help.
After adding him at the deadline last season, the Wild didn't have much time to adjust to Fleury's eccentric playstyle. His acrobatic saves are beautiful, but it makes him less predictable and puts rebounds in places Minnesota isn't used to. It was a factor that can't be understated.
Rebounds were no longer just feet, or inches, away from the goaltender. Defenseman and net front forwards didn't know where to go and struggled to get to the right spot. You saw the familiarity with Fleury pay off for former teammate David Perron, who feasted on Fleury in the playoffs last year. Adjusting their defensive positioning could go a long way to helping Fleury.
The man dubbed "Flower" is also much more aggressive in playing the puck on dump-ins. That's an advantage, but only to a team that is well coached on how to work with their goalie on the breakout. How will the Wild's assistant coaches position their defenseman in these scenarios?
And perhaps more importantly, how will the defensive systems and positioning change when Gustavsson is spelling Fleury during his starts? Tweaking the defensive systems could go a long way in turning last year's -21.35 GSAx into a positive number this season.
For those who weren't keeping up with the running tally, those three improvements from last year would account for a total of 40 goals, or around 62% of Fiala's offense. That's not everything, but it's a much more palatable number to reach for a likely combination existing of Rossi, Jost, or Gaudreau.
For this reason, it makes a lot more sense to depend on the Wild's coaching staff for replacing Fiala's production rather than shouldering it all on a 21-year-old rookie or a couple of journeymen forwards. They've had all offseason to make these improvements. We'll see soon whether they can put them into practice.